The late Gay Byrne was many things during his long career - father confessor, voice of a nation, and the master of radio and television - but perhaps his most unlikely role was as the man who helped dream up the national institution that is The Late Late Toy Show.
From small beginnings as a thirty-minute slot in 1975, the Toy Show has gone on to become a phenomenon, watched globally by an audience of well over a million every year and if Gay seemed like a somewhat reluctant master of ceremonies as hordes of children descended on Studio 4, he guided the show with a human touch that transcended age.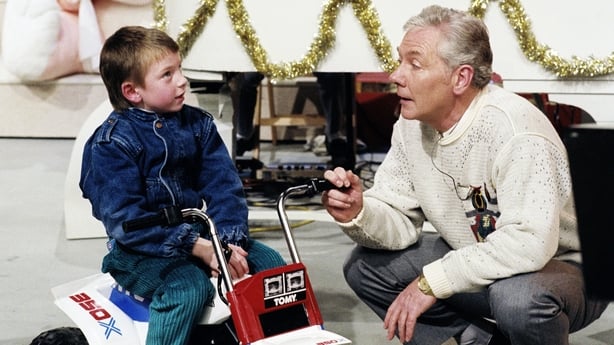 The brainchild of Late Late researcher Pan Collins, the Toy Show began as a half-hour slot at the end of The Late Late Show in the mid-Seventies to give parents an idea of what toys were in the shops, while their children were supposed to be tucked up in bed.
It soon became a two-hour show in its own right with children at its very heart.
"Gay loved doing the Toy Show," says Donal Scannell, who worked as a researcher on the Late Late Show in the early Nineties. "He was very aware of that built-in showbiz warning of not working with kids and animals but he was always very happy to share the limelight. The show evolved over the years. It wasn't planned - it was an accidental hit."
Hundreds of young toy-testers and performers passed through during Gay's 24-year tenure as the Willy Wonka of Toyland, until his retirement from the show in 1999.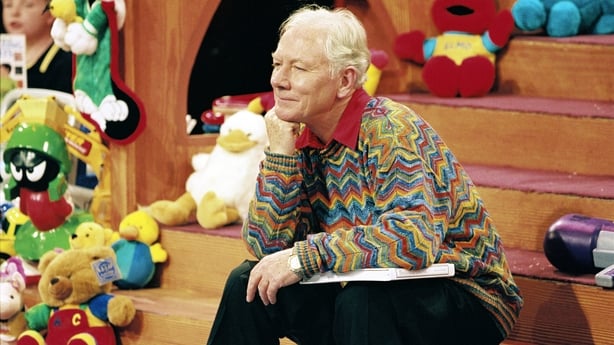 Always first and foremost an entertainer, Gay, in a traditional crimbo jumper of eye-popping garishness (the "Bing Crosby sweater"), revealed his softer side on the Toy Show. Sometimes he was like an indulgent uncle as the kids demonstrated their Christmas wares and sometimes he was like an impatient consumer affairs expert, supercilious at the expensive trinkets that toy makers clamored to have featured on the show.
But he was always up for a laugh. The 1991 Late Late Toy Show saw Zig and Zag, who had earlier referred to him as "your majesty", drenching Gay with a Super Soaker 50 water pistol, which he then gleefully turned on the studio audience.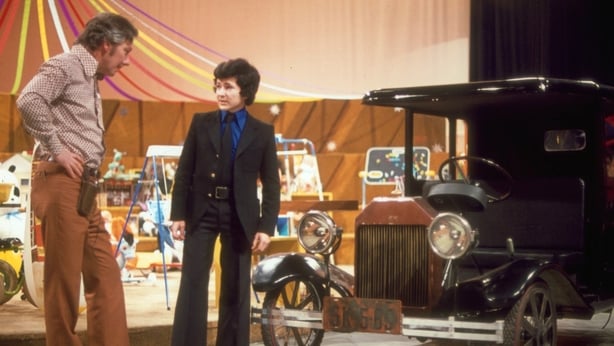 In other years, Gay learned to play a plastic toy guitar and saxophone with D'Unbelievables, messed around with a racing set with Boyzone, while in 1992, we were treated to the surreal sight of Gay tied to a stake in the snowbound grounds of RTÉ as flames rose around him and he was menaced by a large dragon.
We need your consent to load this YouTube contentWe use YouTube to manage extra content that can set cookies on your device and collect data about your activity. Please review their details and accept them to load the content.Manage Preferences
And then there was his annual Christmas interview aka confrontation with Dustin the Turkey. The pride of Sallynoggin once presented Gay with a Pat Kenny clock live on air. In 1997, Dustin cheekily gave Gay a miniature antique chair during the veteran presenter's second last Toy Show, a reference to a minor scandal that had erupted around that year's antique restoration feature.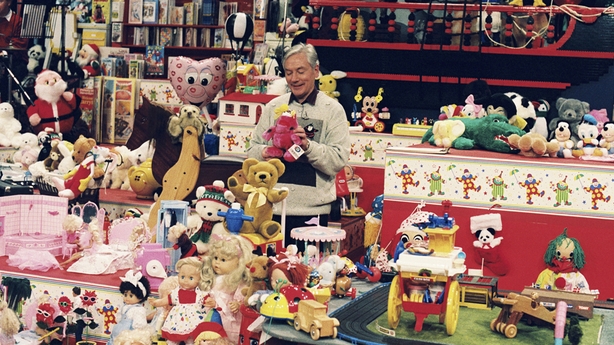 Always up for a bit of mischief, Gay laughed along. And that was the key to his success and why he is so well regarded - Gay was willing to do almost anything in the sacred name of entertainment. His motto was "Enjoy every minute". He certainly did. 
Alan Corr @CorrAlan2