Michael J Fox opened up to Ryan Tubridy on Friday night's The Late Late Show about dealing with Parkinson's disease, noting that "It's about acceptance".
In a video interview, the 59-year-old recalled how he learned of his condition, which he developed at the tragically young age of 29, and how his wife Tracy supported him and helped him towards a good path in dealing with the condition.
"I was doing a film with Woody Harrelson - and that's always a problem," he said, obviously tongue-in-cheek. "So I woke up one morning and my finger was twitching. It wouldn't stop twitching, and it was kind of a curiosity.
"My shoulder was sore and, what I didn't notice was that my gait was a little different. My walking. Tracy at some point noticed this, noticed me running funny. She said, 'You have to go to a neurologist'.
"So I went to a neurologist and he set up exercises and - real matter of fact - he said, and I was only 29-years-old, he said it Was Parkinson's. 'But the good news is that you'll be able to work for another ten years'.
"I was just, like, 'Wow'. So I went home and told Tracy. I knew it was going to get worse, but I didn't know when or how. She didn't know, but she was in for whatever was going to happen. She was with me."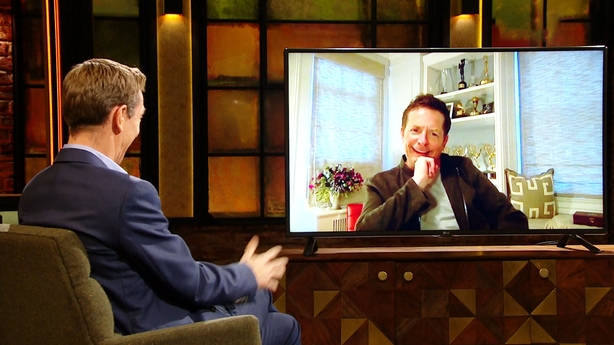 It didn't take long for Tracy to show that she was going to be a rock for Michael. In the early days after his diagnosis, he struggled with the reality he was facing. Understandably, it hit him hard, and he told Tubridy about the effect the news had on him.
"It freaked me out," he recalled. "My first reaction was to double-down on drinking. And then I woke up one morning on the couch, still a beer beside me and my son crawling all over me. And my wife, she didn't look angry. She didn't look upset. She just looked bored.
"She said, 'Is this what you want?' And I said, 'No that's not what I want'. And it changed my life. Then I could focus on the Parkinson's . . . I learned about it and I studied it, with researchers. And it got to where, in 1998 I could talk about it publicly.
"The thing about putting down the beer was the same thing that allowed me to deal with Parkinson's," he added. "It was about acceptance. Buy accepting something it doesn't you can't change it. It's the reality. And then you have the rest of your life to thrive and carry on."