Singer-songwriter and multi-instrumentalist U.M.A.N aka Brian Flanagan has released his new single, Feel Beautiful. We asked him the BIG questions . . .
U.M.A.N. is an abbreviation for "U Must Act Now", which Flanagan says echoes the inspiring lyrics in a lot of his songs.
We need your consent to load this YouTube contentWe use YouTube to manage extra content that can set cookies on your device and collect data about your activity. Please review their details and accept them to load the content.Manage Preferences
In 2016, he released Laurie Blue, a tribute to Adele, and signed to Universal Ireland. He was also commissioned to compose a tribute to American Billionaire Chuck Feeney, which was presented to the Feeney family on behalf of the UL Foundation in 2018.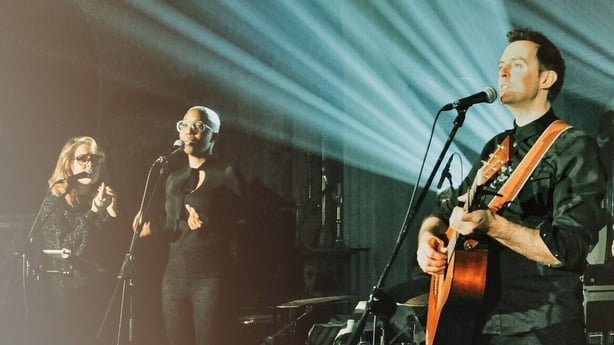 Feel Beautiful is now available to stream and will also appear on his new album, which is due for release in early 2021.
Tell us three things about yourself
I once ran away to Germany to join the circus. 
Love writing biographical songs on people I admire such as Chuck Feeney, Adele, Michael Flatley. Currently thinking of doing one for Joe Biden next due to his Mayo connections.
I like performing in musicals and have most recently been hung from a cross and shot at Béal na Bláth (tasteful - Ed).
How would you describe your music?
I'd say my music is steeped in soul with a touch of gospel and sprinkling of pop.
Who are your musical inspirations?
Agh! So many! Paul Simon, Eric Bibb, Tom Waits, Joni Mitchell, Nick Drake and Van Morrison to name a few.
How did you occupy yourself during the coronavirus lockdown?
Working, going to the gym, writing and trying my best to entertain three boys.
What's your favourite song right now?
I can't choose between Tate McCrae's You Broke me First and Fake Fine by Robert Grace.
Favourite lyric of all time?
`Fools,' said I, `You do not know Silence, like a cancer, grows Hear my words that I might teach you, Take my arms that I might reach you', But my words, like silent raindrops fell And echoed in the wells, of silence." The Sound of Silence - Simon & Garfunkel.  
If you could only listen to one song for the rest of your life what would it be?
Sweet Thing by Van Morrison. 
Where can people find your music/more information?
YouTube, Spotify, iTunes, Facebook, Instagram.