Ellen DeGeneres paid tribute to her staff after winning at the E! People's Choice Awards in Santa Monica, California - a boon for a talk show that has been mired in controversy over an alleged toxic environment on set. 
The Press Association reports that three key producers left The Ellen DeGeneres Show in August following allegations of bullying and misconduct that were published in a Buzzfeed News investigation.
DeGeneres apologised to staff after an internal review found "deficiencies related to the show's day-to-day management".
In her acceptance speech after winning Best Daytime Talk Show, as voted for by the public, DeGeneres said: "I am not only accepting this award for myself but on behalf of my amazing crew and staff who make the show possible. They show up every single day, give 100% of themselves, 100% of the time.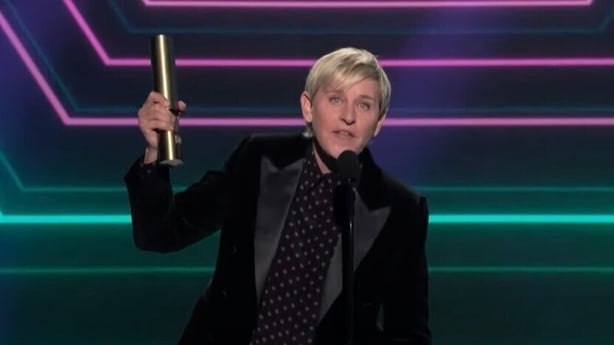 "I love them all; I thank them for what they do every single day."
She also thanked her fans for "supporting me and sticking by me". 
"I can't tell you how grateful I am and what this means to me, it's more than I could possibly tell you, especially now," she said. 
Other winners at the People's Choice Awards:
Icon Award - Jennifer Lopez
Movie of 2020 - Bad Boys For Life
Comedy Movie of 2020 - The Kissing Booth 2
Action Movie of 2020 - Mulan
Drama Movie of 2020 - Hamilton
Family Movie of 2020 - Onward
Male Movie Star of 2020 - Will Smith (Bad Boys For Life)
Female Movie Star of 2020 - Tiffany Haddish (Like A Boss)
Comedy Movie Star of 2020 - Joey King (The Kissing Booth 2)
Action Movie Star of 2020 - Chris Hemsworth (Extraction)
Drama Movie Star of 2020 - Lin-Manuel Miranda (Hamilton)
TV Show of 2020 - Grey's Anatomy
Drama Show of 2020 - Riverdale
Comedy Show of 2020 -  Never Have I Ever
Reality Show of 2020 - Keeping Up with the Kardashians
Competition Show of 2020 - The Voice
Male TV Star of 2020 - Cole Sprouse (Riverdale)
Female TV Star of 2020 - Ellen Pompeo (Grey's Anatomy)
Drama TV Star of 2020 - Mandy Moore (This Is Us)
Comedy TV Star of 2020 - Sofia Vergara (Modern Family)
Night Time Talk Show of 2020 - The Tonight Show Starring Jimmy Fallon
Male Artist of 2020 - Justin Bieber
Female Artist of 2020 -  Ariana Grande
Group of 2020 - BTS
Song of 2020 - Dynamite (BTS)
Album of 2020 - Map of the Soul: 7 (BTS)