The trailer for the Emily Blunt, Jamie Dornan and Christopher Walken-starring Irish rom-com Wild Mountain Thyme has been released - and Tom Cruise may be in danger of losing his accent-mauling crown from Far and Away.
Wild Mountain Thyme is the new film from Oscar-winning Moonstruck writer John Patrick Shanley, who "brings his sweeping romantic vision to Ireland" in his adaptation of his play Outside Mullingar. 
The Best and Worst of Oirish Movie Accents
"The headstrong farmer Rosemary Muldoon (Emily Blunt) has her heart set on winning her neighbour Anthony Reilly's love," we're told.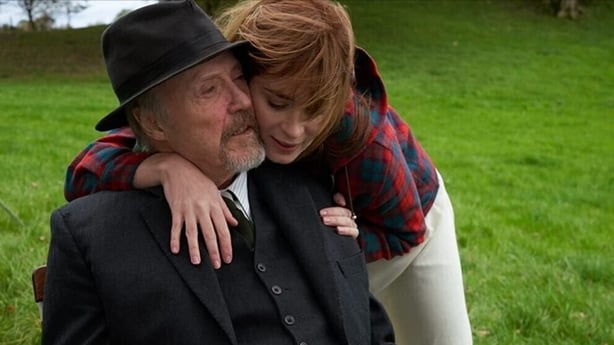 "The problem is Anthony (Jamie Dornan) seems to have inherited a family curse and remains oblivious to his beautiful admirer."
Oddly enough, Anthony's father Tony (Christopher Walken) always has something to say about everything, and the arrival of Anthony's American cousin Adam (Jon Hamm) on the scene causes further complications.
Wild Mountain Thyme, which was filmed in Co Mayo, is due for release in cinemas and on-demand in the US on December 11.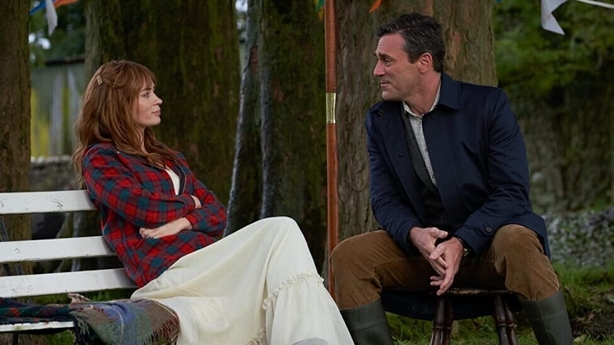 There is no Irish release scheduled at present, but to borrow from the trailer: "Did ye ever have a dream... and ye couldn't let it go?"
Social media is having a field day since the trailer dropped. Both Dublin Airport and the Leprechaun Museum have poked fun at Wild Mountain Thyme on their social platforms. 
There's fashion police
Grammar police
We even have airport police
Is there such a thing as accent police?
If so, somebody better call 'em.
On the upside, Ireland looks nice. pic.twitter.com/lHrR5cWlwq

— Dublin Airport (@DublinAirport) November 10, 2020

Irish music artist CMAT is among those who have asked on Twitter why the movie didn't cast more Irish actors, suggesting one Oscar nominee who could have been considered: "So not a single member of the production team had Jessie Buckley's number between them, no???" 
so not a single member of the production team had Jessie Buckley's number between them , no? ?? https://t.co/NlSAf6tL8T

— cmat (@cmatbaby) November 10, 2020
In October, both Blunt and Dornan spoke to People magazine about mastering the Irish accent for the movie.
Blunt, who has a home with her husband John Krasinski outside the village of Goleen in West Cork, told People that she had "a tougher time" with it than her co-star.
However, she said that Jamie Dornan had assured her that she "sounded Irish".
"So if he's wrong, I'm going to blame him for any backlash on my accent. He has assured me it was a great Irish accent. We'll see." 
On mastering the accent Jamie Doran told People: "We were both terrified, I was like, no, we're going to be good.
"Admittedly, a lot easier for me... I'm actually from about 120 miles from where the movie is set... So, it was definitely easier for me."

#MaryPoppins star #EmilyBlunt is currently filming a movie in #NorthMayo with #JamieDornan. Here she is in The Thatch Inn #Crossmolina learning to pull a pint of @GuinnessIreland!
Video: Eamon Moore pic.twitter.com/FELTPfiRaI

— Mayo North Tourism (@MayoNorth) October 9, 2019
Blunt also described the screenplay as "the most beautiful, eccentric, strange poem of a film."
One thing that many observers of the trailer found strange was the period the film is set in.
The Aran cardigans, shawls, dirty faces and traditional style fishing boats featured may have suggested it was depicting 1950's Ireland.
However, a scene in which Emily Blunt's character speaks about freezing her eggs and another in which characters are in modern-day New York clarifies that this is in fact set in the more recent past.
The movie was filmed in Crossmolina, Co. Mayo in September and October 2019
Click here for more movie news
Wild Mountain Thyme was directed by John Patrick Shanley, who won an Oscar for Best Original Screenplay for Moonlight in 1988, and the Pulitzer Prize for Drama and Tony Award for Best Play in 2005 for his play Doubt.
This is based on his play Outside Mullingar which ran on Broadway in 2014.
Additional reporting Laura Fletcher