With cinemas closed, it's the perfect time to dive into a TV new series. If like many you're looking to watch something this weekend, look no further than Disney's The Right Stuff or Amazon Prime's Utopia.
First up, Patrick J Adams is switching suits for spacesuits in the Disney+ series The Right Stuff, the story of The Mercury Seven, the first American astronauts to launch into to space. While those men may not be household names here, Adams certainly is after 7 seasons of playing Mike Ross in the hit series Suits.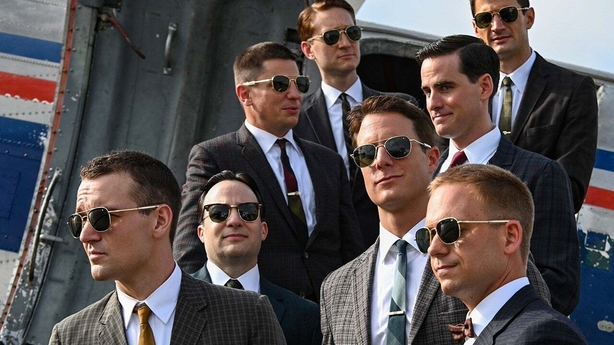 Talking about starting a brand new adventure as a new character on the small screen, Adams said it's scary and you have to hope the audience will connect with the story you are telling.
"I love it (starting something new), it's always scary, you never know if it will work. Maybe it won't connect with a new audience but as an artist its so exciting because you get to do things you have never done before. It's a gift.

"I am so grateful for the time I spent on Suits. It was such a long-running show with an avid fanbase but you get to the point where you start repeating yourself quite a bit."
Although born in Toronto, Adams has lived in LA since he was 19 and has been very active in the last few weeks online encouraging people to get out and vote in the US General Election. I asked him about the atmosphere stateside in the last few weeks and how he was dealing with it.
"There's a lot of very nervous, anxious energy. My whole goal for the last three weeks and the next seven days is to try to stay centred.
"I'm very proud of seeing all the people lining up despite the attempts to suppress the vote, it's very inspiring, I wish we didn't have to find inspiration in that thing.
"What I keep going back to is this is a really painful scary, horrible time but I hope that we are moving through it for a reason."
For many, a TV show about a pandemic is not what we need right now but Amazon Prime's Utopia is more than that. Based on the short-lived cult Channel 4 show of the same name, Amazon has recruited everyone from John Cusack to the US Office's Rainn Wilson to bring the story to wider audiences.
The series tells the story of a comic book that predicts future world events and the many groups around the world who are trying to get their hands on it.
We need your consent to load this YouTube contentWe use YouTube to manage extra content that can set cookies on your device and collect data about your activity. Please review their details and accept them to load the content.Manage Preferences
John Cusack shared his thoughts on being part of a show with a pandemic at the centre of it.
"It's a bit difficult to think about because you want to do work that reflects the world we are in. The themes of dystopia have been around for ages so we all know about global warming and the food crisis, but I think it was shocking to see a pandemic run out of control in the United States, especially where it is very close for comfort.
"But it's not just about pandemics and virus, it's about the many different threats that the human race is facing right now, like food shortages and overpopulation and endless wars."
Cusack plays the role of Dr Kevin Christie, a billionaire who is trying to innovate new solutions to combat those problems. Dr Christie is new to the American series of Utopia, as he doesn't feature in the original Channel 4 show.
Cusack said there are plenty of twists and turns that will encourage people to stick with the show, explaining that it aims to continually change your thoughts of what will happen next...
"By the 8th episode everything changes and what you think you knew about what we were doing gets blown apart so its a very special kind of writing where you can pull that off.
"I don't know too many writers where you can't see that coming. She (Gillian Flynn) makes the inevitable still incredible shocking and exciting."
Only a few US remakes of British shows have stood the test of time, but in my opinion, Utopia will do that thanks to its stellar cast and brilliant writing.
According to Cusack, the shows have similarities but also very big differences.
"It's a remake that changes the original but more than that it adds onto it if you have something that is beloved it doesn't make sense to do the same thing."
"Hopefully, fans of the British show can watch it and see that it adds onto it. But I don't know how territorial British fans are of the show.'
Join us this Saturday and Sunday at 3pm, when I will also be chatting with Sam Smith about their latest album Love Goes.