As Finding Joy returns, John Byrne meets star and writer Amy Huberman on the show's set to see how season two is looking, Amy's showbiz hopes - and how she's getting on since discovering she's expecting baby number three
If there's one thing we could all do with right now, it's finding a little more joy in our lives.
Easier said than done, maybe, but Amy Huberman is doing her bit as the second season of her dramedy, Finding Joy, is taking centre stage on RTÉ One for the next few Saturdays.
She's doing well on the personal joy front too with the news that she became pregnant during lockdown, but more of that later.
This time around on Finding Joy, viewers will witness a newly-motivated Joy (played by Huberman) working to build her own online brand called Joy, with the support of no-nonsense assistant Emer (Ruth Kearney) and the ever-faithful Stan (Paul Reid).
As Joy throws herself into building her business and subscribers with great zeal, she begins to discover her professional success might come at a great personal cost. 
The second season also stars some new faces, as Kerry Howard (Four Weddings and a Funeral) plays new flatmate Christie. Kyle Prior (Hollyoaks, Home and Away) and Justine Mitchell (Cheat) are also on board.
RTÉ Entertainment caught up with Amy on location, as she was filming a domestic scene in a house on Dublin's southside. As ever, she was in great form when she took a break to sit at the kitchen table and chat about the show.
"Joy has set up on her own and she wants to take a different kind of direction."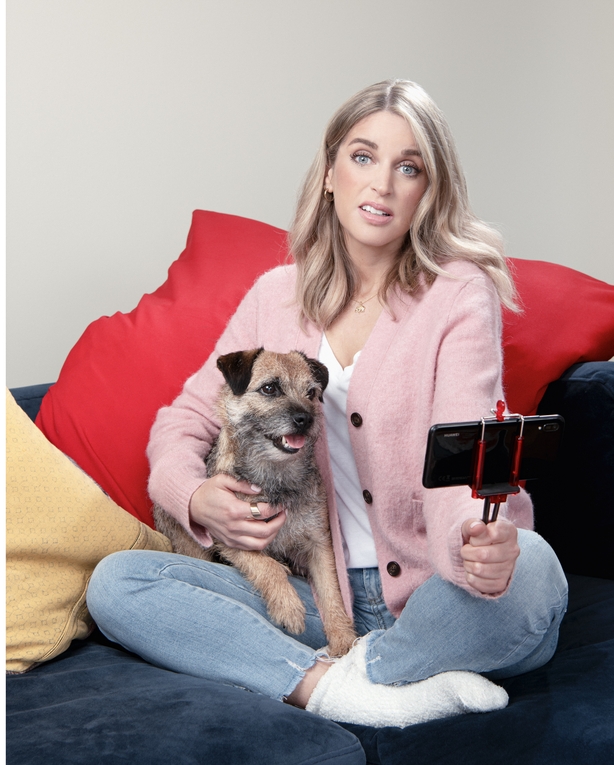 JB: How does it feel to be back with Finding Joy?
AH: "It's been so, so brilliant to be back. I just feel really grateful for a series to just to get to go again.
"And, you know, there's so much work that goes in behind the scenes, and you're kind of gearing up for it. And sometimes you don't know when you're going if you're going, are you going? And then it was full steam ahead. when when when we knew so yeah, I've had an absolute ball.
"And like the second. I loved loved filming series one. But you know, you're kind of just on edge for all of it just going in and trying to figure out tone and figure it all out. I've never done it before.
"It was just, I just was able to I think relax and just enjoy it more. I mean, you're still just as honoured as you would have been. But it's, i just i have i've never enjoyed more. So hopefully it's good. And otherwise, I've still I've had a ball, the best five weeks . . ."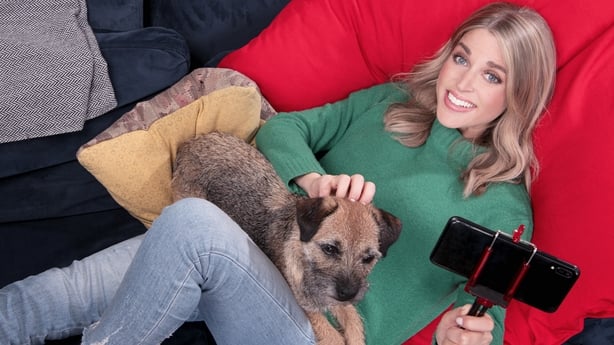 It must have been a huge confidence boost to get a second season greenlit?
"It is, it is, and you feel really I feel really lucky to get this series to and to you know, to flesh it out and to hone in on the stuff that we read it like from series one, and to get to do it again . . .
"I have i've never enjoyed anything more I have to say. And I think that I really felt the gratitude in that because you know, last year it was nearly when the whole thing was over and retrospectively looking back going 'Oh my god, we did, we did it'.
And where is Joy in this new run of the show?
"She's kind of garnered a lot of what she thinks she's learned from series one, whether that's like, you know, true or misguided. And so she kind of starts series two with a new with a new energy and a new confidence
And we'll see if that's that's got shaky foundations or not? She's set up on her own and she wants to take a different kind of direction."
"I found out that I was pregnant early on in lockdown - it's been a really nice distraction."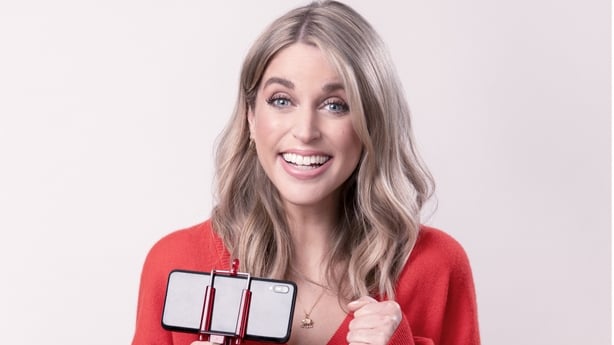 Are you feeling pressured this time around?
"I don't know. I don't think you ever see it in competitive terms. I just want people to engage with it. I thought about this last year, creatively, I think it can kind of start to stifle you a bit if you start looking at it from the outside in. And I think the only way you can enjoy it from at this stage is from the inside out.
"I was terrified last year . . . it felt, you know, it was such a labour of love. And it was so personal. And you know, the first time ever writing telly and just going, oh god and throwing it into into the arena.
"But yeah, I don't ever have to do that for the first time again. And I think, 'Look, my greatest hope is that that the people who it's for get it, and it finds his audience and they engages and they enjoy it. And that's all that's all I can hope for."
Irish viewers are probably more familiar with you in prime time drama, but you've got a mixed palate. Is it tricky striking a balance between comedy and the serious stuff?
"I was nervous as well, because the shows that I had done, like on Irish TV and there and that had been had been drama and had been in a different sphere. And I knew this was very different.
"And like, this is going to be a different, you know, like a veer off.  In between The Clinic and then maybe say Striking Out, I did mostly comedy. It hadn't been very visible on mainstream Irish TV.
"And so I was like, 'Oh, god, this is a gear shift'. And it's an irreverent comedy, and it was a different voice. And it's a voice that I really enjoy. I enjoy the silliness of it. And I really enjoy comedy.
"I think I was worried about that . . . but there's also a certain point where you have to stop thinking about that. Because you want it to work. And you have to see how it goes.
"I've learned a lot and I think you have to have a creative space where you feel free. And you have to allow yourself to do that without worrying because it will be what it will be whether you sit down and worry about it for a few months or not."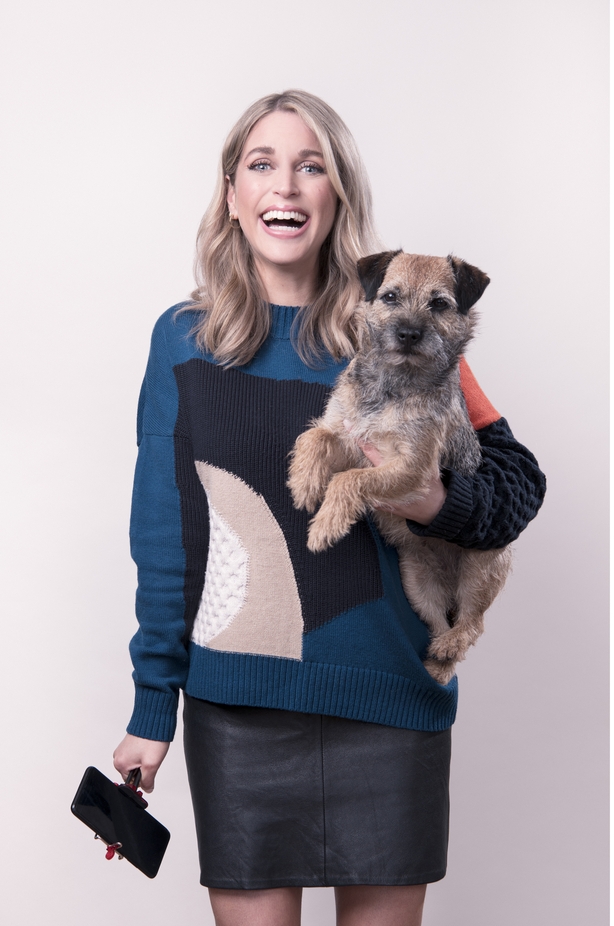 What's been the most satisfying thing for you so far with this show? Have you found joy with Finding Joy?
"I know it sounds really cheesy but, genuinely, I feel so lucky to have done this and like if it all disappeared I'd just go: 'Okay, do you know what? I wrote my own show, we did it, I loved it and put my heart and soul into it.
"It's been so gratifying, honestly, from my heart, and I really love what I do. I feel lucky to be an actor and I love writing. I I've loved this. There's nothing nicer than being on a set with a lovely crew and great cast and getting to play and and and hopefully them enjoying it . . . it's felt really special."
"Homeschooling! I had great expectations . . . I think they were very relieved when we wrapped up!"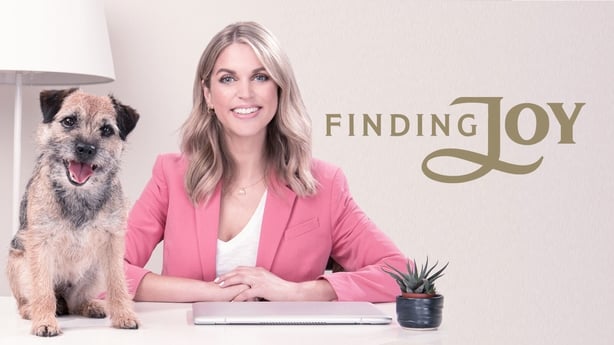 Given Amy's latest news - she's pregnant with baby number three - we caught up with her again to get the latest goings-on in her life with hubby Brian O'Driscoll and their growing family. Here's what she said:
"I found out that I was pregnant kind of early on in lockdown, so it's been a really nice little distraction. Ongoing through all this madness I kind of slip into another world and go: 'Oh! That's something nice to look forward to!'
"The kids are all excited, because my daughter Sadie wasn't even two when Billy was born, so she's no recollection of it. I barely have recollection of it, because they were both so small (laughs). It was so busy.
"They're both so-o-o-o-o excited - they been asking me to have another for a long time so, you know, I just did it for them. I'm only joking. It's great and they're so excited, now I can use it as leverage for kind of getting what I want - sitting down and not running around for them, which is good as well.
"I've felt really well, probably the best of my pregnancies - maybe it's because I am doing less running around. Sometimes I forget for large chunks of the day, which is nice to be able to do.
"I was particularly ill, nausea-wise, with other pregnancies. I've had a little bit of that, but not too much, and I fell good. So I'm very grateful for that, having known what it's like to not feel good."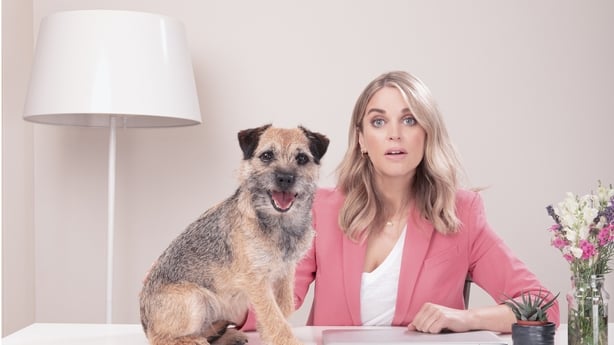 And you were homeschooling during lockdown - how did that go for you?
Homeschooling! I had great expectations for myself. I was like, 'Sure I played a teacher in Moone Boy and I was great at it'. But sure I was great at pretending to be a good teacher. They're very different things.
"I thought I'd have more patience than I did, I thought I'd have more knowledge of the Irish language than I do. It's also teaching the kids in an environment where they're not used to, so they don't have the craic with their mates, and the stimulation of all the other things they'd have in school.
"They just have their parent going, 'Come on! Come on!' And I realised I wasn't being the most fun, because I was trying to consolidate the time and get it done as quick as I could, so we could head off and do other things. Which is probably not the most fun way to learn . . .
"Listen, we all did our best, didn't get the apple at the end of the term from my students, and I think that they were very relieved when we wrapped up before real school ended."
Finding Joy series two starts on Saturday, October 10th, 9.55pm, RTÉ One