Tony Connelly recalls the early days of lockdown. "It wasn't working for anyone. It wasn't supposed to work. Or at least not for working parents with small children."
Way back in early lockdown I was trying to write an RTÉ online analysis on the EU's handling of the pandemic so far. A lack of preparedness, no sense of solidarity, mixed signals, a selfish attitude, extremes of emotion: Felix and I were both guilty of these as I struggled to type, balancing him on my lap (Felix was eight months old).
Jack (3) was temporarily bewitched by Paw Patrol on Netflix, but that was a short-term fix. Jack's school had closed in early March, Felix's creche was still open, but few parents (us included) were willing to take the risk. Here we were, all at home. Two boys under four, two full time working journalist parents. All around us the normally vibrant social and family life of Brussels was shutting down, while the numbers of Covid-related deaths in Belgium were, alarmingly, going up.
As I tried to feed Felix his lunch, while fielding numerous calls from Dublin or Brussels contacts, I hit a low moment. "This is not working," I fumed when my wife Rikke appeared in the kitchen.
I was rightly given short shrift. It wasn't working for anyone. It wasn't supposed to work. Or at least not for working parents with small children. Any children.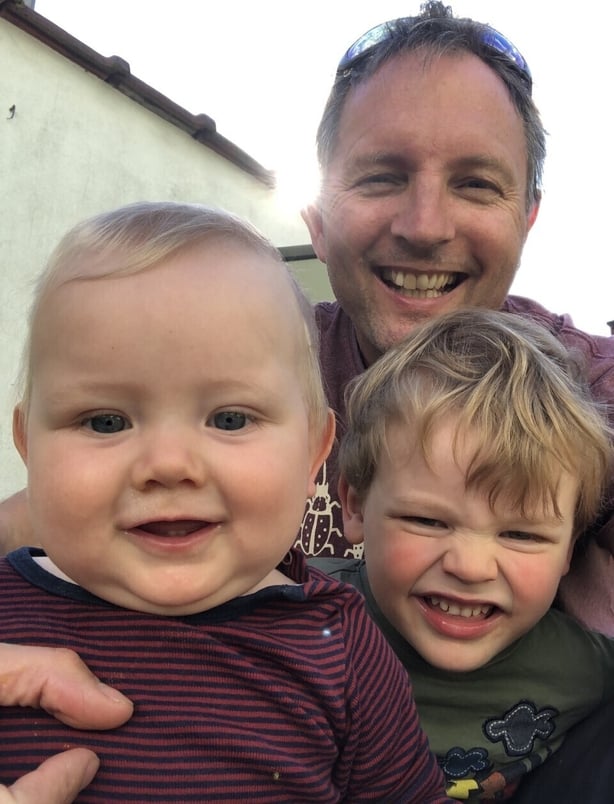 So, life in lockdown began. It was early March. Dinner invitations, the St Patrick's Day ball in the Steigenberger Hotel in Brussels, a fiftieth birthday party, music practice nights, play dates - all cancelled one by one. No more friends dropping round for coffee, no more Sunday brunches, no more meeting work contacts for coffee. The mental horizon tightened around us. Soon it was limited to the weekly trip to Delhaize, the nearest supermarket (shopping would now be strategic, not tactical), and a walk around the local park.
Everything else was indoors. We quickly agreed I would look after the boys in the morning and Rikke, who works for the Danish online media Altinget, would take over in the afternoon. RTÉ News was immediately understanding and supportive. With the one hour time difference, I could have the boys fed by lunchtime and then do a live report from the office upstairs for the one o'clock TV news and Radio 1's News at One.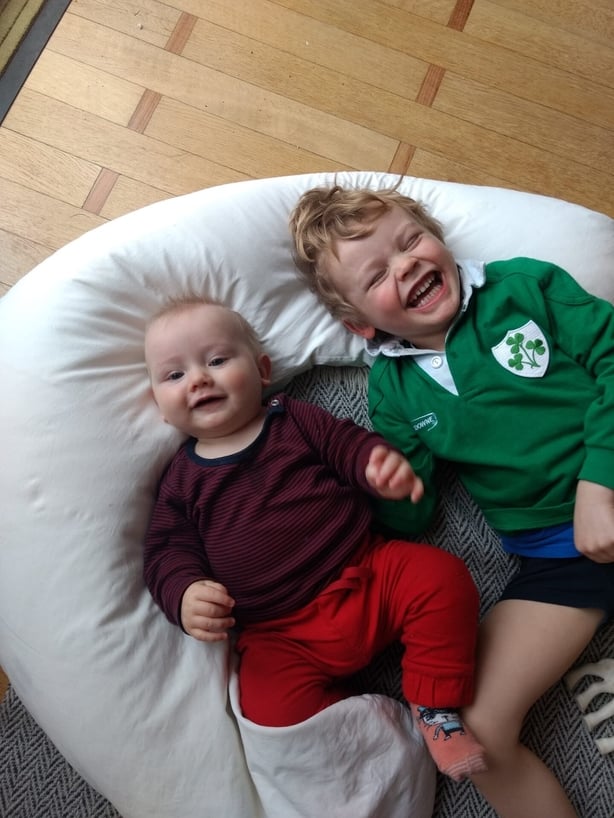 My normal Brexit coverage slowed down. The trade negotiations were only taking place virtually, and there was not that much to report (even though the talks never actually stopped). There were no ministers coming to Brussels for regular Council meetings, the European Parliament eased off its physical activities, the European Commission's daily briefings became virtual.
We entered the world of Zoom, Webex, and Teams, as we showcased our backstage lives. Most of my reporting was now on the pandemic. I would speak to the foreign editor in the morning, and get a sense of what was needed for the lunchtime bulletins and the 6.01. Once Rikke took over the boys I would sift through the agency pictures - Eurovision, Reuters - from around the world and try to script a coherent story, telling the pandemic news of the day according to the images available.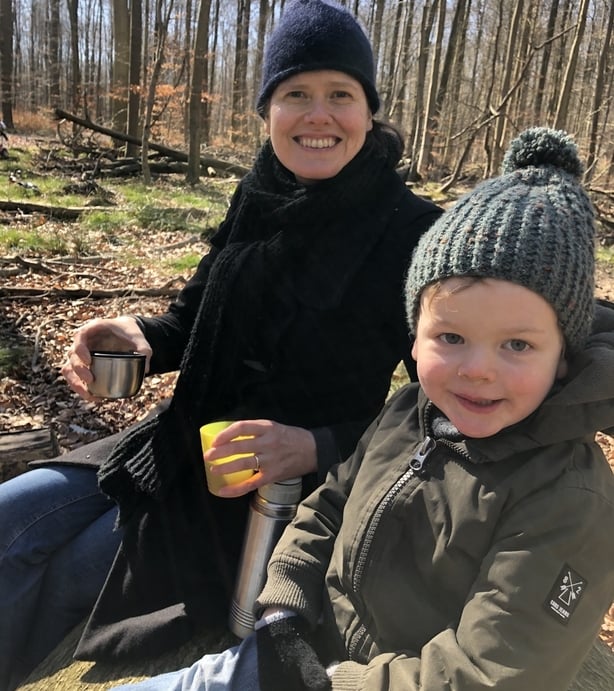 I would email my script to an RTÉ VT editor, also at home, with a guide to where he or she could download the images. My recorded voice would also be uploaded to the editor who would then stitch it all together, uploading it on to the RTÉ News server for the 6.01. Seamless (that was the idea, at least).
It was at once cumbersome and sobering. Watching a gridlock of hearses trying to leave Italian hospitals has a powerful way of tamping down irritation at the daily grind. We were all of us alive, still healthy, and still employed. I was also able to get to know editors I would not normally encounter in Brussels, and began to value their professionalism and good humour.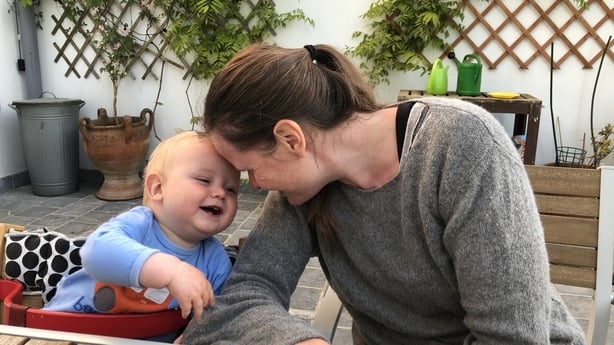 How long would it go on for? Nobody seemed to know. The blessed human virtue of hoping for the best did not comply with the Covid schedule. A couple of weeks? A month? If we all stayed home would the virus just go away? One week went by, a second, a third. Every Sunday night I made the mental notch on the wall: week four, week five, week seven, week eleven.
We got into the routine. Morning Ireland, feed kids, get Felix down for his morning nap, entertain Jack. We would get the daily défi, or home project, via Whatsapp from his teacher at the French-speaking school: make a funny face using household things, draw something nice you did at the weekend, demonstrate how you can get water from one container into another. That sort of thing…
The best way to keep Jack off Netflix was drawing. I discovered Harriet Mueller, a wonderful artist on YouTube, who posted loads of simple art lessons ranging from cute, cartoon animals to properly ambitious stuff. Soon I was doing a new sketch with Jack everyday. He liked it because it meant getting the iPad out. I started to enjoy the drawing more than he did.
My lockdown hobbies ended pretty much there - apart from the sourdough phase. I had actually started experimenting with the whole sourdough starter thing before the pandemic struck, and during lockdown I got lost down rabbit holes of sourdough wisdom on YouTube. The spirit was willing, but the supply of flour was weak. Delhaize ran out of decent bread flour almost immediately, but on the rare occasions I scored some T65 French flour my day was measured out in shaggy bread mixes, stretching and folding, bulk fermentation and trying to get that oven spring.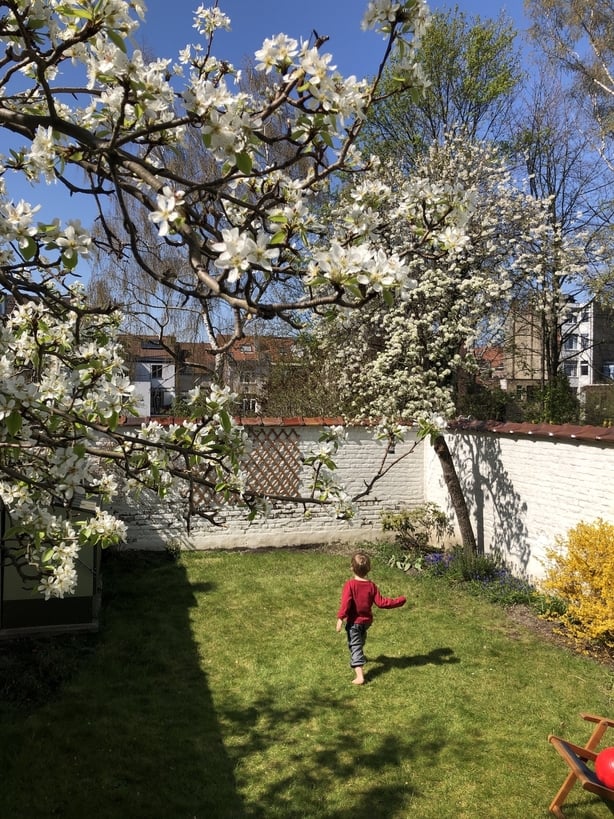 At weekends we would clean the house, eventually running out of nooks and crannies to clean. Our windows will never sparkle like the lockdown sparkle. In March we ventured out one cold, bright Sunday to the Forêt des Soignes outside Brussels with a flask of coffee, drinking in the air and relishing sky, trees, branches, twigs. The problem was that half of Brussels was relishing the same twigs so the authorities ruled out such day trips in future.
My main worry was Matteo, my 12-year-old who lives in Rome. I would normally get down to see him every other weekend, but with the lockdown that was out of the question. I was spooked by the horrifying daily statistics out of Italy. Matteo was taking it all in his stride, though. His school closed in early March, and he spent his time at home or at his Nonna's apartment, doing video lessons, reading and playing basketball on the terrace.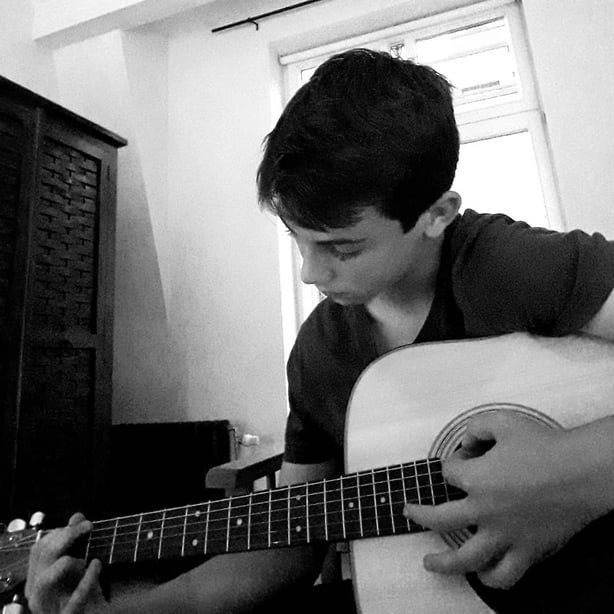 I could see he was missing me, though. As the weeks went by it started to feel like a long time, the longest we'd ever been apart. We had video calls every night, and I watched as his demeanour turned from pre-teen bravado to sadness. Soon three and a half months had passed and we hadn't seen each other.
March turned to April. In Brussels it was a splendid month of rare sunshine. We had lunch in the garden most days. The blossoms appeared on the two pear trees outside. But the daily grind was still exhausting. We were both missing friends and family (in Denmark and Ireland), and just the relief of free and easy conversation with your peers. At night we would collapse in front of Ozark on Netflix. If Rikke was working late I would watch Ken Burns' astonishing documentary on Vietnam (weighing in at eighteen hours long, it was just the right fit for lockdown).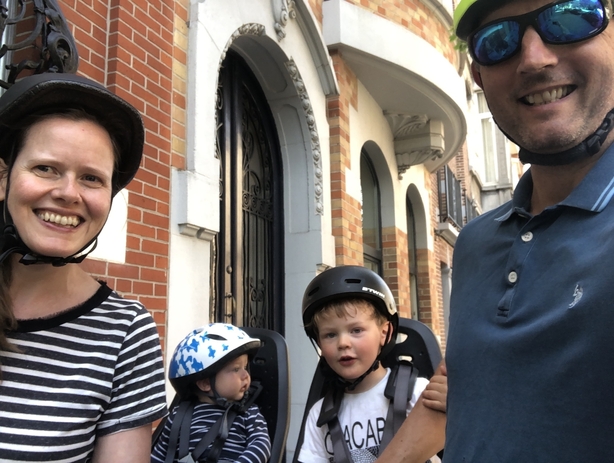 Encounters with neighbours became highly valued, especially in a country which has a higher social threshold than Ireland. I got to know the two cats belonging to our neighbours to the right, a young French-Belgian couple. They were called (the cats) Reisling and Muscat. Antoine, it turns out, was a sommelier in a two-star Michelen restaurant. Good to know…
One day Jack and I discovered an injured magpie in the garden (Reisling and Muscat swear they have alibis), and the next morning he was still there. What to do? It turns out there was such a thing as the Royal Belgian League for the Protection of Birds, with an office in Anderlecht. Because of the lockdown, they couldn't pick up the injured magpie, so we were advised to get him into a box and to take him over.
This we did and Jack and I set off. It was the first time outside the supermarket-park-home perimeter, and we drove through long, empty boulevards with the bird in the boot, and a weird sense of elation as we glided through an apocalyptic city. At the bird hospital there were instructions to leave the box outside the door and to text a local mobile number with details (no human contact was possible).
As we arrived home, my phone pinged with the grateful message that the stricken magpie had been retrieved and would receive the proper treatment (although due to the pressure of lockdown-related bird mishaps they were not able to tell me if he got fixed).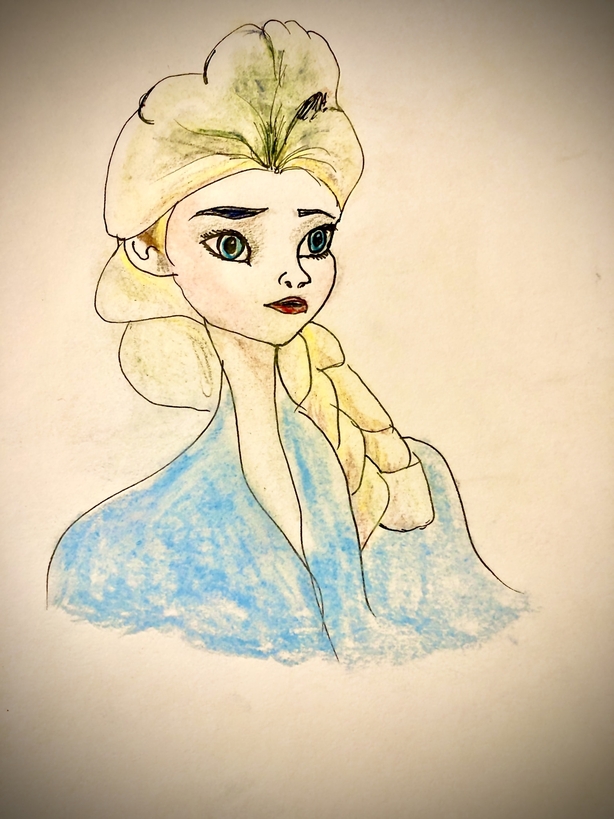 On May 4, the déconfinement, the gradual lifting of restrictions through sometimes confusing phases, got underway in Belgium. When cafes and bars opened their outdoor spaces, I ventured out with a cameraman for the first time in over two months, and we interviewed people having coffee and apéros on a terrace outside Le Cirio brasserie just off Place de la Bourse.
It felt like life really returning. Now it feels like a temporary respite. We're facing the autumn and winter with a kind of weathered trepidation. Neither Rikke nor I are ashamed to admit we could quite easily manage another lockdown - if the schools and creches stay open.
We know what to expect if a lockdown does come, and we count our blessings every day that we are still employed.
Towards the end of May Belgium lifted restrictions on people arriving from Italy. The moment the news broke I booked an unaccompanied minor flight for Matteo to fly up from Rome. On June 18, I waited outside the arrivals hall at Brussels airport, along with a small clutch of nervous people (normally the airport is thronged throughout the year).
After a long wait Matteo appeared. He dropped his case and ran up and into my arms. The tears came... and then laughter followed. "Look at the size of you!", I exclaimed, like a long lost Irish relative...