Amanda Byram has shared the story behind her "raw and honest" book The Switch, telling Brendan O'Connor on RTÉ Radio 1: "I was struggling inside for a very, very long time."
The presenter joined O'Connor on RTÉ Radio 1 on Saturday, explaining that the book is "three decades of a lot of sort of emotional anguish that I put my body and my mind through".
"It's just distilled into the book," she continued. "I didn't want to preach, because I don't like being preached to, so I thought it was really important for me to be really raw, really honest, wear my heart on my sleeve, explain my story."
We need your consent to load this Instagram contentWe use Instagram to manage extra content that can set cookies on your device and collect data about your activity. Please review their details and accept them to load the content.Manage Preferences
In a candid interview, Byram discussed her mental health and body images issues; the "disordered eating" which "lasted for the best part of three decades"; being a "very enthusiastic drinker" for a long time in her life; and ending her first engagement in the build-up to her wedding at the age of 38.
"At the time, Brendan, it felt like my entire world was falling in," she recounted.
"I was feeling really down and depressed and I didn't quite know why. And when I really faced the facts and the truth, I thought, 'I think it's because I'm not entirely sure I want to walk up the aisle with this guy'. Even though he was an amazing person. He was a great friend, you know? He was a handsome man; he had been a professional rugby player; he was sporty; he was intelligent. He was a lovely, lovely man and he sort of ticked all the perfect boxes, so to speak - back to that word 'perfectionism'. And I soon realised, again, maybe on paper he was this wonderful guy, but just not the wonderful guy for me."
Byram said it was her parents who made her see sense.
"I remember being in tears, saying, 'I don't know what to do. Everyone's bought their tickets. People are coming from Australia, they're coming from America, the chateau in France is booked, everybody's paid for their tickets. If I cancel this my world's going to crumble, their world's going to crumble'.
"Mum and dad just said, 'You know what? A wedding is a day. A marriage is a lifetime. If you're not happy, this is fine - we'll get through this, we'll deal with it'. It hit me just like a bolt of lightning. 'Oh my God, that's right. If my friends reject me after this, if the world falls in, then at least I'm being true to myself and I'm living with integrity'."
"And did the world fall in?" asked the host.
"It didn't; of course it didn't," Byram replied. "The world is still spinning on its axis - just about, Brendan, at this stage, 2020!
"The most important person, of course, was the ex-fiancé, and he didn't want to be married to someone who didn't want to walk up the aisle. I should've realised that at the time: how much more painful it would've been had I gone through with that day."
The 47-year-old said she went on to meet her husband Julian Okines "after a long time of me being single, and a long time of me doing a lot of work on myself".
"Getting to that place in my head where I realised to ditch all expectation, because expectations are the ruination of all the things that we expect in our lives," she said. "It's the irony of it."
Byram advised listeners not to fall into the perfection trap.
"The word 'perfect' itself is an illusion, and that's something I think we really need to sort of get our heads around," she said.
"There's this certain strive [sic] to be perfect - perfectionism is a big problem. I think it's one of the reasons that a lot of women, and men, struggle with body image issues. They struggle with career, with things in life.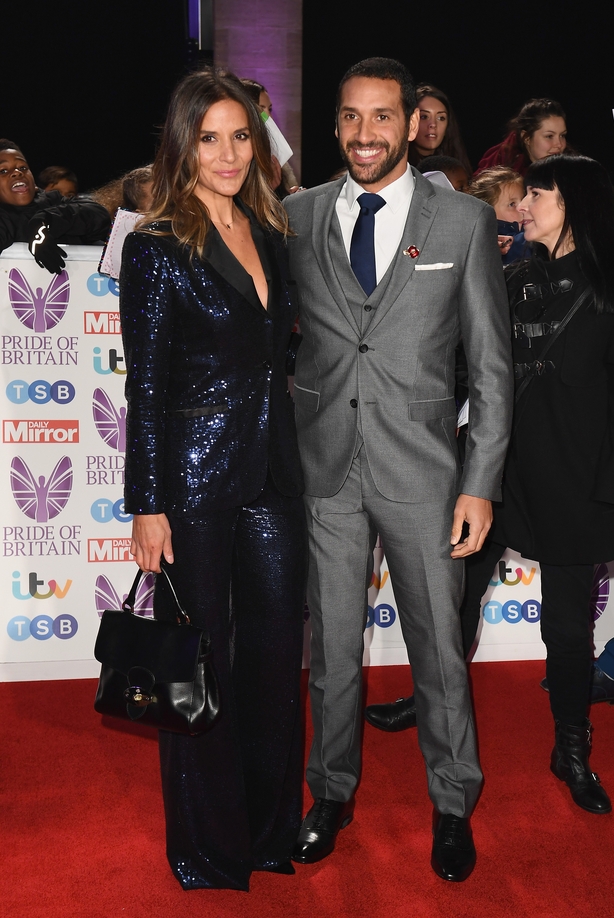 "All around us, we're sort of being fed this lie that perfect is the best, and we need to strive to be the best parent, the best mother, the best child, the best daughter, the best career woman - the best at everything. And over time, that really chips away at our psyche and it chips away at our self-confidence.
"There is no such thing as perfect. I talk in the book about 'the perfect horizon', and that we're all sort of on this beautiful little lilo. We're swimming in the seas of consumerism and magazines and all of these lies that we're being fed. And slowly but surely, these sharks are going to get that lilo and you're going to be trying to swim towards that perfect horizon. But it doesn't exist.
"From the outside, yeah sure, you know, I do have a wonderful life. I do have a wonderful family and my career is fantastic. That doesn't mean that I was[n't] struggling inside for a very, very long time with all of the same issues that everybody else struggles with."
The Switch is published by Gill Books.