In the current world of movie releases its hard to know what could be an Oscar contender, but if we were living back in our old reality then The Trial of The Chicago 7 would definitely be right at the starting line.
Released in cinemas this weekend and on Netflix on October 16, Aaron Sorkin's latest film is a gripping retelling of real events that harks back to courtroom dramas from decades ago, whilst still feeling incredibly timely in the current world climate. The dialogue explodes onto the screen, all thanks to Sorkin's masterful work. Every actor brings their A-game, including Oscar-winner Eddie Redmayne.
Speaking to Redmayne ahead of the movie's release, he told me that being cast in an Aaron Sorkin movie has completed his bucket list.
"Quite often as an actor, you get asked whose on your bucket list and I always said there is only one and it is Aaron Sorkin. I was obsessed with the West Wing, as most the world was, so when this script arrived... I think I called my agent before I read it and said yeah I'll do it, and he said I should probably read it first!"
The film tells the story of the infamous 1969 trial of seven defendants charged by the US federal government with conspiracy and more, arising from the countercultural protests in Chicago at the 1968 Democratic National Convention against the Vietnam war.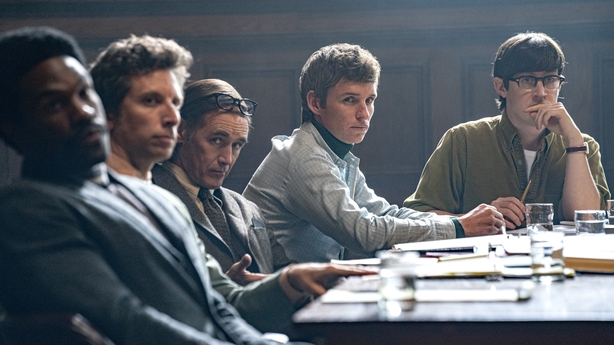 There is a stellar line-up joining Redmayne, including Yahya Abdul-Mateen II, Sacha Baron Cohen, Daniel Flaherty, Jeremy Strong, John Carroll Lynch, Noah Robbins and Alex Sharp.
Mark Rylance steals the show as the Julius Hoffman, the lawyer presiding over the historic trial. Speaking of Rylance, Redmayne recounted how he gave him his first-ever job almost twenty years ago.
"I played Viola in 12th Night. He literally gave me a career, honestly I got an agent through that. Working with him (now) and getting to spar with him in the latter end of the film was literally extraordinary."
The real Tom Hayden, who Redmayne plays in the film, sadly passed away in 2016, which meant he couldn't gain any insights from the man himself.
However, Hayden married Hollywood legend and political activist Jane Fonda in 1973. When I asked whether he called her to ask about Tom's personality, Redmayne laughed off the notion and said: "I like the way you put that like, just catch up with Jane Fonda, like hey Jane! I didn't speak to Jane, the way I went about it was I just read everything I could. He has this sort of inherent charisma without pushing."
The Boys in the Band
If you are looking for something to watch at home this weekend, try jumping into the world of 1960s New York with the new Ryan Murphy produced comedy-drama, The Boys In The Band. Based on the landmark play of the same name, the film features the entire Broadway cast from the show's 50th-anniversary production, including Big Bang Theory's Jim Parsons, Star Trek's Zachary Quinto, Ratchet and Desperate Housewives star Charlie Carver and more.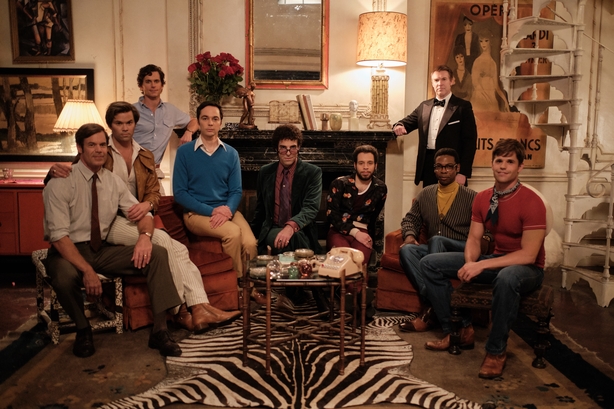 Watching a film with a cast of gay characters played entirely by gay actors is incredibly refreshing and brings a huge sense of reality to the struggles they face through the often claustrophobic and tense thread of the plot.
While celebrating Quinto's character Harold's birthday, a group of gay friends get forced into a tense face-off after one of their old college roommates shows up with homophobic views and a lack of restraint in verbalising them. Tackling the struggles of internalised homophobia and the outlook of America in a pre-Stonewall world, you will laugh, cry and think deeply throughout.
Zachary Quinto sums it up perfectly on my 2fm show this weekend.
"It's a good reminder of how far we've come, but also how a lot of things are still the same."
The Stephen Byrne Show on RTÉ 2fm, Saturday and Sunday from 3pm
This Weekend's shows are going to be huge, Eddie Redmayne talking The Trial of The Chicago 7 (Cinemas this week @NetflixUK Oct 16th!) + we catch up with Zachary Quinto, Charlie Carver & more from The Boys In The Band (Out on @NetflixUK now)

Two incredible films. Watch. Them. pic.twitter.com/J55YvwZSTQ

— Stephen Byrne (@stephenbyrne) October 1, 2020