Domhnall Gleeson told Ryan Tubridy on Friday's Late Late Show that he has to thank boxing world champion Katie Taylor for keeping him sane during the Covid-19 lockdown with her workout videos.
When asked by host Tubridy how he had coped during the lockdown, the Star Wars favourite replied: "The only thing that got me through it was the Katie Taylor workout, which she put up on Instagram! And it's the only thing that kept me sane!
"She put two of them up - they're amazing! Again, I'm not a good advertisement for it - you can get a lot fitter than this! But I want to say thank you so much to Katie Taylor for that, because it actually got me through some really weird times. It was kind of amazing."
"I'm lucky I don't suffer with depression, but I just had some pretty big ups and downs and the same thing that everybody goes with [through]," he continued.
"Always when any actor, or anybody in my situation talks, it's very important to say that you understand the privilege that you have. But it's been a very tough time for everybody, regardless of anything. And so, yeah, a lot of ups and downs and a lot of strange moments. But thank you, Katie, for getting me through it."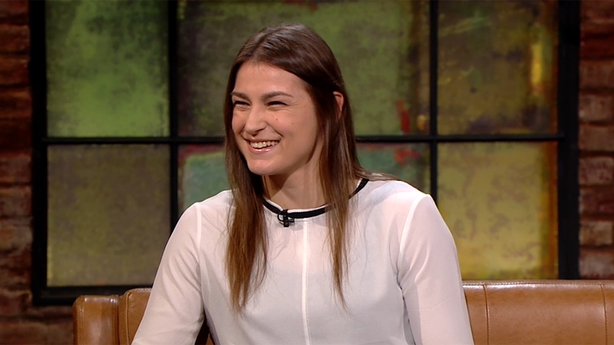 "Amazing. I never thought I'd be here listening to you thanking Katie Taylor for getting you through a pandemic!" laughed Tubridy.
Gleeson appeared on the show to raise awareness of the virtual Hospice Coffee Morning next Thursday, September 24.
"They have one every year; they raised €2m last year and they're trying to do a virtual coffee morning," he said. "They're trying to get people to be creative and do it that way and that's still going ahead.
"Thank you from me and all the Gleesons and to the people in the hospices, we love you"

Domhnall Gleeson speaks about the upcoming Hospice Coffee Morning.https://t.co/pH0qIcLCPG#LateLate pic.twitter.com/mrZfc1I8DM

— The Late Late Show (@RTELateLateShow) September 18, 2020
"I would never ask anybody to do anything I wouldn't do myself - people are in an awfully difficult financial time, we understand that - but anybody who can spare anything to help them... What they do brings solace at the worst time. There's a lot of death around at the moment and there's so much sadness, and the people in there look after us. They give us comfort at a time when it's totally lacking."
Gleeson had just wrapped filming a series he co-wrote "with my friend and my brother" half an hour before his Late Late appearance. He said he would probably have "a good cry" when the interview was over.
"There's so much bad news and so much sadness around, as we all know. It felt amazing to come back and work with people to make something," he added.
"We're trying to make something funny, we're trying to make something that will give people joy. And that's actually an amazing thing to be part of, laughing every day with people around. I'm going to be stuck for company the next while - as we all are - so I've treasured the last couple of weeks."
He concluded: "Keep strong, Ireland. We'll get through it."
Watch The Late Late Show on the RTÉ Player.