Tommy Tiernan offered hope to Leaving Cert students that everything will be alright in the end when he appeared on the Ray D'Arcy Show on RTÉ Radio 1 on Friday to share his own life experience.
On the day when CAO offers were released, and his daughter received an offer for the course she wanted, Tiernan reflected from his shed in Co Galway on the path he had taken in his own life.
"Where were you when you got your Leaving Cert results?" he asked the host.
"Oh God," replied D'Arcy. "Well, I was outside the school, because that's where you got them back then." [Laughs]
"Oh, of course," said Tiernan. "You probably stayed there for the whole summer, did you?! Just in case they came in early!"
Had a catch up with @RadioRayRTE from the shed! You can listen here https://t.co/f2EiZmrAgd https://t.co/TXwBIJsM5L

— Tommy Tiernan (@Tommedian) September 12, 2020
"I was in a phone box in London," Tiernan recounted. [Laughs] "And I phoned home and I knew things didn't go well when the first thing my father did was sigh! 'Ahhhhh, I have the results here, Tom...' I got offered nothing!"
"And what did you apply for?" asked D'Arcy.
"I think I probably applied for... nothing! But I got offered nothing!"
"Well, there you go," said D'Arcy. "That's success!"
"I got what I wanted!" laughed Tiernan. "I ended up working in a carpet factory in Navan for a while, and then going down to Cork to sign on the dole.
"I remember one time I said to my father, 'I want to be a philosopher', and he said, 'Tom, we're all philosophers'." 
"I studied psychology and, really, it's just putting jargon on common sense," offered D'Arcy. 
"And did you finish the course, like?" wondered Tiernan.
"I did, yeah," said D'Arcy. "But, like, I didn't really learn much at all from it."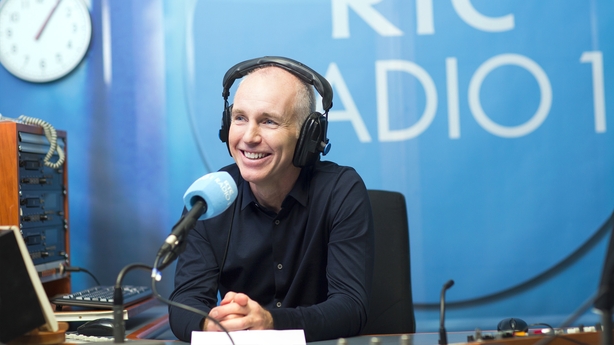 "Where did you study it?"
"Trinity College," replied the presenter.
"And then you became a DJ?!" said an exasperated Tiernan. 
"He just sighed," Tiernan then said, returning to the London phone box and the news from home.
"He called out the letters that were beside the subjects. I failed two subjects, and I got a 'C' in Honours English, which I was delighted with. And I got a couple of 'D's then. And I failed two exams. I can't remember what they were. So I wouldn't have got a fantastic Leaving Cert at all. But I didn't need it, you know? 
"I sometimes wish that I had more confidence in myself when I was in school. I wish that I had realised back then that I'd never need a Leaving Cert in what I was going to do." 
"Ah, but life doesn't work like that, Tommy. Life doesn't work like that."
"Sorry, you're breaking up there, Ray." [Laughs]
"So in hindsight, you know... I wouldn't be a great man to bring along to a parent-teacher meeting," Tiernan continued. "Because I wouldn't be that inspired by... Now, if your child is academic, I would say - no more than if your child is athletic - give them the greatest encouragement.
"Some kids thrive with books and information. It's almost as if they're online playing a game; they love it. These amazing children that got 9,000 points and they're able to do four or five courses in Trinity at the same time they're that clever. And fair play to them. But there's a huge tranche of people as well who... The school is so uninspiring and you're just kind of getting through it. 
"I wish I had more confidence in myself back then. I wanted to leave school when I was 17, before I did the Leaving Cert. My father, he was exasperated, because I'd failed all my exams in Navan and they'd forked out a lot of money to send me to boarding school in Ballinasloe.
"I came back after the first year in Ballinasloe and I'd failed all the exams again. And he was just at his wits end, you know? And he said, 'What do you want to do?' I said, 'I want to leave school'. And he said, 'Ok'. And I chickened out and I ended up going back for the Leaving."                
"Listen, I'll leave you with this," concluded D'Arcy. "It's from a German philosopher - I can't remember his name - and it's through [recent guest] Eamon Dunphy. It's that we only make sense of life when we look back on it. And fortunately, we live life going forward."
"Unless you can moonwalk," replied Tiernan.
Listen to the interview in full here.
Tiernan has just launched a podcast with co-presenters Hector Ó hEochagáin and Laurita Blewitt. Winging It, a book of transcripts of interviews from his RTÉ One talk show, will be published on October 29. New episodes for RTÉ One are due to be recorded before the end of the year.