Actress and activist Jane Fonda has relived the day she spent at the late Martin McGuinness's kitchen table in Derry in 1976 at the height of the Troubles, saying how shocked she was when a blood-covered body was carried into the living room.
Speaking on Friday night's Late Late Show from her home in the US, the 82-year-old double-Oscar winner said, "We were looking for Gerry Adams and someone directed us to Martin McGuinness's house and my son, Troy, was with us and he was about six years old. I was married to the late Tom Hayden, who was Irish, so we were sitting in the living room and a body was carried in, bleeding a lot.
"It was The Troubles and Tom put some of the blood on his fingers and he said to Troy, 'Your forefathers, your forebears, your people'."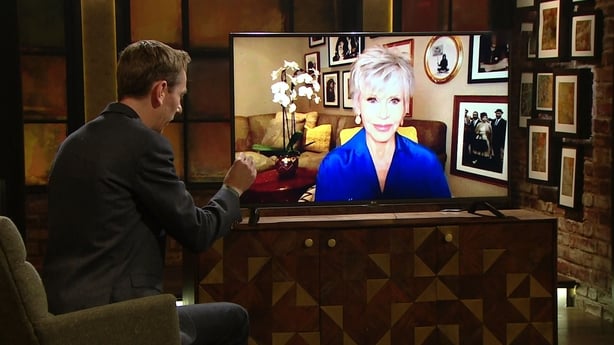 Asked by host Ryan Tubridy what it was like growing up with her equally famous father Henry, Fonda said, "It wasn't glamorous. My dad came from the mid-west, land of the Great Plains and he would be more frequently on a tractor ploughing the fields than he would be doing something glamorous.
"I think they gave one Hollywood type party. I remember it vividly. Nat King Cole played the piano."
Watch the full interview on the RTÉ Player
Fonda's 60-year career has seen her star in numerous acclaimed movies, including psychological thriller Klute, for which she won her first Oscar, and Coming Home, her second Oscar-winning performance. More recently she has been starring in Netflix hit Grace and Frankie.
"Being arrested now aged 82 is different. Your bones hurt! I'm also white and famous with a popular TV series behind me so if I had been black it would have been very, very different."
She credits her interest in social justice to her father. "Dad didn't talk a lot, but he made The Grapes of Wrath and Twelve Angry Men and The Oxbow Incident and even as a child I knew that they were the movies that mattered to him," she said.
We need your consent to load this YouTube contentWe use YouTube to manage extra content that can set cookies on your device and collect data about your activity. Please review their details and accept them to load the content.Manage Preferences
"Those values, sticking up for the underdog and fighting unfairness and injustice became part of my DNA as a child."
A lifelong activist, who was dubbed Hanoi Jane in the 1970s due her staunch opposition to the Vietnam War, Fonda has continued to fight for causes and has been vocal in her opposition to US presidents, from Nixon to Donald Trump.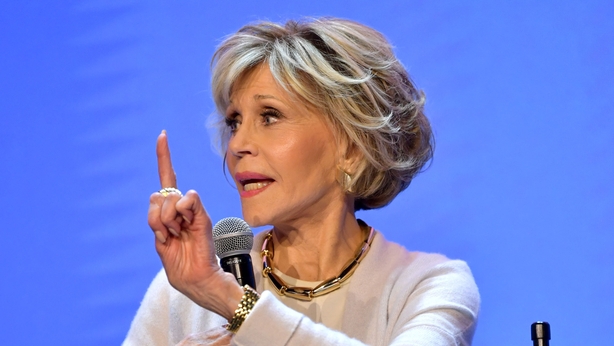 Fonda recently published What Can I Do?, a kind of activism manual, and she has been arrested many times, including during her recent participation in climate change activism day, Fire Drill Fridays.
"It's very interesting what happens when you're arrested," she told Late Late Show host Ryan Tubridy. "Because you're being handcuffed and, in some incidents, my feet were shackled, and you've lost control. You're putting your body in alignment with your deepest values that you feel so empowered
"Being arrested now aged 82 is different," she added. "Your bones hurt! You don't get a comfy mattress. It's a metal sheet and I'm old and bony. It hurts. I'm also white and famous with a popular TV series behind me so if I had been black it would have been very, very different.
"I'm 82 now, going on 83 and I don't want to die regretting that I wasn't brave enough or strong enough."