There's a documentary about guitar legend Jimi Hendrix, the penultimate episode of Britain's Got Talent, the return of Match of the Day, and some cracking movies . . .
Pick of the Day
Hendrix and The Spook, 9.00pm, Sky Arts & NOW TV
To mark the 50th anniversary of the passing of rock legend Jimi Hendrix, this film investigates the final hours of his life, utilising new first-hand evidence to cut through the many stories and myths surrounding his death.
Who was the mysterious suited man that accompanied him on final plane journey to London? Was manager Mike Jeffery's secret history as a British spy related to his death?
This film challenges the open verdict that has remained in place for fifty years and suggests that is likely that Jimi Hendrix was in fact murdered.
Don't Miss
Britain's Got Talent, 8.00pm, Virgin Media One
Ant and Dec (below) host the second semi-final of this year's talent contest, welcoming back the acts that impressed the judges during the auditions episodes back in the spring.
They include the golden buzzer acts - singer Fayth Ifil, comedian and singer Jon Courtney, choir Sign Along With Us, comedian Nabil Abdulrashid, and mother and daughter singing duo, Honey and Sammy.
Eight acts will perform, with two finalists selected by the judges and the votes of UK viewers.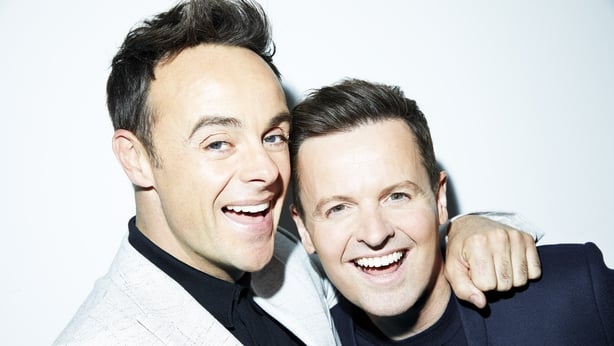 Kate Bush at the BBC, 1.00am, BBC Four
If you're planning a late night in, this will certainly entertain: a compilation of Kate Bush's performances at the BBC's studios between 1978 and 1994.
Although she wasn't one for touring, Bush appeared on a variety of TV shows over the years, including Top of the Pops, Wogan, Ask Aspel, Saturday Night at the Mill and The Leo Sayer Show.
Featuring hits such as Wuthering Heights, Babooshka, Running Up That Hill and Hounds of Love, as well as intriguing and lesser-known material.
Here's a personal favourite:
New or Returning Shows
Match of the Day, 10.20pm, BBC One
Gary Lineker presents highlights from the opening fixtures of the English Premier League season, including Liverpool v Leeds United at Anfield and Fulham v Arsenal at Craven Cottage.
Leeds were playing their first top-flight match since 2004, but could not have faced a sterner test against the champions, who last lost in the league at Anfield in April 2017.
Meanwhile, Fulham also faced a tough challenge on their return to the top tier of English football as they host one of their London rivals. With analysis by Alan Shearer and Ian Wright.
Here's how the show opened 50 years ago:
New to Download
Don't Let Go, Sky Cinema & NOW TV
David Oyelowo heads a strong cast in this enjoyable, Christopher Nolan-lite, time-bending mystery alongside Euphoria's Storm Reid.
Detective Jack Radcliff (Oyelowo) is shocked to the core when he receives a call from his recently murdered niece Ashley (Reid).
Together, they look to find a way to change her destiny, with the aim of solving her murder before it can even take place.
Ending Today
BBC Proms 2020: Last Night of the Proms, 8.00pm, BBC One
Katie Derham hosts the climax of the classical music festival, live from London's Royal Albert Hall, drawing a unique season of live performances to a celebratory close.
Soprano Golda Schultz and violinist Lisa Batiashvili join Dalia Stasevska, the BBC Symphony Orchestra and the BBC Singers in a programme that includes music from Mozart's Marriage of Figaro, Andrea Tarrodi, Richard Strauss, Stephen Sondheim's A Little Night Music, and The Lark Ascending by Vaughan Williams.
Oh, and a little ditty called Rule Britannia.
Family Flick
Cinderella, 6.35pm, RTÉ One
Here's the classic romantic fantasy for children, featuring Lily James and Richard Madden, and directed for Disney by Kenneth Branagh.
You must know the drill: a downtrodden girl's fortunes are magically changed when she gets the chance to win the heart of a handsome prince.
Movie Picks
Memento, 9.45pm, BBC Two
Christopher Nolan's innovative thriller, starring a superb Guy Pearce, Carrie-Anne Moss, Joe Pantoliano and Mark Boone Jr is always worth a twitch, whether it's your first or fifth time viewing it.
Pearce plays an insurance investigator who suffers from short-term memory loss after an attack in which his wife was also raped and murdered.
Unable to remember events for more than a few minutes, he is determined to track down the killer and relies on copious note-taking and reminders tattooed on his body to aid his mission.
I'm All Right Jack, 9.45pm, Talking Pictures Television
Peter Sellers heads a fantastic cast - including Dennis Price, Richard Attenborough, Ian Carmichael, Terry-Thomas and a debuting Liz Fraser - in this classic Boulting brothers' satirical comedy.
Carmichael stars as a dim-witted man looking for a career in industry who gets a job at his uncle's weapons factory.
He ends up an unwitting pawn of both the scheming management and the rebellious trade union, and becomes a central figure in a strike that has been manipulated as part of a dodgy arms deal.
Thor: Ragnarok, 9.20pm, RTÉ2
Cracking Marvel adventure, starring Chris Hemsworth and Cate Blanchett.
Two years after the battle of Sokovia, Thor (Hemsworth ) is imprisoned by the fire demon Surtur, who reveals that Thor's father Odin is no longer on Asgard.
Thor frees himself and heads to Odin, where his his estranged brother Loki (Tom Hiddleston) posing as Odin
Click here for TV listings