They may be the most famous Geordies in the world, but Saturday Night Takeaway duo Ant and Dec talked up their very Irish roots on Friday night's Late Late Show.
Speaking to host Ryan Tubridy, Declan Donnelly recalled his time as a child in the Tyneside Irish Centre, which was run by his Irish-born parents.
"My mum and dad ran it and my mum was working there behind the bar the night I was born, she had contractions while washing glasses," he said. "So, she hopped off to hospital and I was born and that's where I grew up really, in this working men's club. This Irish cultural centre in Newcastle.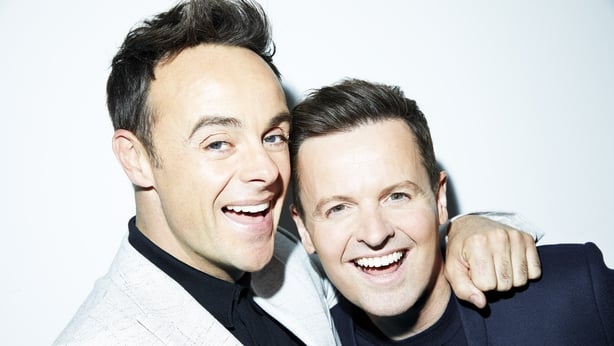 "I was surrounded by Irish people who were living and working in Newcastle so that was my upbringing for the first ten, eleven years of my life. There was always a stage in the function room and that's where I got my love of performing."
Dec, whose older brother is a priest, also said that while he did consider joining the priesthood himself, he wasn't that serious about the idea.
"My Brother had gone off at 17 and I was about ten or eleven and he'd gone off to seminary and I went to an all-boys Catholic school and one of things they ask you to do is to consider is if you have a vocation and I thought maybe I could do it too!
.@antanddec talk about the DNA test that shows their shared history #LateLate pic.twitter.com/CfJLCzK7tV

— The Late Late Show (@RTELateLateShow) September 11, 2020
"But we were about that age that we saw the girls from the convent school going by and I was much more interested in the girls passing by."
Ant McPartlin's Irish credentials are also impeccable, with his family hailing from Drumkeeran in Leitrim. Speaking to Tubridy, he said, "We did a TV show called Our DNA Journey last year and I didn't know anything about my heritage.
Watch the full interview on the RTÉ Player
"I took a DNA test and went to and I've still got relatives in Drumkeeran and I walked into a pub and everyone in the pub was related to me because they'd all taken a DNA. It was a very good-looking pub!"
He added, "I met a lot of people who I'm still in touch with now and it was great because I knew nothing and suddenly, I got all this information. It was quite an emotional day."  
The duo were speaking side by side on the Late Late and as Dec explained, "We are in what is known as a cohort and we get tested every four days. Our households are linked so we are effectively in a bubble, so we get tested all the time. We're like premiership footballers - but without the athletic ability."