David McCullagh joins RTÉ's Six One News presenting team tonight alongside Caitríona Perry and says he is very much looking forward to "the challenge, its fast pace and something different".
Following seven years at RTÉ's flagship current affairs show Prime Time, David McCullagh takes up his new role as presenter of RTÉ's Six One News.
Speaking ahead of his first programme, McCullagh said that he is ready to get "stuck in and get over the initial nerves".
"I thought it would be something very challenging, something very different. It moves very fast - you can get surprises in the middle of it. I have done various different gigs in RTÉ and this is one of the really big ones, so when they offered it to me I thought it would be rude to say no."
He added: "The most important thing with Six One is that people turn on the telly at a minute past six and they want to hear the news of the day and they want to see our fantastic network of correspondents and reporters delivering that news. I think the job of the presenters is to facilitate that, and when it comes to interviews we have to get the most out of whoever we have on, in the time available."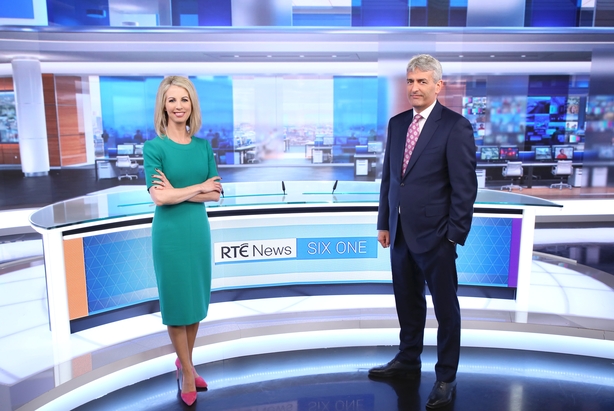 Co-host Caitríona Perry explained that they both have a strong hand in the direction of each show. "Definitely as presenters, you are very involved in the editorial direction and what goes into the programme on any given day, especially in terms of who the interviewees are."
She added: "I think with David and myself, and Keelin [the late Keelin Shanley] when she was here, we are all journalists first. David and I were correspondents before we became presenters. We are journalists first and foremost.
"We have done the hours, we have done the overnights. We have done the standing on the side of the road in the rain and gale force winds and digging out the stories."
Speaking earlier this year, Director of RTÉ News and Current Affairs Jon Williams said: "David is one of Ireland's most formidable journalists. For seven years, at Prime Time, he's sought answers from scientists to Taoisigh, moderating - with Miriam - our Election 2020 Leaders' Debate, and helping the programme reach some of the biggest audiences in its history during the Covid-19 lockdown."
He added: "There could be no one better equipped to join Caitríona on Six One as Ireland emerges from this emergency facing some difficult challenges, and heads towards the centenary of the foundation of the State."