Today with Maura and Dáithí offered a "bit of normality" during lockdown, says co-host Dáithí Ó Sé.
The afternoon magazine show on RTÉ One took on a life of its own as Covid-19 closed the country down from March. After a short summer break, the dynamic duo are on the way back to the box.
"Ready to rock and roll," says Dáithí, when asked about the show's return on September 21. "We can't wait to get back."
The show had an extended last season during lockdown, due largely to the fact that it saw a considerable rise in viewing figures. And, as the old adage goes, if it ain't broke, then why fix it?
"I think there were increases there because more people were staying at home, but also I think it went back to that basic thing of being a public service broadcaster, and it became very evident that we were a bit of normality that people had been missing, I suppose, when the whole country was shut down," says Dáithí.
"People were only allowed to go maybe two kilometres from their houses. Kids at home as well. We had to change our work practices as well. We were recording two things during the day as well, so that we didn't have more than four people inside in the studio at any one time.
"We had two camera personnel - that went down to one, so there was only Maura and myself, and two other guests at most, inside in the studio. We'd lots of Skypes, like lots of other TV shows did, so we adopted fairly well.
"So we're going to start back in three weeks' time, just as we finished in June, with the same work practices."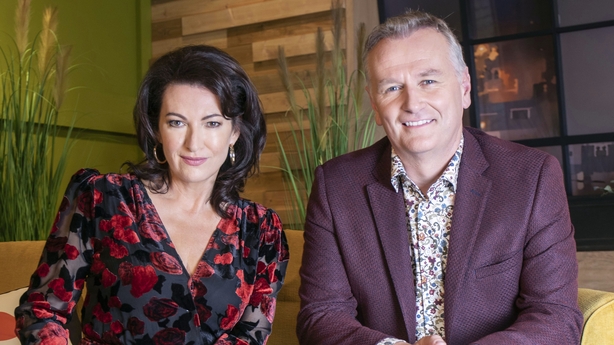 Co-host Maura Derrane agrees that the show's tweaked formula struck a chord with the country. She's certainly looking forward to getting back to the studio in Cork and connecting with viewers once again.
"We have a good mix, really, and we're certainly not celebrity-driven," she insists. "That's kind of not our remit, I suppose, in one way.
"You know we've had various people on the show that were fabulous. I mean, Vanessa Feltz, for example. She was brilliant. I really think that we've had a great season -but it was a different type of season.
"I think we kind of embedded in, we were reaching out and being more tactile to our audience this last year."
And while Maura look as radiant as ever, Dáithí admits that there's maybe a bit more of him around these days, especially as he missed out on presenting the Rose of Tralee, which was abandoned this year due to the pandemic.
"Covid kilos? I've about three weeks to get rid of them," he admits. "I spent the last couple of weeks, when I usually wouldn't at this time of year. And when you're sitting next to Maura, she makes me look bigger again, so I have to start pounding the pavement.
"I started this morning. I went swimming for the first time with the young fella in the pool, so that was quite an experience - because you can't shower or anything afterwards. But we were delighted to get back in there.
"Yeah, I've a tough three weeks ahead of me . . . For me, it's all about the food. I'll eat night and day. I'll have a lovely, healthy omelette about half-nine in the morning, and five or six chocolate Hobnobs down on top of it. So I need to cut all that stuff out before we get back to Cork."
Today with Maura and Dáithí returns to RTÉ One on Monday, September 21.