It's good for my mental health to get out of the house, says R na G's Fachtna O Drisceoil who cycles into Montrose to present Tús Áite on RTÉ Raidió na Gaeltachta Monday to Friday.
Since the pandemic started I've been working from home until about 3.30pm or 4pm and then hopping on my bike and cycling into RTÉ to present the programme. It's good for my mental health to get out of the house, and both my producer Sinéad Ní Uallacháin and I prefer to be together at the studio when the programme Tús Áite is going out.
It has been only the two of us working on the programme for the past few months so it was quite tough, particularly when I was sharing the home schooling of my kids with my wife Mary, who is also working from home. Poor Sinéad always seemed apologetic about calling me while I was trying to do schoolwork with the kids – the truth is I wasn't always available to her in the way I should be and she had to carry an extra burden because of that.
We were quite strict and organized about the home schooling in our house and we did it for three hours every day. My teaching skills certainly improved and I got some helpful advice from my sister and brothers who are teachers.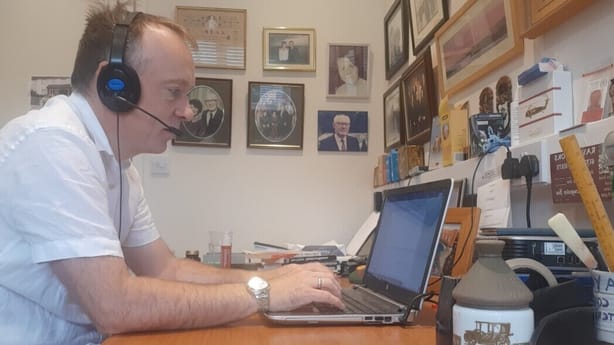 Then in the afternoons I did a really intense few hours work on Tús Áite. I thought at the time I was doing a great job – and maybe I was – but I didn't realize until things eased off how much it had taken out of me. When the home schooling stopped and things got a bit easier, I felt my physical and mental health take a nosedive.
About a fortnight later I got a cert from my GP for a week's sick leave for exhaustion, and I spent as much time as possible in bed for the first few days. Since then I've had three weeks of holidays and I'm feeling much better now but I'm really hoping the schools will open in September!
When we entered the dark shadow of the lockdown and the looming unknown of the pandemic, I found myself unable to read or write anything other than what was necessary for my work. Then after a few weeks I picked up an old Irish language book from the sixties which had belonged to my father – An Tíogar Daonna by Annraoí Ó Liatháin – a fictionalized retelling of the life of the famous Apache chieftain Geronimo.
My father had been a member of an Irish language book club in the late sixties and early seventies and these books have been around me most of my life – but for some reason it never occurred to me until now to actually read them.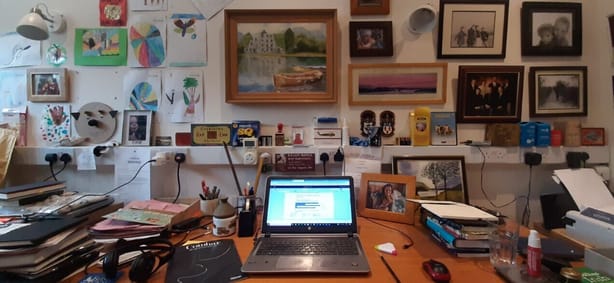 An Tíogar Daonna turned out to be am amazingly powerful insight into the tragic downfall of native American society, a story that has obvious parallels with the fall of Gaelic Ireland. After An Tíogar Daonna I started reading all my dad's old Book Club books – some were pretty good, some not so good.
I particularly enjoyed Fir Chlaímh by Seán Ó Mulláin, a swashbuckling historical adventure story and Cosaint an Ghleanna also by Seán Ó Mulláin, a contemporary novel set in a rural community exploring themes such as discrimination against na tincéirí - what we now call the travelling community.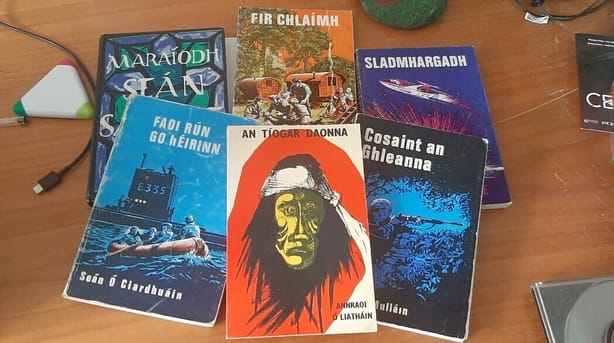 When I was growing up in the 80's I thought these books of my father's looked dated and unfashionable, but now I love the sixties style artwork on the covers. I've joined my local library to find more print works by some of the same authors via inter-library loans. While I'm waiting for those to arrive, I'm reading the fascinating A History of Ireland in 100 Words – I interviewed one of the authors Máire Ní Mhaonaigh on Tús Áite a while back.
Early on in the lockdown my wife and I finished watching Game of Thrones on DVD lent to us by my RTÉ colleague Sinéad Crowley of the newsroom. Recently, we've watched the excellent series Looking for Alaska on the RTE player, based on John Green's first novel of the same name. We're currently working our way through the Norwegian series, State of Happiness, (also on the RTÉ Player) set during the beginning of the oil boom in the 1950's.
I used to work on the team that makes programmes like Scannal and Cloch le Carn for RTÉ – for some years I avoided them because I associated them with work, but recently I've gained enough distance to watch them as an ordinary viewer and I can actually just enjoy them now as good television! There are some really great box sets on the TG4 player, in particular Éirí Amach na Cásca, Grace Harte and Fir Bolg – watch out for a hilarious Amy Huberman cameo in the latter.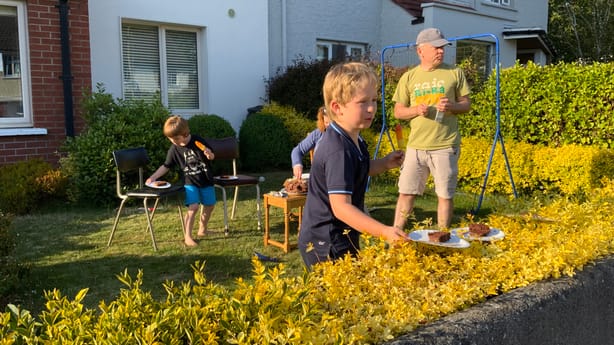 One of the highlights of the lockdown for me was my son Tadhg's seventh birthday in May. Due to the restrictions he was unable to have a regular birthday party with his friends so he shared a zoom call with them. But Mary and the kids baked a cake, which we stuck a few sparklers in and brought out to the front garden. We invited our neighbours to join us from their own front gardens or from the street and we sang Lá Breithe Sona Duit and Happy Birthday for Tadhg.
We handed out plates of cake, ice pops and drinks over the wall. It was really simple and lovely and Tadhg gave the day ten out of ten! I'm not really a fan of regular children's birthday parties and it would be nice to think we could retain some – if not all – of that simplicity in the future.
Fachtna Ó Drisceoil presents Tús Áite on RTÉ Raidió na Gaeltachta at 5 pm Monday to Friday.