Derren Brown looks back on 20 Years of Mind Control, Outcry comes to Sky Crime, the Snooker World Championship concludes - and there's John Hurt in classic TV drama The Naked Civil Servant . . .
Pick of the Day
Derren Brown: 20 Years of Mind Control: Live, 9.00pm, Channel. 4
The hugely popular illusionist performs his latest psychological trick live, and also revisits some of the most memorable moments of his 20 years of making programmes for Channel 4.
He reveals how he has used hypnosis and the power of suggestion to baffle the public, before opening up about his most controversial, headline-grabbing moments, including playing Russian roulette, 'sticking' viewers to their sofas, and the zombie-fuelled Apocalypse illusion.
This will be fun.
Here he is, in action on the London Underground:
Don't Miss
Hart to Hart Returns, 7.00pm, Sony Channel
A must-see for anyone who grew up in the 1980s.
This enjoyable 1993 caper was the first of eight feature-length, TV spin-offs from the 1980s' detective series, starring Robert Wagner, Stefanie Powers and the late Lionel Stander, who died soon after Hart to Hart Returns was filmed.
Sleuth Jonathan Hart is framed for murder and he joins forces with his wife in an attempt to reveal the real culprits, while Jennifer also lands herself in trouble by writing an unflattering article about a crusading medic.
New or Returning Shows
Outcry, 9.00pm, Sky Crime & NOW TV
A five-part documentary series examining the gripping story of high school American football star Greg Kelley and a quest for truth and justice.
Few people experience the momentum that Kelley had going into his senior year in Leander, Texas. That all changed when he was convicted of sexual assault of a four-year-old boy and sentenced to 25 years in prison with no possibility for parole.
But a groundswell of support emerged for Kelley, calling into question the investigation, the prosecution's tactics and ultimately, the validity of the conviction.
Formula 1: Spanish Grand Prix, 2.00pm, Sky Sports F1 & Main Event & NOW TV
After two weeks at Silverstone, F1 is off to sunny Spain for the next leg of the 2020 Formula 1 World Championship.
Lewis Hamilton has won the last three races at Barcelona, and another would be his fifth overall victory at the track - just one win behind the legendary Michael Schumacher's all-time record.
Last year's podium finishers Valtteri Bottas and Max Verstappen have both had strong starts to the season, however, and may well put a stop to the champion's momentum.
Live Snooker: The World Championship: 2020 Final: Fourth Session, 7.30pm, BBC Two
All the action from the concluding session of this year's final at the Crucible Theatre in Sheffield, where the first player to reach 18 frames is crowned champion.
The Naked Civil Servant, 10.00pm, Talking Pictures TV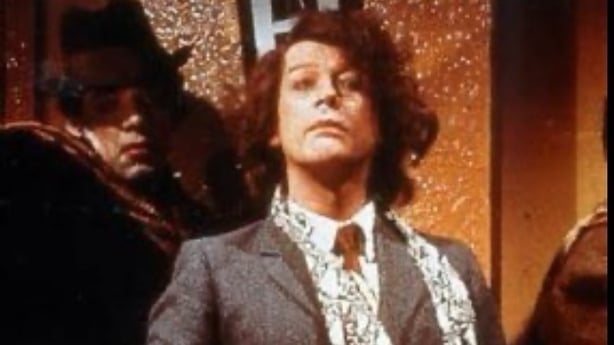 John Hurt stars in this 1975, Emmy Award-winning dramatisation of writer Quentin Crisp's autobiography, revealing how the flamboyant gay icon lived a passionate and often comic life and managed to be accepted by mainstream Britain.
Daytime Movie Pick
Key Largo, 3.45pm, RTÉ One
Classic John Huston noir thriller, starring Humphrey Bogart, Edward G Robinson, Lauren Bacall, Lionel Barrymore and Academy Award-winner Claire Trevor.
Life at a run-down Florida hotel is thrown into disarray by the arrival of a mobster and his gang of thugs, who hold the guests hostage until they can make their getaway - oblivious to the tropical storm about to strike.
Sunday Night Cinema
Total Recall, 10.00pm, Sky Cinema Action
Paul Verhoeven's sci-fi thriller stars Arnold Schwarzenegger, Rachel Ticotin and Michael Ironside is a right out' hoot. It also gave Sharon Stone her breakthrough role.
A construction worker pays to have fake memories of a dream holiday implanted into his brain, but discovers his mind has already been tampered with - apparently to erase his true identity as a secret agent from a colony on Mars.
He journeys to the planet in search of the truth, but is drawn into a conflict between the tyrannical ruler and a rebel faction.
Widows, 9.00pm, Sky Cinema Thriller
Steve McQueen's first class, feminist thriller, inspired by the Lynda La Plante series, stars Viola Davis, Liam Neeson and Elizabeth Debicki.
When her husband is killed in a botched bank robbery, Veronica Rawlings finds herself in debt left by her husband Harry's criminal activities.
She joins forces with three other Chicago women in a similar predicament, and together they attempt to carry out a daring theft.
Quartet, 10.30pm, BBC One
Maggie Smith, Tom Courtenay and Sheridan Smith are among the stellar cast of this drama, a directorial debut for Dustin Hoffman.
An opera star arrives at a performers' retirement home amidst fraught preparations for a fundraising concert. Her presence adds to the tension, but it also offers an opportunity to reunite a successful quartet.
The diva's one-time husband is upset to see her, while the two other former members relish the challenge.
Click here for full TV listings