It's debs' night on The Young Offenders, Midsomer Murders returns, there's Sundance-winning documentary Boys State, and an exploration of fat . . .
Pick of the Day
The Young Offenders, 9.35pm, RTÉ One/9.30pm, BBC One
It's season three's fourth episode and the school debs are on the horizon, so Conor and Jock are looking forward to making it a great night for the girls.
With Principal Walsh intent on getting in their way, the lads are determined to overcome the obstacles and make it a night to remember.
Or should that be: can't remember?
Don't Miss
Unreported World, 7.30pm, Channel 4
As Donald Trump fights for re-election, his campaign is particularly targeting white women voters.
Filmed prior to the coronavirus pandemic and the killing of George Floyd, Karishma Vyas travels to California to meet the `TradWives', a growing movement of US women who idolise Donald Trump, and have put him at the heart of their anti-feminist, traditional family values as they work to get him re-elected.
This is despite the fact that women have often borne the brunt of the President's political and personal barbs.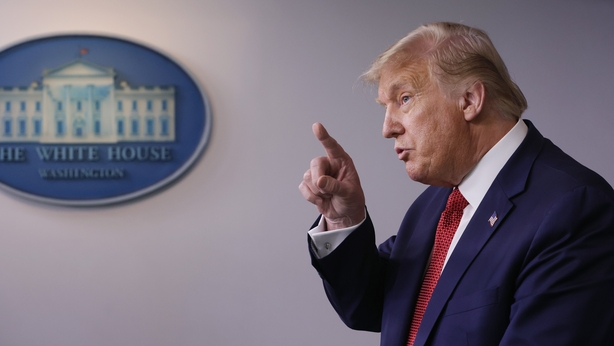 New or Returning Shows
The Truth About Fat, 7.20pm, PBS America
An exploration of the complex functions of fat and the role it plays in controlling hunger, hormones and reproduction, told through the stories of hunter-gatherers, sumo wrestlers and supermodels.
Midsomer Murders, 9.00pm, Virgin Media One
A new season begins with a touring dance extravaganza arriving to Midsomer, but nobody sees the vicious rivalries and long-running feuds that are brewing behind the scenes - at least not until they erupt into murder.
Barnaby's investigation into the killing of a dancer is complicated by an unexpected visit from his father, while the sponsor of the event is at the centre of a conflict of his own as he tries to decide who should inherit his fortune.
We're Here, 9.00pm, Sky One
Bob the Drag Queen, Eureka O'Hara and Shangela Laquifa Wadley recruit residents of small American towns to participate in a one-night drag performance, beginning in Gettysburg, Pennsylvania.
New to Download
Boys State, Apple TV+
This Sundance-winning documentary film follows a thousand teenage boys attending Boys/Girls State in Texas, coming together to build a representative government from the ground up.
They from all different political backgrounds, navigating challenges of organizing political parties, consensus, and campaigning for the highest office at Boys State, governor.
El robo del siglo (The Great Heist), Netflix
Based on the 1994 robbery of US$33 million from Colombia's central bank, which turned the country upside down. Starring Andrés Parra and Christian Tappan.
Dirty John: The Betty Broderick Story, Netflix
Socialite Betty Broderick hits a homicidal boiling point during a bitter divorce from her unfaithful husband. Based on the headline-making crime.
Project Power, Netflix
On the streets of New Orleans, word begins to spread about a mysterious new pill that unlocks superpowers unique to each user.
The catch: You don't know what will happen until you take it. While some develop bulletproof skin, invisibility, and super strength, others exhibit a deadlier reaction.
But when the pill escalates crime within the city to dangerous levels, a local cop (Joseph Gordon-Levitt) teams with a teenage dealer (Dominique Fishback) and a former soldier fuelled by a secret vendetta (Jamie Foxx) to fight power with power and risk taking the pill in order to track down and stop the group responsible for creating it.
Ending Today
Jack Whitehall's Sporting Nation, 8.30pm, BBC One
In this finale, Jack turns his comedic sights on how when the British fail at sport, they do it in a truly spectacular and glorious fashion.
Taking in Wales's quest to reach a Rugby World Cup final, Archie Gemmill scoring Scotland's greatest ever goal and Derek Redmond's heart-and hamstring-breaking Olympic appearance, he celebrates the UK's talent for coming up just short.
Click here for full TV listings