Irish electronic pop duo Kyoto Love Hotel have released their new single, Machine, the second track from their upcoming EP Grow, which is due in November. We asked them the BIG questions . . .
Band members Joe Geaney and Laura Sheary grew up in the same town in Tipperary but nowadays they share music and ideas with one another from their respective homes in Cork and Belfast.
We need your consent to load this YouTube contentWe use YouTube to manage extra content that can set cookies on your device and collect data about your activity. Please review their details and accept them to load the content.Manage Preferences
The video for Machine was made by Donegal filmmaker Shaun Doogan and features actor Aoife McCann. With its cinematic feel, Doogan interspersed elements of the band's ideas with his own unique, creative approach to add a totally new dimension to the music.
Speaking about the track, Laura says; "The repeated line 'there's water in my ears now' is very literal. My ears were blocked for weeks after swimming in the sea and I felt really detached for that period of time - as though I was floating above my own body, watching it in action in this strange way.
"Parts of the song explore what it means to have a body, a mind, and the anxiety that can sometimes take hold when the two don't connect. More often than not, it's the sea that washes this anxiety away and reminds you of the beauty that exists in the unknowable".
Tell us three things about yourself?
We grew up on the same road in Nenagh, Co. Tipperary, just a few houses down from one another.
We both played in other bands for years, but it took us until we were in our mid-twenties to actually start working together.
We live at opposite ends of the country now - Joe in Cork, Laura in Belfast. We send music back and forth to one another and have mini fights over Facebook messenger on a regular basis.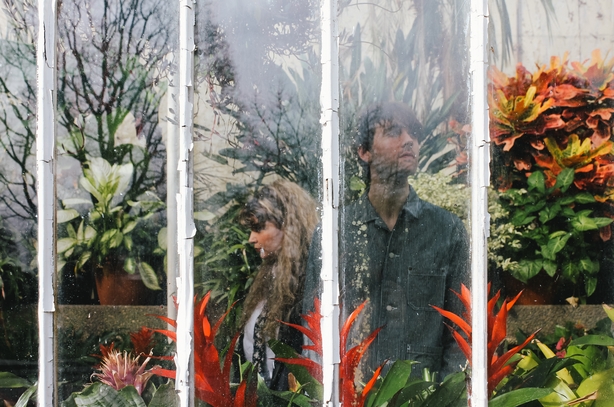 How would you describe your music?
Atmospheric, alternative-pop. Songs that you can dance to, or cry to, or maybe both, depending on your mood.
Who are your musical inspirations?
Adrienne Lenker of Big Thief writes some of the most beautiful lyrics. For moving, well-produced, clever pop songs, Sylvan Esso are hard to beat. For being fearless and experimental, Arthur Russell is someone I always come back to. He moved between cello music, disco and ballads, seemingly never afraid to explore the multiplicity of his own creativity.
How did you occupy yourself during the coronavirus lockdown?
We worked with Shaun Doogan and Aoife McCann on developing the music video for Machine, which they shot in Donegal over lockdown. We worked remotely with Owen Geaney of Atlas White Studios as he mixed/produced our upcoming EP. We wrote one or two new songs which we're now incorporating into our live set. This all sounds relatively productive on paper, but in reality, there were many hours spent baking (and eating) bread.
What's your favourite song right now?
I've just finished watching the TV show I May Destroy You. Michaela Cole is an amazing writer and actress, and the way she explores the many aspects of trauma and consent in that show is incredible. The gospel song It's Gonna Rain by Rev. Milton Brunson pops us as a kind of leitmotif a few times in the show and I've been listening to loads since hearing it. The soundtrack, in general, is class.
Favourite lyric of all time?
"Oh and, heavens, when you looked at me
your eyes were like machinery,
your hands were making artefacts in the corner of my mind." - Mary by Big Thief.
If you could only listen to one song for the rest of your life what would it be?
That's hard… right now, I'd say Lankum, The Wild Rover. The gradual, atmospheric build of it always gives me goosebumps.
Where can people find your music/more information?
All the usual spots; Spotify, Instagram, Twitter, Facebook etc