Normal People star Paul Mescal and the Rolling Stones' Mick Jagger teamed up on Thursday night to premiere the band's new video for the song Scarlet, featuring the Kildare actor in the lead role.
Jagger and Mescal enjoyed a laugh as they introduced the video, discussing the music they've been listening to, creativity, nerves and more.
"This is your first music video, I'm told," said Jagger.
"Kind of in at the deep end with that, I think!" laughed Mescal. "Straight in... Not even kind of like... Just go straight in and start with the Rolling Stones' music video and best of luck!"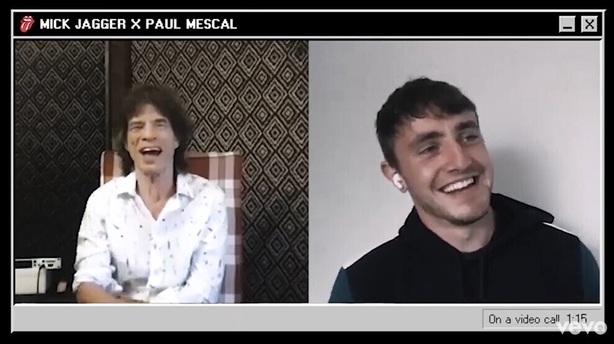 Mescal said he "loved the form of it" and "really enjoyed" making the video in iconic London hotel Claridge's.
When Jagger asked Mescal what kind of music he likes, the Maynooth man replied: "Sad indie music would be my general taste!"
The music legend also wanted to know how close Mescal is personality-wise to his Normal People character Connell.
"Internally, definitely quite different," explained Mescal. "I think, like, on the surface, in terms of his trajectory through secondary school and college, probably similar. 
"But thankfully I'm probably a little bit better at maybe articulating how I feel about a situation, which I think Connell is incapable of doing! He can't do it! He just simply can't say how he feels at any kind of critical moment! Which is fun to play, but thankfully I don't walk around my life permanently indecisive emotionally!"
Scarlet is a previously-unreleased Rolling Stones track featuring Led Zeppelin guitarist Jimmy Page. It was recorded in the early 1970s and will feature on the reissue of the Rolling Stones' 1973 album Goats Head Soup, out on September 4.