Gwyneth Paltrow has said that she and former husband Chris Martin "never fully settled into being a couple".
The Oscar winner makes the admission in a piece she has written for the new edition of British Vogue. Paltrow and Coldplay frontman Martin split in 2014 after 10 years of marriage.
We need your consent to load this Instagram contentWe use Instagram to manage extra content that can set cookies on your device and collect data about your activity. Please review their details and accept them to load the content.Manage Preferences
Paltrow says that she and Martin "tried everything" to make their relationship work.
"We didn't want to let anyone down," she explains. "We desperately didn't want to hurt our children. We didn't want to lose our family."
However, she says that she and Martin realised they had "diverged".
"We'd never find ourselves together in that way again," she tells readers of British Vogue.
Although she and Martin were "close" and shared the same taste in music and humour, Paltrow feels they "never fully settled into being a couple".
"We just didn't quite fit together," she adds.
"There was always a bit of unease and unrest. But man, did we love our children."
Paltrow also says that using the term "conscious uncoupling" to describe her separation from Martin "sounded a bit full of itself". The term was used in the statement announcing the couple's March 2014 split.
Paltrow says the term was introduced to them by a therapist, "who helped us architect our new future".
"Frankly, the term sounded a bit full of itself, painfully progressive and hard to swallow," Paltrow admits.
"I was intrigued, less by the phrase, but by the sentiment," she continues.
"Was there a world where we could break up and not lose everything?
"Could we be a family, even though we were not a couple?"
Paltrow recounts that the "public's surprise gave way quickly to ire and derision".
"A strange combination of mockery and anger that I have never seen," she writes.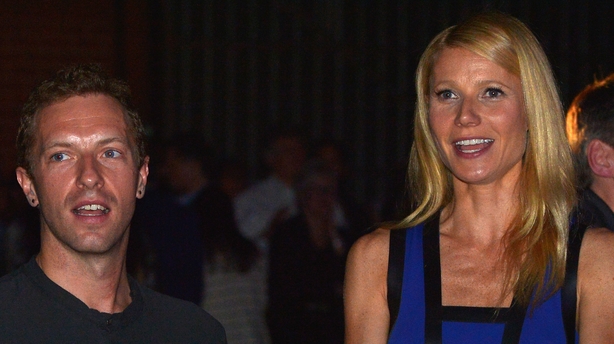 "I was already pretty tattered from what had been a tough year.
"Frankly, the intensity of the response saw me bury my head in the sand deeper than I ever had in my very public life."
Paltrow is now married to TV producer Brad Falchuk. She and Martin are parents to daughter Apple and son Moses.