Family time for Irene during restrictions meant UCD's perimeter walk, cycling along the Dodder and Grand Canal, feeding the ducks in Herbert Park and perfecting skipping and trampolining skills
I have been spending lockdown reporting on Covid 19 for Nuacht TG4, working remotely from home and attending the Department of Health press briefings.
Working during the pandemic means I now travel separately from my camera operator, and a lot of my interviews are recorded on Skype or Zoom. These on-line interviews have become the norm during the pandemic, making it easier to adhere to social distancing rules and work (Nuacht authorities) has been very supportive ensuring we have all we need to get the job done.
I think we've all been on a sharp learning curve, and learning as we go and some on-line recordings have been interesting to say the least.
I started reporting from the news briefings in the Department of Health from the end of March, and they quickly became a sobering experience, as the number of deaths and the number of cases of the virus increased. It was heartbreaking to think of all the grieving families behind the figures, many of whom couldn't even attend the funerals of their loved ones.
My own aunt died in a nursing home during the lockdown, and I was robbed of that special time when family and friends come together to support each other and mourn the death of a loved one.
Bhí mé greamaithe don Nuacht chuile thrathnóna beagnach, go mór mhór le linn tús na dianghlasála; Nuacht TG4, The Nine O'Clock News on RTÉ, PrimeTime, BBC Newsnight agus Twitter. Bhain mé go leor spraoi as aithris a bhíodh Sarah Cooper ag déanamh ar Donald Trump.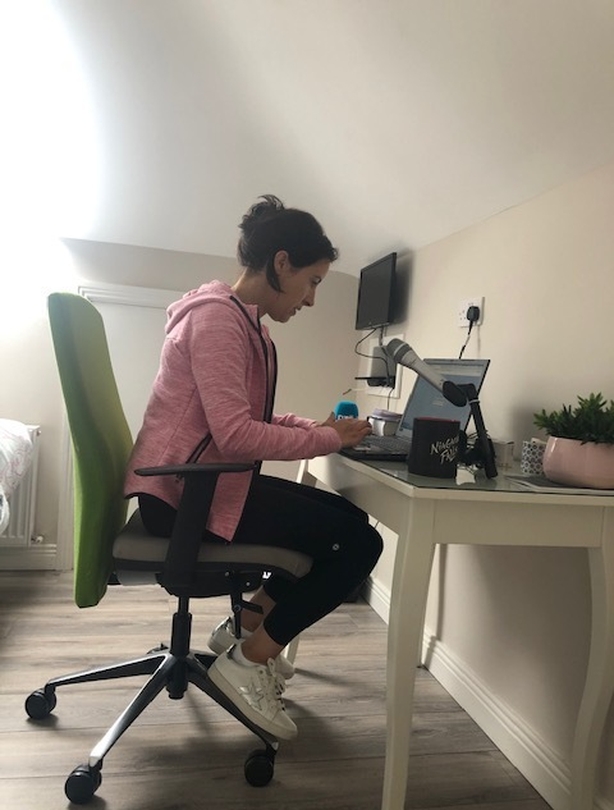 Thaitin an sraith An Bhoirinn ar TG4 go mór liom. Bhí cuma draoichtúil ar na pictúirí agus ar an gceol. B'é an clár ar Mhichael Jordan The Last Dance ar Netflix ar an gclár is fearr a bhfaca mé le tamall fada, cé go raibh an clár faoi Hillary Clinton ar Sky thar barr freisin. Tá muid díreach tosaithe ag breathnú ar Succession. Cuidíonn sé linn dearmad a dhéanamh ar aon rud eile!
We have three daughters. With both of us working from home, we were under pressure to get school work done, and keep them occupied during the day. It was hard to keep the momentum going with other work commitments and dinner duties often taking precedence.
Buntáiste mór den dianghlasáil ná go bhfuil níos mó ama caite againn le chéile mar theaghlach. Níl an saol chomh casta ar bhealaí, tá sé ag bogadh ar bhealach níos moille agus tá muid dírithe níos mó ar cén sort bheatha a bheith againn! Déananm muid go leor macnamh ar chéard a bhíonn againn don dinnéir, agus is iomaí comhrá a bhíonn againn faoi takeaways.
Being confined to a 2km initially - and then a 5km radius - encouraged us to explore our local area. We discovered the beautiful perimeter walk around UCD, cycled along the Dodder and along the Grand Canal, fed the ducks in Herbert Park and perfected our skipping and trampolining skills.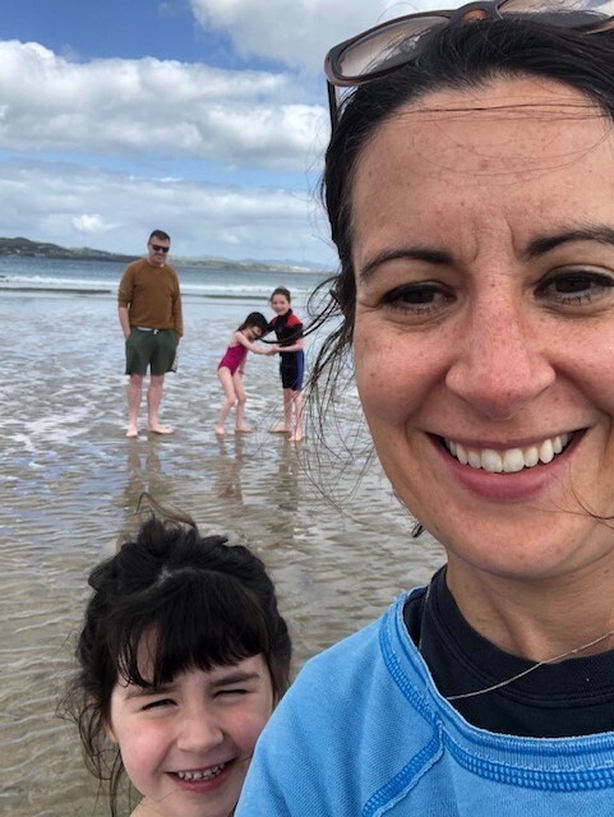 Our youngest daughter fell off the trampoline and walloped her forehead with a cut so deep that she required an anesthetic and stitches. Crumlin's Children Hospital were amazing, and I think she is one of many kids with trampoline-acquired injuries during lockdown.
Aside from the trauma of that ordeal, I have also have had more time to listen back to South Wind Blows (Saturday, RTÉ Radio 1), Mystery Train (Monday to Thursday, Sunday, RTÉ Radio 1) and Muireann Nic Amhlaidh's music choice on Raidió na Gaeltachta.
I also love listening to Guy Garvey's weekly music show on BBC Radio 6. Book-wise, I've read stuff that I've had lying around the house, but never got to before. I loved Emily Matlis's book The Imperfect Art of Making News, her account of covering all the major news stories over the past decade or so. Often it's what happens behind the scenes that's more interesting than what happens in front of the camera.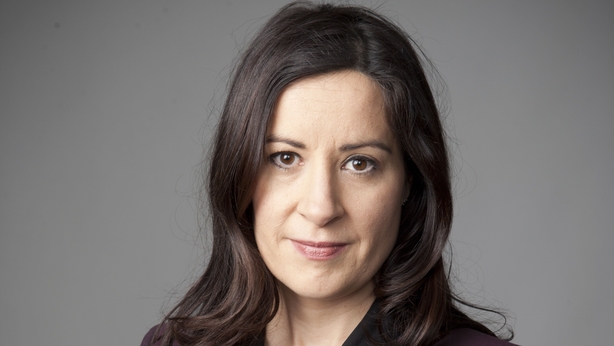 I dipped in and out of Stepping Stones, Dennis O'Driscoll's interviews with Seamus Heaney and Lynn Barber's collection of interviews, Demon Barber. Myself and my eldest read J.K. Rowling's online book for kids released during Covid, The Ickabog, which kept us entertained, and left us wanting more.
As lockdown eased, we went on our holidays to our home from home, thiar ar an gCeathrú Rua i gConamara. Tá muid ag súil go mór le briseadh amach ón ardchathair.
Lockdown has taught be me to live in the moment more. Nothing is guaranteed with this virus, and I'm trying not to think about what might happen over the coming months. Coinneoidh muid orainn a bheith cúramach agus ag cloi leis na srianta sóisialta, agus le comhar na gcomharsan a thiocfaidh muid thríd seo ar fad.
Irene Ní Nualláin is a journalist with Nuacht RTÉ and Nuacht TG4. Iriseoir í Irene Ní Nualláin le Nuacht RTÉ agus Nuacht TG4