RTÉ's 2FM Breakfast with Doireann & Eoghan are looking for your entries for Comórtas Amhrán Tí - have you got what it takes to win the summer sing-off?
A staple for those who spent summers in Gaeltacht areas, from Corca Dhuibhne, to Leitir Meallain to Rann na Feirste, the performance of amhráin tí or house songs were always a highlight.
GX and 2FM are looking for versions of popular songs or original songs from young people individually or by putting their own Tigh together through zoom or other social distanced recording.
There will be a €300 weekly prize and a €1000 prize for the overall winner after 5 weeks, culminating the week of August 17.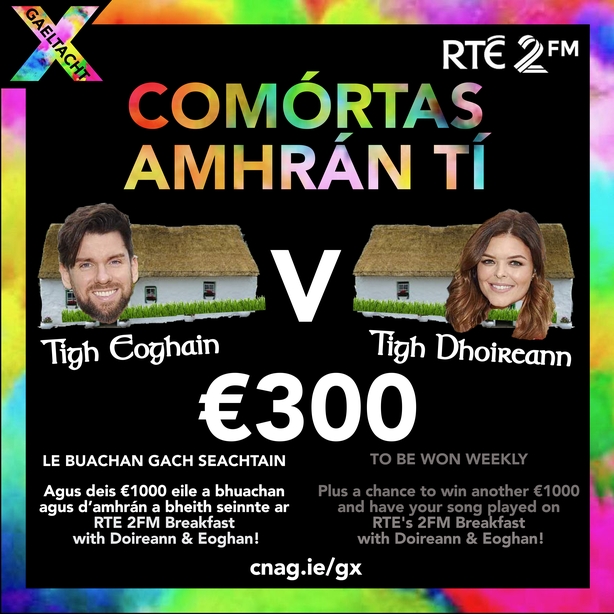 Speaking about the competition Eoghan said: "It's great that our show and Gaeltacht X will be providing this opportunity to young people who have missed out on their Irish summer college experience this year.
"Creativity, spirit and craic are what I'll be looking for in songs to represent Tigh Eoghain."
Each week two songs will be chosen to represent Tigh Eoghain and Tigh Dhoireann. They will be played on the breakfast show Tuesday morning, and a public poll will then open over on Gaeltacht X's Instagram account (@gaeltachtx).
There will be 24 hours for followers and listeners to cast their vote before the winner is announced on Wednesday's show. Raidió Rí-Rá, the Irish language chart station, will also be supporting the initiative by helping to choose shortlists.
Songs can be sent in from now to Friday, August 10. However, songs will be chosen to represent Tigh Eoghain or Tigh Dhoireann on a weekly basis - so the sooner you get your entry in the more chance you have of your song being chosen.
The first round of songs will go on air on Tuesday, July 21. To apply, send your entry to gx@cnag.ie.