It's the season two finale of My Brilliant Friend, the Late Late celebrates its musical guests, Jack Whitehall's back on the box, and there's a look back to 1980...
Pick of the Day
My Brilliant Friend, 9.00pm, Sky Atlantic & NOW TV
The second season of this superb adaptation of Elena Ferrante's Neapolitan novels about friendship comes to an end with tonight's double bill.
Three years into her time in Pisa, Elena has developed into an elegant and cultured young woman, but still feels like an outsider.
When she falls ill, she takes to reading Lila's diaries - where she discovers Lila's dedication to her new role in the face of Stafano's increasingly violent behaviour.
Then in the season finale, with graduation in sight, Elena is overwhelmed by memories of her past and copes by drafting her first novel.
Meanwhile, she finds a new suitor in Pietro Airota, the son of an esteemed academic. elsewhere, Lila's circumstances undergo a dramatic change.
Don't Miss
The Best of The Late Late Show, 9.35pm, RTÉ One
This week's look back on last season features guests from the world of music, featuring songs and stories from Christy Moore, Westlife, Lewis Capaldi, Sinéad O'Connor (below), the Pogues and others.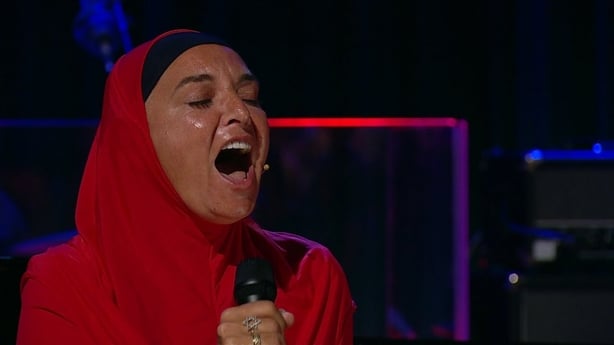 Huey Morgan's Latin Music Adventure, 9.30pm, BBC Four
The Fun Lovin' Criminals front man continues his entertaining and informative Latin tour in Cuba.
After the Communist revolution of 1959, Cuba effectively closed its doors to the sights and sounds of the rest of the world.
From this point, its music evolved in isolation from the other Latin speaking countries, with traditional forms placed at the heart of their sound.
The rhythms and melodies of Cuba's people have captured the hearts of fans all around the world, and now that the government is gradually relaxing restrictions.
Huey sets off from the capital Havana to explore the rich musical legacy of the island, as well as getting a taste of things to come.
I Love 1980, 10.00pm, BBC Two
This repeat is now almost as old as 1980 was when it was first broadcast in 2001. Anyone getting nostalgic about nostalgia?
The late and legendary actor Larry Hagman presents a look back at the highs and lows of pop culture in 1980, recalling the furore created by the on-screen shooting of his villainous character JR Ewing in TV soap Dallas.
The programme also examines the success of Alan Parker's movie musical Fame (above), the emergence of electro-pop pioneers The Human League and OMD, and the launch of arcade video game Pac-Man.
New or Returning Shows
Jack Whitehead's Sporting Nation, 8.30pm, BBC One
The almost omnipresent Jack Whitehall takes a light-hearted and nostalgia-filled look back at Britain's sports history, telling the nation's story through iconic moments and characters.
First up, he celebrates Britain's finest sporting moments and achievements on UK soil, from the 1908 London Olympics to the World Cup in 1966, and on to the more recent 2012 Olympics.
New to Download
IT: Chapter Two, Sky Cinema & NOW TV
Jessica Chastain, James McAvoy and Bill Hader head the cast as evil resurfaces when the Losers Club reunite twenty-seven years after their first encounter with Pennywise.
Despite overcoming him during their adolescence, the terrifying entity has returned to terrorise the town of Derry.
Now adults, the Losers have long since gone their separate ways but when kids start disappearing, the group makes good on the pact they made and head back to their hometown.
Little Voice, Apple TV+
Based on an album of the same name by Sara Bareilles, who wrote the hit Broadway musical Waitress, this ten-part dramedy follows the exploits of Bess King (Brittany O'Grady), a performer aiming to succeed in the overcrowded New York music scene.
Down to Earth with Zac Efron, Netflix
In this travel show, actor Zac Efron journeys around the world with wellness expert Darin Olien in search of healthy, sustainable ways to live.
The Old Guard, Netflix
Based on the acclaimed graphic novel by Greg Rucka this is a gritty, action-packed story that shows living forever is harder than it looks.
Led by a warrior named Andy (Charlize Theron), a covert group of tight-knit mercenaries with a mysterious inability to die, have fought to protect the mortal world for centuries.
But when the team is recruited to take on an emergency mission and their abilities are exposed, it's up to Andy and Nile (Kiki Layne), the newest recruit, to help the group against those seeking to replicate and monetize their power.
Ending Today
Manifest, 9.00pm, Sky One & NOW TV
In the season two finale of this supernatural drama, Michaela and Ben put everything on the line to attempt a daring rescue.
As the final hours of Zeke's life approach, Saanvi and Vance make a last-ditch effort to appeal to the Major, who may be the only person who can save him from his Death Date.
Click here for full TV listings