Chris O'Dowd is back with Get Shorty, The Directors looks at Ridley Scott, US procedural FBI returns for a second run, and it's bye-bye to Alan Bennett's Talking Heads and Other Voices...
Pick of the Day
Get Shorty, 9.00pm, Sky Atlantic & NOW TV
Chris O'Dowd and Ray Romano return in the third season of the darkly comic gangster-turned-movie producer drama.
We pick up the story two years after the events of the season two finale, with Miles now having served his sentence in prison after having his production credits for Wylderness taken away from him.
He's heading into his new, fresh life in the open with a clean slate and all the joys of revenge in his heart. Meanwhile, Rick's unique love story with Amara (the marvellous Lidia Porto) continues as they relocate to Guatemala.
Worth watching just to witness Chris O'Dowd's chilling ability to go from comic guy to cold-blooded killer in the blink of an eye.
Don't Miss
The Directors, 9.00pm, Sky Arts & NOW TV
The team examines the career of English filmmaker Ridley Scott (below), who had his first commercial breakthrough with the 1979 sci-fi horror Alien.
He then went to create further iconic moments in films such as Hannibal, Blade Runner, the Oscar-winning Gladiator, and the classic road adventure Thelma & Louise.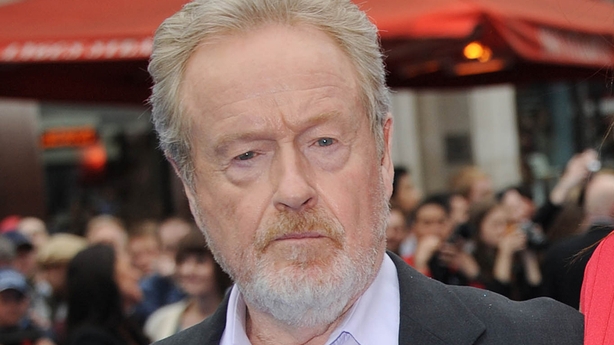 New or Returning Shows
FBI, 9.00pm, Sky Witness & NOW TV
The explosive New York-based crime procedural returns for its second season, as agents OA and Maggie take on a fresh batch of anti-terror cases.
After a bomb detonates at a restaurant in Queens, the case becomes personal for OA, who grew up eating there.
But what initially seems like a terrorist attack reveals itself to be more complex, and OA goes undercover to prevent another incident.
What She Said: The Art of Pauline Kael, 10.00pm, Sky Arts
A profile of the American film critic, looking at her battle to achieve success and influence the 20th-century movie business.
There She Goes, 9.30pm, BBC Two
Season two of the comedy drama about a family with a learning-disabled daughter, starring David Tennant, Jessica Hynes and Miley Locke.
Rosie starts to say `mama', raising hopes that her communication will finally take off.
Emily feels totally outshone by Rosie's amazing schoolteacher and concentrates on developing her daughter's sign-language, while Simon worries that the other parents of special needs children look down on him.
Things come to a head at the school sports day.
The Good Place, 10.00pm, E4
It's season three of the sharp, after-life comedy starring Kristen Bell and Ted Danson.
Michael returns to Earth to give Eleanor, Chidi, Tahani and Jason a little nudge in the right direction when their initial attempts to become better people falter.
New to Download
The Protector: Season 4, Netflix
Vizier and the Immortals rule over modern Istanbul, Hakan travels to the past to stop a war, and Zeynep undergoes a powerful transformation.
Ending Today
Alan Bennett's Talking Heads, 8.30pm, BBC One
Monica Dolan is the final Talking Head in this series reviving Alan Bennett's 1980s' collection box monologues.
She plays Lorna, who visits the spot where Clifford's motorbike crashed, hoping for some closure. But one day she finds someone else has left some flowers on the shrine.
Tess of the D'Urbervilles, 8.00pm, BBC Four
The death of Tess's father results in her family being forced out of their house, and she again finds herself at the mercy of Alec, who offers the Durbeyfields a home and support.
Angel returns from Brazil and tracks down his wife, but his visit drives Tess to despair, and she lashes out at her benefactor Alec before spending one last night with Angel.
Other Voices: Courage, 11.30pm, RTÉ2
Highlights of the current run in which leading musicians perform during the Covid-19 crisis, featuring the likes of Lisa Hannigan, Colm Mac Con Iomaire, Denise Chaila, Iarla Ó Lionáird, Steve Cooney and Glen Hansard.
Click here for full TV listings