Dublin songwriter and producer Gemma Dunleavy has released her new EP, Up De Flats. We asked her the BIG questions... ?
Dunleavy has been working on several projects over the last few years and is a frequent collaborator with UK duo Swing Ting, Murlo and DJ Sharda. You can also find her vocals and songwriting on former Cocteau Twins member Simon Raymond's Lost Horizons project. ?
2019 has seen her join Club Comfort's co-founder Baliboc for one-off improvised sets drawing on sounds of the hardcore continuum and pirate radio stations of DJ/MC interaction.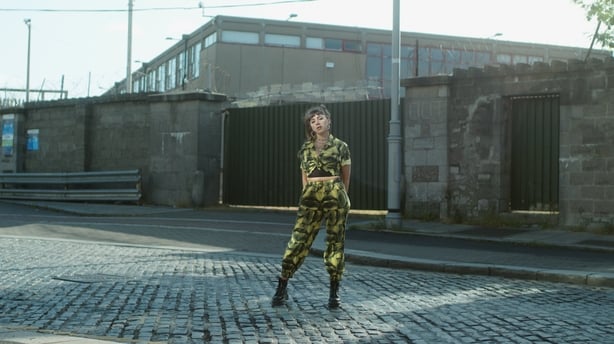 Up De Flats explores Dunleavy's community in Dublin's Sheriff Street, and speaking about the new release she said: "Each song is from a different perspective of a stereotype I grew up around. They each represent something I've experienced, someone I've been, someone I am or someone I've lost. It explores cyclical patterns of behaviour, hardships and grief, but most importantly the sense of community.

"The song is a love letter to the area that raised me - Sheriff Street in the North Wall. It's a celebration of our community and my attempt to capture the spirit of the people down here. It was produced by myself and Brendan Jenkinson and features Roisin Berkely on harp."

Tell us three things about yourself?
I have two dogs and a 17-year-old parrot. I trained as a professional dancer and attended dance college up until the age of 19. I love spicebags.
How would you describe your music? ?
Sugary melodies and heartfelt stories.
Who are your musical inspirations? ?
The Beach Boys, Laura Marling, Solange, Denise Chaila, there's a long list after these!

How did you occupy yourself during the coronavirus lockdown? ?
I finished the EP and got very obsessed with training Charlo the parrot to do tricks.

What's your favourite song right now? ?
Chloe x Halle - Busy Boy


Favourite lyric of all time? ?
"He wants to die in a lake in Geneva, the mountains could cover the shape of his nose. He wants to die where nobody can see him but the beauty of his death will carry on so and i dont believe him" Laura Marling - My Manic and I.


If you could only listen to one song for the rest of your life what would it be? ?
Very difficult but probably Me Myself and I - Beyonce.

Where can people find your music/more information? ?
Spotify
Instagram
Twitter
Facebook