Oscar-winning composer Ennio Morricone, who was famed for writing the scores to Sergio Leone's Spaghetti Westerns, as well as the music for The Mission and Cinema Paradiso, has died aged 91.
The Italian music legend died in Rome following complications from a fall last week, according to Italian news agencies.
Born in Rome in 1928, Morricone wrote scores for over 400 films, but his name was most closely linked with the director Sergio Leone, with whom he worked on now-classic Spaghetti Westerns such as A Fistful of Dollars (1964) and The Good, the Bad and the Ugly (1966), as well as gangster epic Once Upon a Time in America (1984).
The Maestro, as he was known, won his Oscar for his work on Quentin Tarantino's The Hateful Eight (2015) in 2016. He was also nominated for his original scores for Terrence Malick's Days of Heaven (1978), Roland Joffe's The Mission (1986), Brian De Palma's The Untouchables (1987), Barry Levinson's Bugsy (1991) and Giuseppe Tornatore's Malena (2000).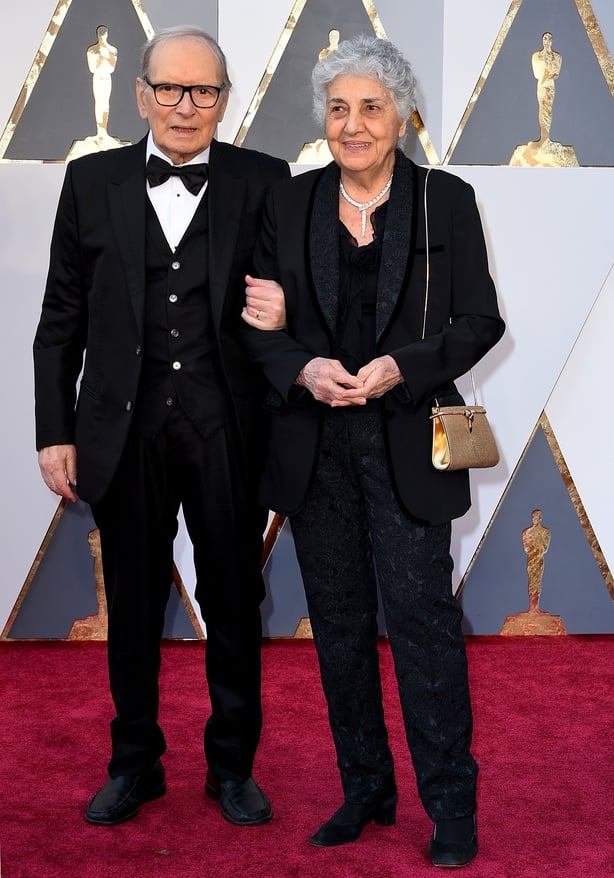 Morricone also received an honorary Oscar in 2007 - presented by Clint Eastwood - for his "magnificent and multifaceted contributions to the art of film music", and he collected 11 David di Donatello Awards, Italy's highest film honours. He played a number of concerts in Ireland in recent years and also took part in a memorable public interview in the Light House Cinema in 2013.
Paying tribute to Ennio Morricone on RTÉ Radio 1's Morning Ireland, Aedín Gormley, the host of lyric fm's Movies and Musicals, said that Morricone "led the way for many composers that came after him".
"It's music that just brings a smile to your face as well, because, as you say, it conjures up these extraordinary images of the Spaghetti Westerns," she told Bryan Dobson.
"He worked in the early 1960s so successfully with director Sergio Leone, and he really created a new sound for the Westerns. What I love about Morricone is he was just so creative, because nobody had heard music like this before. He was a trumpeter himself; he loved trumpet solos...
"What's very clear when you watch those movies is that the actors appear to almost move to the music. And this was because - again, quite a unique thing at the time - a lot of the music was written ahead of time when he worked with Sergio Leone. And so when the actors walked onto the set they knew about the music ahead of time, and so the atmosphere was created brilliantly through the music.
Sad news...RIP at 91 #Enniomorricone ..a total legend. Great to talk to @BryanMIreland about him @morningireland ...and his music will continue to be played and enjoyed #MoviesandMusicals @RTElyricfm pic.twitter.com/ffe7QaVBQB

— Aedín Gormley (@lyricmoviemusic) July 6, 2020
"But it was a very, very new sound, and he worked with Leone again on Once Upon a Time in America - again, an incredibly eclectic score... What I love is that the music stands alone incredibly well, not just with the visual image."
Gormley said "people adored" Morricone, who sold over 70m records in his lifetime.
"It was such a treat to see him play live," she continued. "What's interesting about him is, he could have moved to Hollywood, but he didn't. He'd very little English - he always had a translator - and he just stayed true to his Italian roots.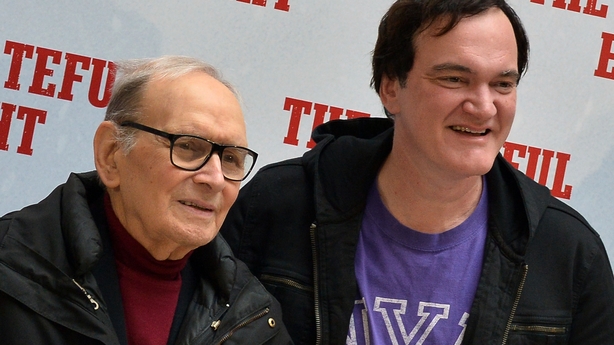 "Those concerts... I saw him first play in Belfast in the Waterfront [Hall] and then he came to Kilmainham in Dublin for an outdoor concert, went on then to play in the 3Arena - I think as close [recently] as February 2019. It was always sort of 'his last concert, his last concert'. It was like he just couldn't stop performing and I think he just wanted to perform right up to the top [end].
"He didn't say an awful lot when he was onstage, but the atmosphere when such well-known pieces as The Mission and The Good, the Bad and the Ugly or Cinema Paradiso, another favourite - you could just see the love of the audience for his music. He will be greatly missed, no doubt about it."
Here are some of the many tributes to Ennio Morricone on social media:
The late #EnnioMorricone who has passed away, feel a real sense of loss. His music is an essential part of my ⁦@RTElyricfm⁩ mornings. pic.twitter.com/eRzY9xgpO5

— Marty Whelan (@martylyricfm) July 6, 2020
We're sad to hear of the passing of 6-time BAFTA-winning composer Ennio Morricone.https://t.co/IHaqKSQkqd

— BAFTA (@BAFTA) July 6, 2020
"Ennio was an icon and icons just don't go away"
On #BBCBreakfast composer @HansZimmer reflects on the death of the film and TV music composer Ennio Morricone.https://t.co/poOdCpb3a2 pic.twitter.com/Azliaelk0N

— BBC Breakfast (@BBCBreakfast) July 6, 2020
We pay tribute to Ennio Morricone and the indelible mark he leaves on the world of film. RIP. pic.twitter.com/nEA31v2cZn

— Irish Film Institute (@IFI_Dub) July 6, 2020
He wasn't a specialist to a genre, he was a specialist in music. Today we lost one of the greats, RIP Ennio Morricone ❤ pic.twitter.com/6tw4tMzYI8

— ArrowFilmsVideo (@ArrowFilmsVideo) July 6, 2020
Morricone https://t.co/ygZs6F0uhr

— Michael Moore (@MMFlint) July 6, 2020
Where to even begin with iconic composer Ennio Morricone? He could make an average movie into a must see, a good movie into art, and a great movie into legend. He hasn't been off my stereo my entire life. What a legacy of work he leaves behind. RIP. https://t.co/qZX6qE10ke

— edgarwright (@edgarwright) July 6, 2020
Endlessly inspired by his show last year in Dublin. RIP Ennio Morricone https://t.co/in6tCDzkql

— Villagers (@wearevillagers) July 6, 2020
My sorrow to hear of the death of Ennio Morricone - one of the great privileges of my life was working with him on his magnificent score for The Mission.

— David Puttnam (@DPuttnam) July 6, 2020