Frozen 2 and Hamilton arrive in Tellyland, there's new shows such as Huey Morgan's Latin Music Adventure and The Baby-Sitters Club, and the likes of Cable Girls and Hanna make a return . . .
Pick of the Day
Frozen 2, Sky Cinema Premiere, NOW TV & Disney+
Disney may have their own streaming service these days, but Sky still have the rights to the likes of this box office smash, which is now available through Sky Cinema and its streaming service NOW TV, as well as Disney+.
Following on from Frozen, this is a new adventure for Elsa, Anna, Kristoff, Sven and Olaf as they set out on a dangerous journey to find the source of Elsa's icy powers.
Before, Elsa feared her own powers - now, she must hope they are enough.
Kristen Bell, Idina Menzel, Josh Gad, Evan Rachel Wood, Alfred Molina are among the stars providing voices for what's become the ultimate Disney animation franchise.
Don't Miss
The Best of The Late Late Show, 9.35pm, RTÉ One
Women take centre stage in this week's selection of season highlights from Ireland's favourite chat show.
Ryan Turbridy looks back on conversations he had with Vicky Phelan (below), Samantha Power, Mary McAleese, Brenda Fricker and Arlene Foster, among others.
Hamilton, Disney+
This film version of the Broadway smash is apparently a leap forward in the art of 'live capture'.
The show tells the thrilling story of Alexander Hamilton, one of America's founding fathers, and his journey from the Caribbean to fighting the revolutionary war alongside George Washington, founding the USA, and his violent death at the age of just 49.
Hamilton's revolutionary mix of Hip-Hop, RnB and Pop music that single-handedly pulled Broadway into the 21st Century and made Lin-Manuel Miranda, its young creator, one of the most famous names in America.
New or Returning Shows
Huey Morgan's Latin Music Adventure, 9.30pm, BBC Four
The BBC 6Music presenter Huey Morgan (of Fun Lovin' Criminals' fame, below) embarks on a quest to understand Latin Music's enduring appeal, starting in the home of samba and Bossa nova.
Arriving in Rio, Huey learns that Brazil's newly elected government has come out against the hedonistic atmosphere of carnival and that Mangueira Samba School group is just one of many planning a protest.
Later, he meets Gilberto Gil, who pioneered a new, politically conscious sound known as Tropicália. It was so radical - and its social implications so profound - that Gil was imprisoned and finally exiled in 1969.
In Salvador, Huey meets percussionist Carlinhos Brown to talk about how afro positive music has shaped the sound of Brazil.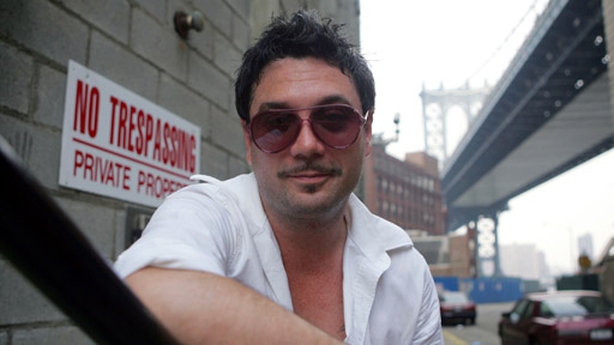 Latin Music: A Session with Bossacucanova and Roberto Menescal, 10.30pm, BBC Four
This is another highlight of a Latin Music night on BBC Four.
Bossacucanova is a Brazilian musical group combining traditional Bossa Nova with electronica.
Pioneer of bossa nova Roberto Menescal, joins the band - which co-comprises his son Márcio - in their Rio studio, for a re-interpreting of classic Bossa hits.
New to Download
The Baby-Sitters Club, Netflix
Based on the best-selling book series that follows the friendship and adventures of Kristy Thomas (Sophie Grace), Mary Anne Spier (Malia Baker), Claudia Kishi (Momona Tamada), Stacey McGill (Shay Rudolph), and Dawn Schafer (Xochitl Gomez) as the middle-schoolers start their babysitting business in the town of Stoneybrook, Connecticut.
Rounding out the cast, Alicia Silverstone plays Elizabeth Thomas-Brewer, the selfless single-mother of Kristy Thomas and love interest of all around good guy Watson Brewer, played by Mark Feuerstein.
Cable Girls: Final Season: Part 2, Netflix
The soapy Spanish drama returns for the last time.
When Lidia's biggest rival uses a prison camp to enact revenge, Lidia and her friends become even more defiant in their fight against Franco's regime.
Hanna, Amazon Prime
Following her discovery at the end of season one, Hanna (Esmé Creed-Miles) now knows she is not the only young woman with unparalleled skill and elite training.
In season two, Hanna risks her freedom to rescue her friend Clara (Yasmin Monet Prince) from the clutches of the Utrax programme, now run by John Carmichael (Dermot Mulroney) and his second in command, Leo Garner (Anthony Welsh).
Hanna finds help in the unlikely form of her previous nemesis, CIA agent Marissa Wiegler (Mireille Enos), who must protect both herself and Hanna from the ruthless organization she once trusted.
Yet as Hanna delves deeper into the elusive world of The Meadows and meets others like herself, including Sandy (Áine Rose Daly) and Jules (Gianna Kiehl), she begins to question her role and where she truly belongs.
Desperados, Netflix
A panicked young woman (Nasim Pedrad) and her two best friends (Anna Camp & Sarah Burns) fly to Mexico to delete a ranting email she sent to her new boyfriend.
On arrival, they run into her former beau (Lamorne Morris), who soon gets caught up in their frantic scheme.
JU-ON: Origins, Netflix
The Japanese horror franchise arrives on Netflix. Expect gore galore from the start.
A paranormal researcher searches obsessively for a cursed home where something terrible happened to a mother and her child long ago.
Click here for full TV listings