Frogs - and the nurture of same - have enlivened the action at Sean Rocks' house, while Arena, the nightly arts show which he presents on RTÉ Radio 1, continues apace
"At home these days has seen two lockdown developments: one a return to an old habit the other a new departure.
"The old: I was always a cyclist, but in recent years family logistics have meant more use of the car than I'd like. But the purchase of my new bicycle basket when we were living with the 2km travel limit was exactly the impetus I needed to get me back in the saddle.
"Going to the shop was often the big outing of the day and our modus operandi was to keep the visit short and buy only what was needed for each day. The new bicycle basket was the perfect addition to the bicycle paraphernalia and was great for the quick bread-and-milk/ few-items shop (see pic).
"I'm hoping now to continue using the bike for the short trips and am lucky enough to be in an area where there are good stretches of reasonably decent cycle lanes.
"By the way, I do not recommend the use of basket for bottles of wine as the tinkle of bottles will announce your purchase to the entire neighbourhood and if you're doing short frequent visits to the shop at all times of the day, well....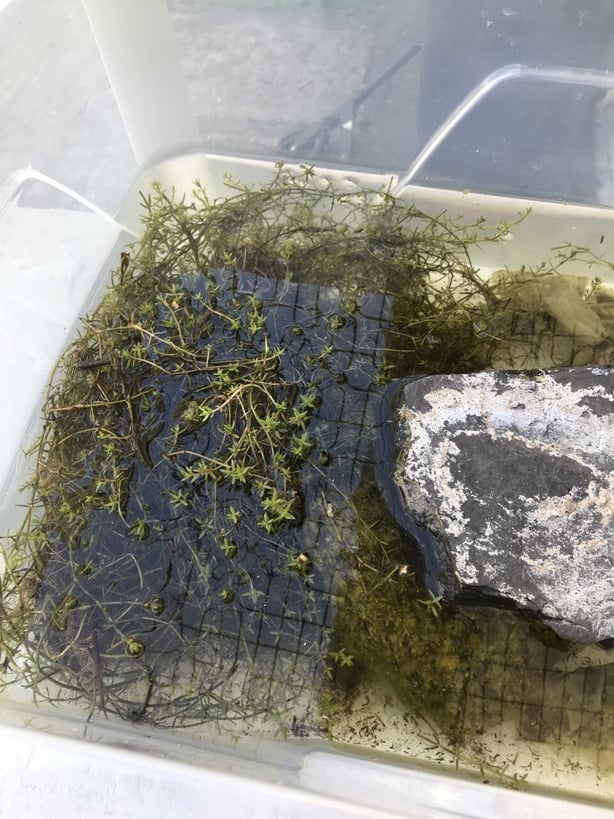 "The new development was the observation of the life cycle of the tadpole/frog. This all happened courtesy of my neighbour who we have now renamed 'Nature Nanny.' She collected the spawn, fed the emerging tadpoles with boiled lettuce and cabbage, and re-wilded the majority back to a local pond about 10 days ago.
"She regularly changed the water using a mixture of rainwater and de-chlorinated water from the tap; she also regularly brought fresh pond weed to the container and kept it covered with the wire tray from an old grill to stop the birds having a feast.
"All the neighbourhood children, young and old, visited on a daily basis and it kept us all going. We watched frog spawn turn to tadpoles and now about ten weeks in Nature Nanny has kept just eight - one of which has now got back and front legs. The pic does no justice to the habitat she has provided and the grown tadpoles/young frogs are much shyer than their childhood selves.
"My neighbour cried bitter tears a few years back when her 20-something son emigrated to the US. I fear there will be more tears when the rest of her tadpole family leap off into frogland!"
Arena, RTÉ Radio 1, Monday to Friday, 7-8 pm