Carl Reiner, creator of The Dick Van Dyke Show, who was renowned for his double act with Mel Brooks, as well as writing, directing and producing many hit comedies, has died aged 98.

His assistant Judy Nagy confirmed to Variety that he died of natural causes on Monday night at his home in Beverly Hills.
Reiner, the father of filmmaker and activist Rob Reiner, won nine Emmy awards during his seven-decade long career, including five for The Dick Van Dyke Show.
Last night my dad passed away. As I write this my heart is hurting. He was my guiding light.

— Rob Reiner (@robreiner) June 30, 2020
He was a close friend of fellow sketchwriter Mel Brooks, and the pair were especially loved by audiences for their 2000 Year Old Man routines, which spawned books, sketches, and an animated TV special.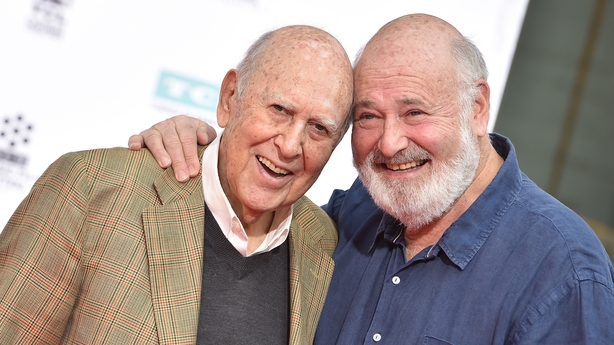 Reiner's most popular films as a director included Oh God, starring George Burns, in 1977; The Jerk, with Steve Martin, in 1979; and All of Me, with Martin and Lily Tomlin, in 1984.
As an actor, the comedy legend had numerous guest-starring roles in TV shows such as Frasier, King of the Hill, The Larry Sanders Show and Ally McBeal, while his film roles included Steven Soderbergh's Ocean's Eleven remake as con artist Saul Bloom and Carl Reinorcerous in Toy Story 4.
Reiner expressed his approach to his work in his book My Anecdotal Life, when he said, "Inviting people to laugh at you while you are laughing at yourself is a good thing to do. You may be the fool but you are the fool in charge."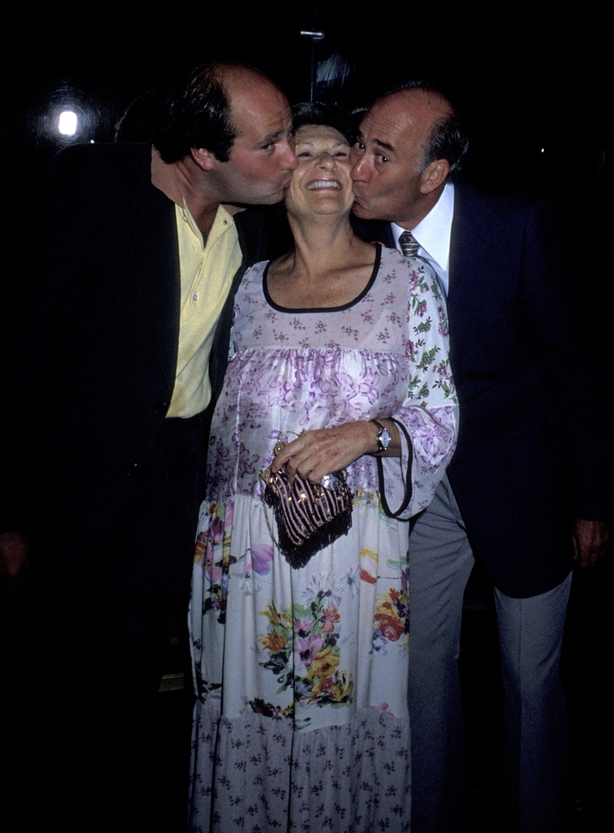 In 1943, Reiner married cabaret singer Estelle Lebost, who became famous herself for her one-line role in her son Rob's film When Harry Met Sally: "I'll have what she's having."
Lebost died in 2008. The couple are survived by their three children, Rob, Sylvia and Lucas.
Nothing pleases me more than knowing that I have lived the best life possible by having met & marrying the gifted Estelle (Stella) Lebost---who partnered with me in bringing Rob, Annie & Lucas Reiner into to this needy & evolving world.

— carl reiner (@carlreiner) June 27, 2020
Inspired by all who took knees before me, I'll attempt to & hopefully succeed in taking a knee for equality & justice for all our citizens. pic.twitter.com/KLGA0xomug

— carl reiner (@carlreiner) September 30, 2017
Paying tribute on Twitter, Dick Van Dyke wrote: "My idol, Carl Reiner, wrote about the human comedy. He had a deeper understanding of the human condition, than I think even he was aware of. Kind, gentle, compassionate, empathetic and wise. His scripts were never just funny, they always had something to say about us."
My idol, Carl Reiner, wrote about the human comedy. He had a deeper understanding of the human condition, than I think even he was aware of. Kind, gentle, compassionate, empathetic and wise. His scripts were never just funny, they always had something to say about us.

— Dick Van Dyke (@iammrvandy) June 30, 2020
Here are some of the many other tributes to Carl Reiner:
Goodbye to my greatest mentor in movies and in life. Thank you, dear Carl. https://t.co/H7A4ZwIqfc

— Steve Martin (@SteveMartinToGo) June 30, 2020
So sad to hear about @carlreiner Not only did he make my favorite TV& movies (see:Where's Poppa) but his humanity was beyond compare. His heart was so full of love. Never left his house empty handed- book, space pen, Swiss Army knife. RIP to a man that embodies the word mensch pic.twitter.com/mazBmwznkX

— Sarah Silverman (@SarahKSilverman) June 30, 2020
Carl Reiner was comedy genius. Often that genius made other funny people even funnier. But give him a stage and he could spin laughter out of any moment. I watched him do it time and again. His contributions to comedy are eternal. And a lovely man, as well. #ripCarlReiner

— jason alexander (@IJasonAlexander) June 30, 2020
Carl Reiner was everything, every human being alive should hold up as a bright example of what one person can do with theirs. A great loss for his family and the world. 📷Al Sieb https://t.co/bImuCKqJsu

— Jamie Lee Curtis (@jamieleecurtis) June 30, 2020
The Greatest. pic.twitter.com/AjlGKQXezG

— Stephen Colbert (@StephenAtHome) June 30, 2020
What a joyful gift @carlreiner was in my life & in the lives of everyone who enjoyed his towering talent. He was a genius, a good friend, & a true gent. I'll cherish the memory of the times we spent together, & the laughter we shared. My love to his beautiful family & friends. pic.twitter.com/VOY0QyyMk8

— Mitzi Gaynor (@TheMitziGaynor) June 30, 2020
June 30, 2020
My friend Carl Reiner died last night. His talent will live on for a long time, but the loss of his kindness and decency leaves a hole in our hearts. We love you, Carl. pic.twitter.com/QWyNOYILhW

— Alan Alda (@alanalda) June 30, 2020
The great #CarlReiner has gone to that Show of Shows in the sky. I worked with him, loved him, and consider myself one of the luckiest people in the world to have once attended lunch with his hilarious, guarrulous gang...

— bettemidler (@BetteMidler) June 30, 2020
Even at 98, it was too soon to lose @carlreiner - a brilliantly funny, kind and prolific man. Love to the excellent family and friends he left behind

— Jimmy Kimmel (@jimmykimmel) June 30, 2020
As if 2020 weren't cruel enough. Goodbye to one of the greatest comedic minds of all time. Thank you for always making us laugh and for always giving us joy. My deepest condolences go out to the entire Reiner family. RIP #CarlReiner pic.twitter.com/IeJ3RkG2vS

— Josh Gad (@joshgad) June 30, 2020