An absolutely cracking night of TV, with RTÉ Does Comic Relief, classic Glastonbury moments across BBC Two and BBC Four, Eurovision Song Contest: The Story of Fire Saga on Netflix, and the Downton Abbey movie landing on Sky Cinema and NOW TV . . .
Pick of the Day
RTÉ Does Comic Relief, 8.00pm, RTÉ One
Deirdre O'Kane, Nicky Byrne, Jennifer Zamperelli and Eoghan McDermott host a night in which the cream of Irish comedy and entertainment join forces to raise a laugh and much-needed funds for charity.
Contributors involved include Dara O Briain, Hozier, Amy Huberman, Brigid & Eamon, Chris O'Dowd, Jason Byrne, Andrew Scott, The 2 Johnnies, Una Healy, Conor McPherson, Aisling Bea and John Bishop.
The show is broadcast live from RTÉ's studios, with links to the stars across the country and further afield. Continues at 9.35pm. Don't forget to cough up some cash.
Don't Miss
My Brilliant Friend, 9.00pm, Sky Atlantic & NOW TV
The second season of this superb adaptation of Elena Ferrante's Neapolitan novels got off to a great start last week.
In this week's double-episode, though Lila begins working at the Caraccis' new grocery store, she continues to resent her husband's business activities and the source of their income.
Then, at Rino and Pinuccia's wedding, Elena accepts Lila's invitation to go on holiday, provided the destination is Ischia, where she knows she'll find Nino.
The Glastonbury Experience Live, 8.30pm, BBC Two
I'd rather lose a lung than attend a music festival, but I always look forward to watching Glasto from the safety of my sofa. Not this year though.
In its place, Jo Whiley and Mark Radcliffe celebrate the weekend that would have marked 50 years of the Glastonbury Festival with a blend of performances from the archives and live acoustic sets from contemporary artists.
Included in the mix are previously unseen or rarely shown moments, including highlights from the Rolling Stones' headline set in 2013, PJ Harvey's rocking performance in 2004, and Lizzo in an early acoustic performance in the BBC garden area.
Also: Florence + the Machine's debut on one of the main stages in 2010, Oasis on the NME Stage in 1994 plus Stormzy's headline set from last year.
There's something there for everyone. Well, almost.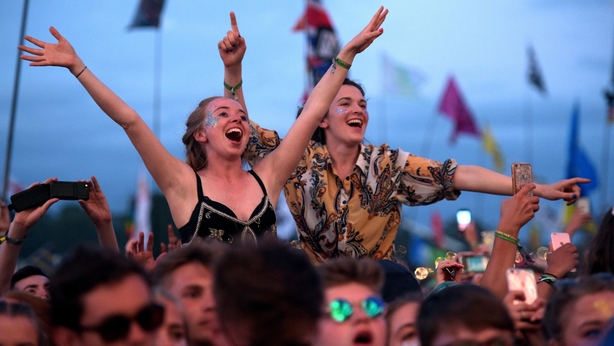 Beyoncé at Glastonbury 2011, 10.00pm, BBC Two
One of the great performers, here are highlights of the Texas-born singer's headline set on the Pyramid Stage, which brought that year's festival to a close.
Beyoncé's set spanned both her solo career and her time in Destiny's Child, incorporating snippets of covers from Eurythmics, Kings of Leon and Prince, with hits including Crazy in Love, Single Ladies (Put a Ring on It), If I Were a Boy and Best Thing I Never Had.
Later there's Best of Glastonbury (11.30pm, BBC Two), Memorable performances from Worthy Farm in Somerset, where artists including Stormzy, George Ezra, Bastille, Sheryl Crow, the Killers, Liam Gallagher, Janet Jackson, the Proclaimers, Kylie Minogue and Miley Cyrus entertained the enthusiastic crowds across the three days of the festival.
Jay Z at Glastonbury 2008, 11.30pm, BBC Four
Over on BBC Four, much of the night is also dedicated to Glasto, with this a serious highlight - rapper Jay-Z's legendary performance from the Pyramid Stage.
Opening with a tongue-in-cheek performance of Wonderwall - following criticism of his booking by Noel Gallagher - he tore the house down with a set packed full of his best-loved hits, included 99 Problems and Show Me What You Got.
Also tonight on BBC Four, there's Elbow at Glastonbury (9.00pm), Arthur Lee & Love: Forever Changes at Glastonbury 2003 (10.00pm), and Glastonbury Backstage Acoustics (11.00pm).
Just get the beers in, order a takeaway, and be thankful you're not ankle-deep in mud.
New or Returning Shows
Jamie's Quick and Easy Food, 8.00pm, Channel 4
Jamie Oliver cooks up four mouth-watering recipes, kicking off with a foolproof aromatic lamb curry that he knocks together in no time, followed by his flavour-packed harissa squash salad.
Next up, Jamie cooks a sophisticated and speedy rosé pesto prawn pasta - an impressive dish that's deceptively easy to make. Saving the best for last, he also makes the fastest little flapjacks around - Buddy's flapjack biscuits.
Celebrity Snoop Dogs, 8.30pm, Channel 4
Cameras go inside the locked-down houses of well-known faces around the country. The trick being the filming is done by the homeowners' dogs - so-called Snoop Dogs.
While the pooches sniff out treats, chew shoes and go for naps, viewers can play along with the guessing game to try and work out which celebrity owns the adorable doggy.
The opening instalment features a four-year-old Lhasa apso and an eight-year-old Labrador mix.
New to Download
Eurovision Song Contest: The Story of Fire Saga, Netflix
Will Ferrell and Rachel McAdams star in this comedy inspired by the much-loved Eurovision.
The story revolves around two small-town singers seize a chance to fulfill their dream of competing in the world's biggest song contest.
Downton Abbey, Sky Cinema & NOW TV
Get ready for a reunion for the ages as the Crawleys and the help return in the cinematic premiere of the beloved ITV period drama.
But what occurrence could befit an event of this magnitude? How about a royal visit? The King and Queen themselves are on their way to the estate – and with them scandal, romance and intrigue follow. Will this royal affair end happily?
Ending Today
Kermode and Mayo's Home Entertainment Service, 8.30pm, BBC Four
This has been one of the great pandemic TV shows.
Mark Kermode and Simon Mayo present a guide to Netflix's The Eddy, BBC's Normal People, Eliza Hittman-directed Never Rarely Sometimes Always, Mubi docu-feature Romantic Comedy and Terry Gilliam's classic Twelve Monkeys.
Featuring a chat with Normal People director Lenny Abrahamson.
Click here for full TV listings