There's the conclusion of O'Casey in the Estate, new series include Make Me Famous and The School That Tried to End Racism, and it's bye-bye to Big Brother: Best Shows Ever . . .
Pick of the Day
O'Casey in the Estate, 10.15pm, RTÉ One
Concluding the documentary about a new production of Sean O'Casey's landmark play The Plough and the Stars, performed by a group from Dublin's East Wall, a community whose residents inspired the original characters 100 years ago.
Last week's opening episode was brilliant - catch it on the RTÉ Player if you happened to miss it - so this should wrap things up nicely.
Game of Thrones actor Liam Cunningham comes to visit the cast during rehearsals and gives them tips on harnessing their adrenaline levels. But with the Coronavirus lockdown, can they get to perform?
Don't Miss
Boy George's 1970s: Save Me from Suburbia, 9.00pm, BBC Four
The BBC's My Generation season continues as Boy George (below) revisits his teenage years and this documentary is well worth a watch.
While history may remember the 1970s as being marked by strikes, poverty and civil discord, the singer reveals that - for the young George O'Dowd - the decade was the beginning of his musical, social and sexual coming-of-age.
He discusses how sexual repression and disenfranchisement, along with the advent of glam rock, disco and punk, gave rise to the flamboyant persona he would later unleash on the world, via Culture Club's memorable first appearance on Top of the Pops in 1982.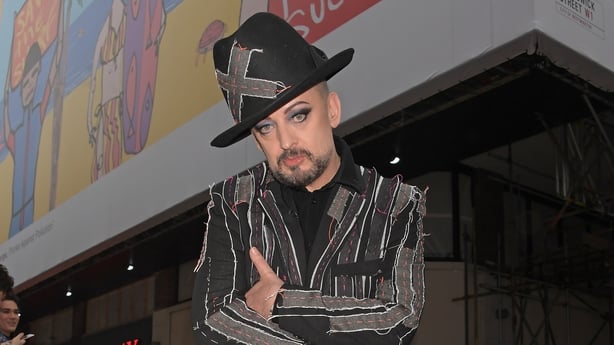 Glastonbury, 10.00pm, BBC Four
Julien Temple's documentary about the world-famous music festival, which began in 1970 and continues to attract a diverse and enthusiastic range of revellers.
The film features performances from artists including Morrissey, David Bowie, Bjork, James Brown, Nick Cave, Joe Strummer, Billy Bragg and Blur, while amateur footage provides an authentic taste of the event.
Great Film Composers: The Music of the Movies, 8.00pm, Sky Arts
If I ruled the world, you'd all be forced to watch series such as this in order to improve your knowledge of cinema.
In episode 4, entitled 1950s: A New Dawn, the focus is on film soundtracks from the 1950s, when the the rise of jazz music influenced the sound of movies including A Street Car Named Desire, Giant and Dial M for Murder.
New or Returning Shows
The School That Tried to End Racism, 9.00pm, Channel 4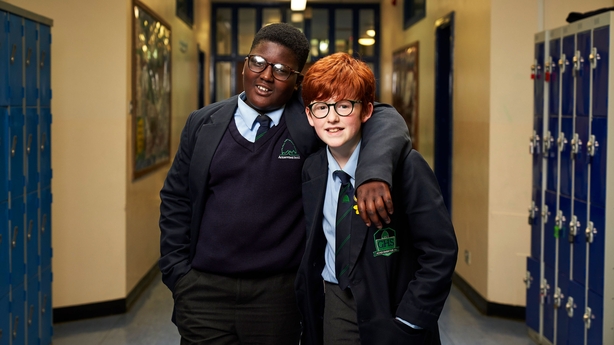 This documentary's about a pioneering British school helping 11 and 12-year-old pupils uncover and eradicate hidden racial biases.
They do this by giving them a series of activities designed to challenge everything they thought they knew about race.
To begin with the students are split into different work groups according to their skin colour.
A white British student and his black Caribbean best friend are shocked to discover the level of unconscious bias they carry, while a 12-year-old bi-racial girl is keen to find out what group she belongs in - white or black?
Make Me Famous, 9.00pm, BBC One
Now there's a show title that aptly describes the narcissistic times in which we live.
It's a drama by actor and TV presenter Reggie Yates, exploring the impact and consequences of fast fame on reality TV participants and their close friends and families.
When Billy succeeded in impressing the producers of a constructed reality show, he believed his life was set to change forever.
A year later, while some of Billy's co-stars' careers are thriving, Billy is struggling to balance the afterglow of fame with social media and tabloid kiss-and-tells and the resulting assumptions people have made about his character, forcing deep vulnerabilities to the surface.
Can Billy escape the reputation that now precedes him?
Quakers: the Quiet Revolutionaries, 8.30pm, PBS America
The only christian sect worthy of the title, there's a lot more to these guys than their distinctive hats and porridge. They also invented my favourite financial institution, the credit union.
Anyway, this documentary charts the history of Quakerism, from its founding in 17th-century England as the Religious Society of Friends, to its spread to America and beyond.
Splendid Isolation, 10.00pm, BBC Two
BBC Arts and The Lyric Theatre, with the Arts Council of Northern Ireland, join forces to create short isolation dramas with some of Northern Ireland's biggest names.
This quick–turnaround project utilises the Six Counties' finest writers, actors and directors to produce unique takes on the Covid-19 lockdown situation, exploring both the positive and negative aspects of social isolation.
Ending Today
Britain's Best Parent? The Final, 8.00pm, Channel 4
The show that judges various approaches to parenting comes to an end.
Over the past four weeks, 12 couples with widely different parenting styles have competed to prove their way is the best.
Now the winning four return to face the ultimate challenge - looking after each other's children overnight - before returning to the studio to discuss how it went.
It's then up to the studio audience to choose which they believe to be the best parenting style - and who deserves to be crowned Britain's Best Parent.
Big Brother: Best Shows Ever, 9.00pm, E4
For their 10th and final choice, Davina McCall and Rylan Clark-Neal go back to Big Brother 2 - the year of Brian Dowling, Bubble and Narinder - to revisit the growing romance between Helen and Paul, and to hear once more Helen's classic line about her love of blinking.
Click here for full TV listings