The magnificent Matthew Rhys stars in Perry Mason, EastEnders: Secrets from the Square arrives, there's a Panorama special on neo-nazis, while it's cheerio to Inside Monaco and Lincoln Rhyme . . .
Pick of the Day
Perry Mason, 9.00pm, Sky Atlantic
This new HBO drama really looks the business. Essential watching for any fans of hardboiled Film Noir movies or pulp fiction.
Emmy Award winning actor Matthew Rhys (The Americans) steps into the iconic role of Perry Mason, last seen on the small screen way back in the 1950s and '60s. This version's set in the early 1930s.
While the rest of the United States struggles through the Great Depression, Los Angeles is a city that's booming. Oil! Olympic games! Talking pictures! Evangelical fervour! And a child kidnapping gone very, very wrong.
Based on characters created by author Erle Stanley Gardner, this drama series follows the origins of American fiction's most legendary criminal defence lawyer, Perry Mason.
When the case of the decade breaks down his door, Mason's relentless pursuit of the truth reveals a fractured city and just maybe, a pathway to redemption for himself.
Don't Miss
EastEnders: Secrets from the Square, 8.00pm, BBC One
The Beeb's attempt at filling that Albert Square hole in their schedule sees Stacey Dooley being joined by Danny Dyer and Kellie Bright to talk all things Mick and Linda, relive classic scenes and share their best behind-the-scenes stories.
EastEnders legends Dyer and Bright relive some of Mick and Linda's classic scenes, send each other up and share some of their best behind-the-scenes stories from Albert Square.
Kellie reveals an embarrassing wardrobe malfunction and recalls auditioning with an 'alternative' Mick, Danny shows off his best 'doof doof' face, and Stacey gets teased about another famous investigative journalist.
Danny also gives Stacey a guided tour of the nation's favourite boozer, the Queen Vic, and reveals which East End legend sent him a note before he took over the pub.
I May Destroy You, 10.45pm, BBC One
One of the best new shows of 2020 - and probably the bravest - Michaela Cole's zeitgeisty drama about consent and consequences has been a riveting and sometimes uncomfortable watch so far.
In tonight's episode, a tumultuous day finds Arabella reassessing a sexual encounter with Zain and, following a promising new lead in the investigation, opening up to Biagio about her assault.
Later, after a meeting with Susy Henny, Arabella threatens to break the internet when she goes off-script at a writing summit.
Meanwhile, Kwame is prompted to report his own assault to the police.
New or Returning Shows
Panorama: Hunting the Neo-Nazis, 7.30pm, BBC One
Panorama investigates a global network of neo-Nazis whose aim is to destroy society and discovers that it is recruiting in the UK.
Last year, a 16-year-old boy from Durham became the youngest person ever convicted of planning a terrorist attack in the UK, prompting reporter Daniel De Simone to delve deeper into this shadowy world.
Police say right-wing extremism is the fastest-growing terrorist threat in the UK and that the coronavirus pandemic may be leaving young people vulnerable to radicalisation.
Working with investigative journalists in the UK, US and Russia, he tracks down some of the movement's most influential figures and reveals how the network operates across the globe.
Great Bear Stakeout, 8.00pm, RTÉ One
First in a two-part documentary, narrated by Billy Connolly, following the grizzly bears of the Alaskan wilderness as they come out of hibernation and are thrust together in a frenzy of feeding, fighting and mating.
The opening programme introduces first-time grizzly mother Parsnip and her young cub Pushki.
Only half of bear cubs make it through the season and they are both struggling to survive in the unforgiving region.
Gathering Storm, 8.00pm, National Geographic
This new series features first-hand accounts of the planet's fiercest storms. For starters, a tropical cyclone builds in the mid-Atlantic and the Caribbean and Eastern Seaboard are on high alert.
The Battle for Britain's Heroes, 10.00pm, Channel 4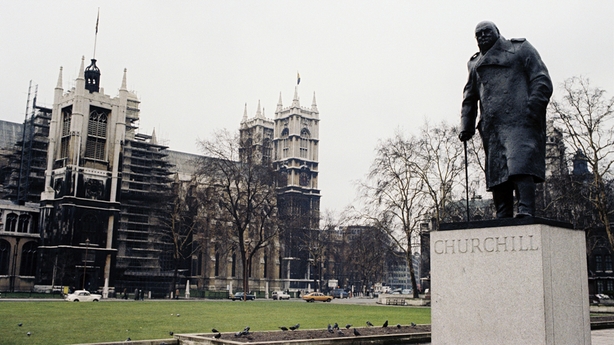 With all the talk of removing statues across the water, writer Afua Hirsch believes the United Kingdom needs to question some of the uncomfortable aspects of its beloved heroes.
She is met with opposition as she confronts Horatio Nelson's pro-slavery views and Winston Churchill's opinions on race.
Afua also visits Germany to see if the UK can learn from how they have addressed their past.
The Black Panthers - Storyville, 10.00pm, BBC Four
Fascinating documentary about the American black radical movement that rose to prominence in the 1970s against a backdrop of civil rights protests and escalating war in Vietnam.
The film pieces together the story of the organisation's rise and fall using rare archival footage and personal accounts of activists, supporters, detractors, journalists, police officers and FBI informants.
Ending Today
Inside Monaco: Playground of the Rich, 9.00pm, BBC Two
The final episode of the documentary features a tour of an extraordinary new home - Villa Troglodyte, which has come onto the market.
Built as if carved out of the rock, the price is a relatively paltry €25million because it doesn't have a sea view.
The pressure to build more houses in such a small country has left Prince Albert with a challenge.
Cameras follow him as he attends meetings about a huge two-billion-euro land extension project he has initiated.
Extending into the sea is a complex operation, but once complete the largest villas there are estimated to sell for around €100million.
Lincoln Rhyme: Hunt for the Bone Collector, 9.00pm, Sky Witness
Despite a promising pilot episode, this has proved to be a procedural-by-numbers mix of Criminal Minds and CSI.
As the first and only season concludes, Lincoln (Russell Hornsby) is forced to save his son by putting himself at risk and confronting The Bone Collector (Brian F O'Byrne) in a deadly face off.
Click here for full TV listings