There's an Italia 90 night on RTÉ2, Alan Carr hosts a revival of Strike It Lucky, a bum-numbing screening of the Godfather trilogy, some Iron Maiden, and the timely documentary I Am Not Your Negro . . .
Pick of the Day
Italia '90, 9.40pm, RTÉ2
After last week's look back at Euro 88, here's a step back to the even more amazing Italia 90.
First up, in The Nation Held Its Breath, Jacqui Hurley presents analysis and nostalgia looking back at Italia '90, beginning by recalling the nation's anticipation leading up to the event.
That's followed at 10.40pm by highlights of the Republic of Ireland's historic Round-of-16 penalty shoot-out win over Romania, a day the entire country went nuts as the Boys in Green qualified for the quarter-finals.
Finally at 11.40pm there's a review of Italia 90, which saw the emergence of the African nations with the free-flowing Cameroon capturing everyone's hearts.
Plus, there are memories of Ireland's journey to the quarter-finals, England's semi-final shoot-out defeat, and a West German win in the (pretty dire) final against an understrength Argentina.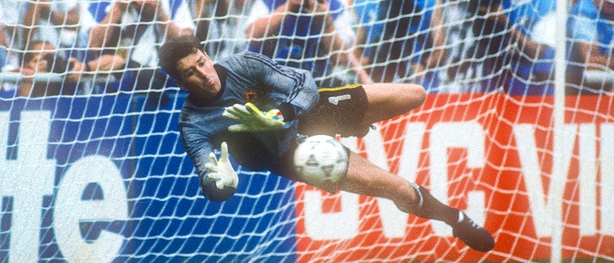 Don't Miss
Alan Carr's Epic Gameshow, 8.30pm, Virgin. Media One
This week, Alan Carr hosts a revival of classic game show Strike It Lucky, originally a vehicle for the then hugely popular entertainer Michael Barrymore.
Three pairs of players will be choosing the top, middle or bottom as they navigate their way across a sea of screens, trying not to let their greed stop them banking too many prizes, and avoiding the infamous hotspots.
One lucky pair will reach the endgame, where they stand to win a mountain of prizes and a luxury holiday to Las Vegas.
The Godfather Trilogy, 6.00pm, Sky Cinema Greats
Here's an absolute cinematic treat, as all three Godfather films are screened together, beginning with The Godfather.
Francis Ford Coppola's gangster drama stars Marlon Brando, Al Pacino, James Caan, John Cazale, Talia Shire, Robert Duvall and Diane Keaton.
The patriarch of the Corleone crime family is hospitalised after an attempt on his life and entrusts control of his business to his three sons.
There's the violent and unpredictable Sonny, the weak-willed Fredo, and Michael, the youngest brother, who reluctantly takes up the reins but proves to be the most ruthless of them all.
Followed by The Godfather Part II at 9.00pm, and The Godfather Part III at 12.20am. And if you're still up when it all wraps, there's Ben Hur at 3.15am, then Spartacus at 7.00am. Enjoy breakfast!
New or Returning Shows
Framing John DeLorean, 9.00pm, Sky Documentaries
The life story of the controversial automaker, following his rise through the ranks of General Motors to his quest to build the world's best sports car.
Alec Baldwin and Morena Baccarin star in re-enactments of key moments in DeLorean's life.
North America with Simon Reeve, 8.30pm, RTÉ2
If you missed this on the BBC, do yourself a favour and check this series out, as the ever-curious explorer Simon Reeve travels the length of North and South America.
The expedition begins at the northernmost point in Alaska, journeying south through Canada to the border with the US.
In Denali National Park, he witnesses first hand the impact of climate change on a glacier. He also hunts caribou with native Americans, hears from both sides of the conflict over a controversial oil drilling plan, and discovers Vancouver's opioid addiction crisis.
Iron Maiden: Flight 666, 9.00pm, Sky Arts
Documentary chronicling heavy-metal band Iron Maiden's 2008 Somewhere Back in Time world tour, which took them on a 50,000-mile journey across five continents, staging 23 concerts in just 45 days.
It features performance footage of classic tracks including Aces High and Wasted Years, along with behind-the-scenes interviews with the band.
I Am Not Your Negro, 9.00pm, BBC Two
Documentary-maker Raoul Peck uses an unfinished manuscript by James Baldwin to create a fascinating portrait of times that sadly remain resonant.
It's an account of the lives and successive assassinations of civil rights leaders Medgar Evans, Malcolm X and Martin Luther King Jr, as the springboard for this examination of the black experience in America.
Narrated by Samuel L Jackson, the film uses Baldwin's words as it explores everything from Hollywood stereotypes to police brutality.
Followed at 10.30pm by the three-part series Black Hollywood: 'They've Gotta Have Us', where photographer and filmmaker Simon Frederick guides viewers through conversations with various black filmmakers and movie stars.
Movie Picks
Film Stars Don't Die in Liverpool, 9.40pm, RTÉ One
This is an excellent romantic drama based on a true story, starring Jamie Bell and a pretty amazing Annette Bening.
Real life proves to be just as dramatic off-screen as it does on it for ageing Hollywood superstar Gloria Grahame and her much younger lover, Peter Turner.
As their mismatched romance waxes and wanes over time, events conspire to keep them in each other's lives even when it proves to be difficult and demanding.
The Duff, 9.00pm, MTV
It's no Clueless, but this is an enjoyable teen comedy, starring Mae Whitman and Robbie Amell.
Whitman (who you might recall from the brilliant Parenthood TV show from a few years back).
She plays a teenager who discovers everyone in her high school consider her the least attractive member of her social group.
So she enlists the aid of a charming jock to help her reinvent herself, in the hope of catching the eye of a boy she has a crush on and outshining the mean girl responsible for her poor reputation.
Click here for full TV listings