My Brilliant Friend returns for a second season, as does The Politician, while there's Jack Whitehall's Father's Day, Kiss Rocks Vegas, a documentary about Dads, and a sporting look back at The Late Late Show...
Pick of the Day
My Brilliant Friend, 9.00pm, Sky Atlantic
After a superb first season, this HBO adaptation of Elena Ferrante's much-loved Neapolitan Novels returns for a second run following the complicated relationship between childhood friends Elena and Lila.
In the opening episode, with Lila on her honeymoon on the Amalfi Coast, Elena struggles to handle school and her relationship with Antonio.
When Lila returns with visible bruises on her body, the two girls revert to their natural closeness and Lila's will to take revenge against her husband grows.
Then, Elena's relationship is threatened when Antonio discovers she has asked the Solaras' help to keep him from doing military service, while Lila remains rebellious in her marriage to the often-violent Stefano.
Don't Miss
The Best of The Late Late Show, 9.35pm, RTÉ
Ryan Tubridy looks back on some of the more memorable sporting guests from this season's Late Late Show, including the likes of Roy Keane (below), Joe Schmidt, Shane Lowry, Brian O'Driscoll and the Irish Women's Hockey team.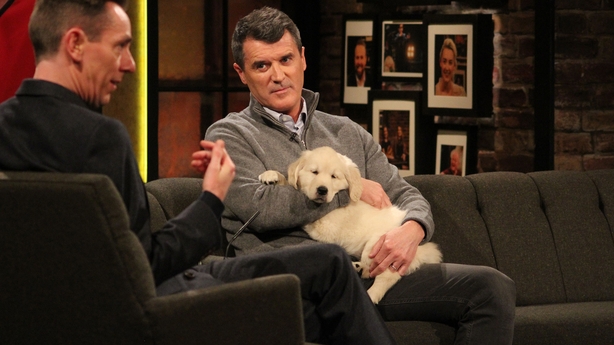 New or Returning Shows
Jack Whitehall's Father's Day, 8.30pm, BBC One
In this one-off special to (almost) coincide with Father's Day on Sunday, Jack spends a socially distanced day with his dad, Michael.
He visits him the lockdown way, by setting up for the day on the road outside Michael's front door.
The two of them will spend some quality time, looking at some old family photos and awkward home video footage, and telling some classic Whitehall tales.
Plastic Wars, 8.30pm, PBS America
PBS documentaries are always quality, and this one looks at the effectiveness of efforts to recycle plastics in light of the industry expanding like never before and the crisis of ocean pollution growing.
Jodi Arias: Dateline, 9.00pm, Sky Crime & NOW TV
Jodi Arias and Travis Alexander had chemistry right from the start. Well, until he was killed, and she was arrested.
The trial riveted millions, exposing Jodi's secrets. Yet, it did not solve one mystery: exactly who was this woman behind the veil of lies?
Kiss Rocks Vegas, 9.00pm, Sky Arts
Concert footage from the cartoonish American rock band's 2014 residency at the Hard Rock Hotel and Casino in Las Vegas, featuring performances from God of Thunder, Deuce and Love Gun.
New to Download
The Politician, Netflix
The comedy-drama series created by Ryan Murphy, Brad Falchuk, and Ian Brennan series about Payton Hobart (Ben Platt), a wealthy Santa Barbarian politician, returns.
In season two, double-crosses, a three-way relationship and a single-issue candidate add up to a mud-flinging race for State Senate that Payton will do anything to win.
Dads, Apple TV+
Directed by Bryce Dallas Howard, this documentary looks at the joys of modern-day parenting.
Featuring heartfelt stories from six everyday fathers, as well as more famous fatherhood faces such as Will Smith, Patton Oswalt, and Bryce's own dad, renowned film director and former Happy Days star, Ron Howard.
The Sinner: Jamie, Netflix
Bill Pullman returns as Detective Harry Ambrose, in this USA Network anthology crime drama mystery series based on the novel of the same name by German crime writer Petra Hammesfahr.
While on a weekend trip to Dorchester, New York, Harry Ambrose is called to the scene of a car accident in which the driver was killed.
The driver was Nick Haas, a former college friend of Jamie Burns, a passenger in the car who survived and reported the accident.
A flashback reveals Nick was headed to her house and Jamie intentionally caused the accident to prevent it. Nick initially survived, but Jamie delayed calling 9-1-1, hoping their secrets would die with Nick.
Ending Today
Later... with Jools Holland, 10.00pm, BBC Two
Jools Holland returns for the final episode in a special and very different run of the music show, filmed at Jools's creative home - his studio in south London.
This week, he chats to singer, songwriter, broadcaster and frontman of Elbow, Guy Garvey, who is making his sixth appearance on the show.
Click here for full TV listings