US TV network Showtime has unveiled the first look at Brendan Gleeson as President Donald Trump in their forthcoming miniseries about former FBI Director James Comey. 
The drama will air in late November following the US presidential elections and is a dramatisation of Comey's bestselling book A Higher Loyalty and also stars Jeff Daniels as Comey.
Titled The Comey Rule, the two-part series is said to take viewers on an insider journey down the corridors of power.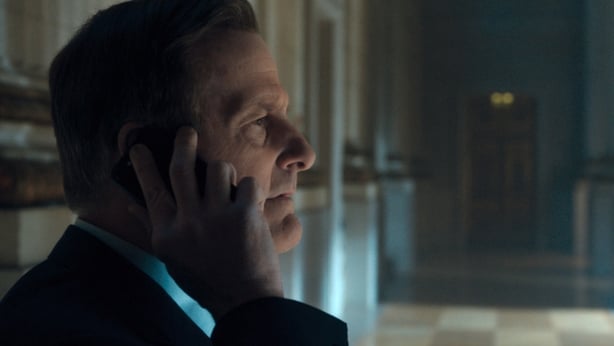 In the new stills, Gleeson (65) can be seen in character as the 74-year-old Trump in silhouette, with the president's distinctive hair and pugnacious profile. 
Variety magazine reports that the show will see "decision-makers struggle to apply old norms to a dramatic new paradigm in the face of Russia's deep and unprecedented penetration into American politics, with our nation's rule of law hanging in the balance".
The first part of The Comey Rule will look at the earliest days of the Russia investigation, the FBI's investigation into Hillary Clinton's emails and their impact on the 2016 election, which saw Trump stun the world when he was elected president. 
The second part is "a virtual day-by-day account of the tempestuous relationship between Comey and Trump and the intense and chaotic first months of the Trump presidency", according to Variety.
"The Comey Rule is not a biopic of one man, but is instead the story of two powerful figures, Comey and Trump, whose strikingly different personalities, ethics and loyalties put them on a collision course," Showtime said in its announcement.
The miniseries also stars Holly Hunter as former Acting Attorney General Sally Yates, Michael Kelly as former FBI Director Andrew McCabe, Jennifer Ehle as Patrice Comey, Peter Coyote as Robert Mueller and Kingsley Ben-Adir as President Barack Obama.