There's a treat in store for Galaxy Quest fans, a Euro 88 night of nostalgia on RTÉ 2, a David Bowie night on BBC 2, more fun and games with Alan Carr - and a load of great documentaries, music and movies to keep the weekend going . . .
Pick of the Day
Never Surrender: A Galaxy Quest Documentary, 10.00pm, Sky Documentaries
As the cult classic Galaxy Quest reaches its 20th anniversary, cast and crew come together to celebrate, recall pivotal moments and discuss the social effects of the much-loved movie.
By all accounts, it was a movie that beat all kinds of odds: surviving a set fire, the loss of a powerful director, and a studio that didn't understand what it had.
Ultimately, Galaxy Quest turned into a pop-culture phenomenon that would "never give up, never surrender".
This documentary explores how the science-fiction comedy became an enduring fan favourite.
Don't Miss
Euro '88 - The First Time, 9.30pm, RTÉ One
A theme night about Euro 8, beginning with Darragh Maloney and Ronnie Whelan looking back at the football tournament n West Germany, which was Republic of Ireland's first major championship.
Followed at 10.30pm by Euro '88: England v Republic of Ireland, which focuses on the Republic of Ireland's opening Group Two game, against England at Neckarstadion in Stuttgart.
This is followed at 11.30pm by Euro 88 - Dutch Masters, the official UEFA film on the tournament that shot Dutch football to the top of Europe.
Here's the Soccer Republic look back at the England game:
Alan Carr's Epic Gameshow, 8.30pm, Virgin Media One
The comedian and chat show host helms a revival of classic ITV game show Take Your Pick.
A selection of plucky audience members go up against the gong and play the famous Yes/No game as Alan bombards them with hilarious questions.
One lucky player will then make it through to the brand-new epic endgame, and could take home a car. The show also features The Chase's Dark Destroyer, Shaun Wallace.
New or Returning Shows
The Unwanted: The Secret Windrush Files, 8.15pm, BBC Two
David Olusoga opens previously-unseen government files to argue that the Windrush scandal and the so-called hostile environment for black British immigrants has been 70 years in the making. The film features Sarah O'Connor, Anthony Bryan and Judy Griffith. Settled in the UK legally since childhood, they were re-classified as illegal immigrants by new regulations.
Unable to show proof of their nationality status, they lost jobs, savings and their health, facing deportation back to countries they could barely remember.
I Am Patrick Swayze, 8.15pm, Sky Documentaries
A tribute to the American actor, known for his roles in movie hits such as Dirty Dancing, Ghost (below, with Demi Moore) and The Outsiders. With contributions from the likes of Demi Moore and Rob Lowe among others.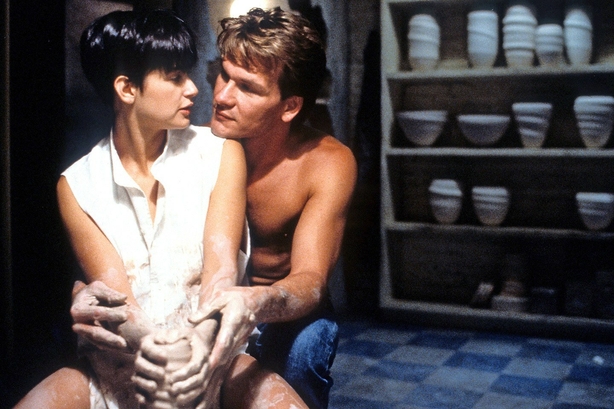 The Best of The Isle of Wight Festival 2018, 9.00pm, Sky Arts & bNow TV
Sky Arts looks back at the best acts to grace the Isle of Wight stage rounds up as we relive the 2018 event, featuring headliners Kasabian, Liam Gallagher and Manic Street Preachers.
New to Download
The Kitchen, Sky Cinema & NOW TV
Based on the Vertigo comic series, Melissa McCarthy, Tiffany Haddish and Elisabeth Moss star as the 1978 Hells Kitchen housewives who are married to the mob.
When their husbands are sent to jail, the three ladies take the Irish mafia into their own hands – proving unexpectedly efficient at running the rackets and literally taking out the competition.
If you're wondering on what side of the Melissa McCarthy coin this lands on, you might want to stay out of this kitchen, but with three leads this talented there's still plenty of meat in this crime thriller.
Repeats of the Day
BBC 2 is basically handing tonight over to fans of the late great David Bowie. Get a load of this . . .
David Bowie: Finding Fame, 9.15pm, BBC Two
The final part of Francis Whately's trilogy of films on Bowie's life, telling the story of the five years when many of the ideas that would help him become an icon were first born.
Starting in 1966, soon after David Jones changed his name to David Bowie, the film traces his interest in everything from Holst and Pinky and Perky, to Anthony Newley and Tibetan Buddhism, and how he used all of these influences to create not only Ziggy Stardust, but the material for his entire career.
David Bowie: Five Years, 10.45pm, BBC Two
Documentary exploring five key years in the singer's career, which saw him redefine himself as an artist by adopting a different persona - each one marking a shift in musical direction.
Featuring interviews with his collaborators, the programme focuses on 1971's ultimate glam-rock icon Ziggy Stardust, Bowie's reinvention as soul stylist the Thin White Duke in 1975.
Then there's his regeneration in Berlin with the critically acclaimed 1977 album Heroes, 1980's Scary Monsters triumph and Let's Dance's global success in 1983.
David Bowie: The Last Five Years, 12.15am, BBC Two
A portrait of David Bowie, told by the people who knew him best - his friends and artistic collaborators.
It also takes a detailed look at his last albums The Next Day and Blackstar, and his play Lazarus. Read our review of Blackstar here
Through the prism of this last work, the film shows how, in his final five years, Bowie not only began producing music again but returned to the core and defining themes of his career.
Among the contributors are Tony Visconti, Gail Ann Dorsey, Toni Basil and Michael C Hall.
Followed at 1.45am by a TOTP2 Bowie special.
Daytime Film Choices
Mary Poppins Returns, 2.45pm, Sky Cinema Hits
Musical fantasy, starring Emily Blunt, Dick Van Dyke and Meryl Streep.
In 1930s London, Michael Banks lives in his childhood home with his children, Annabel, John, and Georgie.
Still grieving the death of his wife, and behind on loan payments, his house is due to be repossessed unless he comes up with the money soon.
Thankfully help comes in the form of a practically perfect nanny who returns 25 years after her previous visit.
The Sting, 2.45pm, Sky Cinema Greats
Excellent, Oscar-winning Depression-era comedy drama, starring Robert Redford, Paul Newman, Robert Shaw, Charles Durning and Eileen Brennan.
Two conmen decide to swindle a mobster out of a fortune in revenge for the murder of a mutual friend. Enlisting the help of a host of crooks, they quickly conjure up a brilliant scheme to make him pay for his crime.
Goodbye Christopher Robin, 7.05pm, Channel 4
Biopic of children's author AA Milne, focusing on how his relationship with his son influenced the creation of the Winnie the Pooh stories.
The books prove immensely popular in a nation recovering from the trauma of the First World War, but bring the youngster who inspired them uncomfortably into the public eye.
Starring Domhnall Gleeson, Margot Robbie and Kelly Macdonald.
Family Flick
The Good Dinosaur, 7.05pm, RTÉ One
Pixar animated adventure, with the voices of Raymond Ochoa and Jack Bright.
In a world where the asteroid impact that wiped out the dinosaurs never happened, humans have evolved as a primitive species while the giant lizards remain the dominant life form on Earth.
A young apatosaurus becomes separated from his family, but finds a friend in a feral human boy as he makes the dangerous journey home.
Prime Time Movie Picks
Easy A, 9.00pm, W
Smart teen comedy, starring Emma Stone, Penn Badgley and Amanda Bynes.
Misfit teenager Olive lies about her non-existent sexual history, and soon becomes the talk of the school.
While she endures the harassment of conservative classmates, she grows to love the attention and sets out to create yet more rumours - but is unprepared when things get out of hand.
Finding Your Feet, 9.15pm, Channel 4
Feelgood comedy, starring Imelda Staunton, Celia Imrie, Timothy Spall and Joanna Lumley.
A wealthy woman's privileged existence is shattered when she discovers her husband is having an affair with her best friend.
Seeking solace, she turns to her estranged sister, who lives in a London council estate, and finds a new lease of life in joining her community dance class.
Stronger, 9.30pm, RTÉ One
Moving drama based on a true story, starring Jake Gyllenhaal.
A man's life changes radically after he is seriously injured in the 2013 Boston Marathon Bombings.
Jeff Bauman loses both his legs in the tragedy, but captures the hearts of his city and the world through his recovery, as he adjusts to his new way of life.
Late Late Flick Picks
Donnie Brasco, 10.05pm, TG4
Fascinating fact-based crime drama starring Johnny Depp, Al Pacino, Michael Madsen, Anne Heche and Bruno Kirby.
It's about an FBI agent who goes undercover in the Mafia and becomes the protege of a gangster.
But the demands of his new double-life place an intolerable strain on his relationship with his family, especially as he faces the ultimate prospect of betraying his mentor.
Guys and Dolls, 10.50pm, BBC Four
Classic musical, starring Frank Sinatra, Marlon Brando and Jean Simmons, and based on the short stories of Damon Runyon.
A gambler accepts a bet that he cannot win the heart of a strait-laced Salvation Army member.
Meanwhile, his friend has to find a secret location for an illegal dice game he is organising - while also contending with the police, a mobster and a girlfriend desperate to drag him to the altar.
Room, 11.25pm, Channel 4
Superb drama based on Emma Donoghue's novel of the same name, starring an Oscar-winning Brie Larson, with Jacob Tremblay, Joan Allen and William H Macy.
A woman who has been held captive for years lives in a single room with her son, who has never experienced life beyond its walls.
She resolves to make sure he has a complete and fulfilling life, but when they finally escape, she faces the challenge of helping him cope with a world he has no experience of.
Click here for full TV listings