There's a documentary about the remarkable popularity of David Gray, What Wo Do in the Shadows is back for a second run, Hillary Clinton and Steve Bannon are the subjects of other docs, while Doctor in the House returns . . .
Pick of the Day
David Gray: Ireland's Greatest Hit, 10.15pm, RTÉ One
There was a point around the turn of the Millennium when pretty much the only songs you could Even now, two decades later, it's still a remarkable story.
This documentary tells the story of how David Gray, a broke Welsh singer, dropped by two record labels, made White Ladder, an album in his spare room with zero budget that became the biggest-selling ever in Ireland and (eventually) a major global smash hit.
This retrospective heads back to the late 1990s. Ireland was experiencing rapid changes and David Gray was the soundtrack to those Celtic Tiger times.
The documentary also features appearances by Donal Dineen, Ed Sheeran, Glen Hansard, Marc Almond from Soft Cell, Phil Hartnoll from Orbital, and David's mother, from Manchester.
Here he is, explaining his breakthrough to Ray D'Arcy:
Don't Miss
What We Do in the Shadows, 11.30pm, BBC Two
It's the second season of the TV spin-off of the documentary movie - starring Matt Berry, Natasia Demetriou and Kayvan Novak as a trio of vampires struggling to cope with modern life in New York's Staten Island.
If it's as good as the first season, it's pretty much unmissable.
As the new run begins, Nadja and Laszlo's new familiar poses problems for an increasingly anxious Guillermo, and the vampires enlist the services of a local necromancer.
Hillary, 9.00pm, Sky Documentaries & NOW TV
This documentary series promises to be a 'remarkably intimate portrait of a public woman, the former US First Lady, Hillary Clinton.
It interweaves revealing moments from never-before-seen 2016 campaign footage with biographical chapters of her life, featuring exclusive interviews with the Clinton family, Hillary, Bill and Chelsea, as well as friends and journalists.
In the opening episode, as the former First Lady and Secretary of State launches her 2016 bid for the US Presidency, there's a look back at her first political transformation.
New or Returning Shows
You Are What You Wear, 8.05pm, BBC One
This new take on the fashion makeover format sees Rylan Clark-Neal at what's dubbed 'the department store of dreams'.
Alongside him are his very own glam squad - five of the UK's most exciting stylists with very different styles and personalities, ready to take on a diverse range of people in need of a significant style overhaul.
This week sees Chris, a six-foot-five personal hygiene salesman who only wears black, looking to inject some colour into his wardrobe, while Manny, at five-foot-three, has been wearing children's sized clothes for years and is looking for a grown-up style with sass.
Rachel, a PE teacher with a trainer addiction, who wants to swap gym wear for glamour, while warehouse worker Karen is worried that her work wardrobe is creeping into her weekend.
Doctor in the House, 9.00pm, Virgin Media One
In the opening episode of a new run, the experts set Pat, Paula and their family on a new healthy programme to try and reverse the damage their eating habits have caused.
When . . . Goes Horribly Wrong, 9.00pm, Comedy Central
The opening episode is called When Talent Shows Go Horribly Wrong, and Kate Thornton introduces a countdown of disastrous moments from TV talent shows, including Popstars: The Rivals, Dancing with the Stars, and Dancing on Ice.
The Brink, 10.15pm, Sky Documentaries
Filmmaker Alison Klayman shines a light on the career of political strategist Steve Bannon, as she accompanies him in his work throughout 2017.
This acclaimed documentary film follows Bannon through the 2018 mid-term elections in the United States, shedding light on his efforts to mobilize and unify far-right parties in order to win seats in the May 2019 European Parliamentary elections.
Ending Today
Ros na Rún, 8.30pm, TG4
It's all kicking-off as Ros na Rún is drowning in deceit and narcissism for the season finale of Guilt – but who's guilty?
Andy is in court doing an excellent job representing himself until his sister Bernie takes the stand. Will she convince the jury that her brother is the actual villain she's experienced all her life?
Meanwhile, Caitriona (below, with Colm) continues to go deeper down her tunnel of money arrears, and lies, with absolutely no conscience for her betrayal of everyone around her.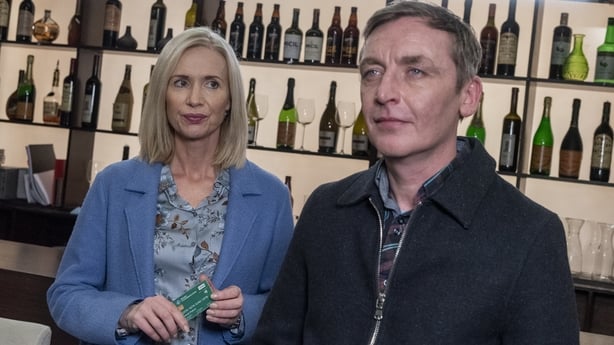 Pride and Prejudice, 8.00pm, BBC Four
As the story concludes, Wickham's elopement with Lydia makes Elizabeth see him for what he really is, while Bingley proposes to Jane - an offer she readily accepts.
Repeats of the Day
Eyes Down! The Story of Bingo, 10.50pm, BBC Four
High street bingo came about almost by accident as the result of a loophole in an obscure piece of gambling legislation.
Almost overnight, in January 1961 what had been a quiet parlour game or occasional seaside flutter was turned into a brash multimillion-pound business.
Madam Tussaud: a Legend in Wax, 9.00pm, BBC Four
The story of the woman behind the worldwide waxworks empire, revealing how a single mother and entrepreneur travelled across the English Channel, where she overcame the odds to establish her enduring brand.
Determined to leave an account of who she was and the times she lived through, her memoirs, letters and papers offer a unique insight into the creation of the extraordinary empire that bears her name.
Daytime Film Choices
The Sons of Katie Elder, 3.00pm, Sky Cinema Greats
Classic Western, starring John Wayne, Dean Martin, Earl Holliman, Michael Anderson Jr, James Gregory, George Kennedy and Dennis Hopper.
Four brothers are reunited at their mother's funeral and discover their father was swindled out of his farm and subsequently murdered.
But as they set about avenging his death and reclaiming his land, a crook frames them for killing the sheriff.
The Charge of the Light Brigade, 3.50pm, Film4
David Hemmings, Vanessa Redgrave, John Gielgud, Trevor Howard and Harry Andrews.
Star in this historical drama set during the Crimean War, in which British military commanders order a disastrous attack on Russian gun positions, causing the needless slaughter of hundreds of cavalrymen.
Little Women, 5.15pm, TCM
This is the 1949, Oscar-winning drama based on Louisa May Alcott's classic novel, starring June Allyson, Peter Lawford, Margaret O'Brien, Elizabeth Taylor, Mary Astor and Janet Leigh.
Four sisters find maturity and romance during the American Civil War, as they face tragedy and heartache, drawing love and support from one another.
Prime Time Movie Picks
Lucy, 9.00pm, Film4
Decent if undemanding sci-fi thriller, starring Scarlett Johansson and Morgan Freeman.
A courier is kidnapped and forced to become a drug mule. When she is exposed to the experimental chemicals she is smuggling, it boosts her intelligence and reflexes to superhuman levels.
She uses her newfound abilities to get revenge on her captors, but as the process continues, she evolves into something more than human.
Jaws, 9.00pm, Sky Cinema Greats
Steven Spielberg's thriller that changed US cinema in the 1970s, starring Roy Scheider, Richard Dreyfuss and Robert Shaw.
A New England seaside town's tourist season is turned into a nightmare by a giant killer shark.
The local police chief's efforts to protect the public are thwarted by the greedy mayor, forcing him to join forces with a grizzled fisherman and an enthusiastic marine biologist to hunt and kill the monster predator.
Last Vegas, 9.00pm, Sky Comedy
Comedy, starring Michael Douglas, Robert De Niro, Morgan Freeman and Kevin Kline, and widely regarded as the nadir of DeNiro's career.
A sixty-something confirmed bachelor finally decides to settle down with his much younger girlfriend.
He and three friends decide to mark the occasion by reliving their wild youth with a trip to Las Vegas - but they find that both the city and each other have changed since their glory days.
Late Late Flick Picks
Amy, 10.00pm, Channel 4
Fascinating documentary portrait of soul, jazz and R'n'B singer-songwriter Amy Winehouse, whose untimely death in July 2011 followed a well-publicised history of drugs and alcohol abuse.
Director Asif Kapadia traces Amy's rise and demise over the 13 years preceding her death, telling her story via a stunning range of visual and audio clips, plus voiceover interviews with those who were personally and professionally close to her.
Contributors include Pete Doherty, Mitch Winehouse, Tony Bennett, Mark Ronson and Tyler James.
Reservoir Dogs, 10.45pm, Film4
Quentin Tarantino's blistering debut, starring Harvey Keitel, Tim Roth, Michael Madsen, Chris Penn and Steve Buscemi.
Criminals are employed by a crime boss to carry out a diamond robbery that goes disastrously wrong.
In the bloody aftermath of the heist, they try to establish what happened and how the police were aware of their plans all along - leading to the hardening suspicion that one of them betrayed the gang.
The Killing, 12.40am, Film4
Stanley Kubrick's superb noir thriller (an influence on Tarantino's Reservoir Dogs), starring Sterling Hayden, Coleen Gray, Vince Edwards, Jay C Flippen and Timothy Carey.
An ex-convict assembles a motley crew of crooks and no-hopers to pull off an elaborate robbery at a heavily guarded racetrack.
Click here for full TV listings