New drama The Secrets She Keeps replaces Normal People, Betty is a new dramedy about female skateboarders, Das Boot is back, and The A Word comes to an end...
Pick of the Day
The Secrets She Keeps, 10.15pm, RTÉ One
This new series has the unenviable task of following Normal People. We can only wish it well...
And, like Normal People, it's an daptation of a novel, this time one by Michael Robotham.
Laura Carmichael and Jessica De Gouw star as two women from different backgrounds hiding devastating secrets.
Blogger Meghan is currently expecting her third child, but fears for the impact it will have on her already failing marriage to ambitious sports reporter Jack.
Among her devoted fans is struggling supermarket employee Meghan, who appears to be heavily pregnant herself - but not everything is as it appears.
Don't Miss
Torn from the Headlines: New York Post, 10.00pm, ID
When the body of an attractive young woman was found wrapped in a blanket on the side of an East New York parkway, investigators found themselves in a race against the clock to find her killer before he struck again.
New or Returning Shows
Betty, 9.35pm, Sky Comedy & NOW TV
Based on Crystal Moselle's critically acclaimed 2018 film Skate Kitchen, this new six-part dramedy from HBO follows a diverse group of young New York women navigating their lives through the predominantly male-oriented world of skateboarding,.
When Janay (Dede Lovelace) and Kirt (Nina Moran) attempt to throw an all-girls skate sesh, an unexpected visitor cuts the festivities short, chaos ensues.
Das Boot, 9.00pm, Sky Atlantic & NOW TV
One of Sky Germany's most successful original dramas, Das Boot returns for a second season, pairing three tension-fuelled storylines with intensive character studies exploring how the human soul can become twisted by war.
The reality of war is taking its toll on U-boat commander Johannes Von Reinhartz, hero of the Kriegsmarine. Could a new mission offer a way out?
Meanwhile, Margot and Simone team up to help the Goldblatts escape La Rochelle, and in New York Hoffmann longs to get home and clear his name.
Can't find a subtitled trailer, but you'll get the drift:
Mr Tornado, 8.25pm, PBS America
The work of Japanese-American meteorologist Tetsuya Theodore `Ted' Fujita, who spent 10 months studying the most intense tornado outbreak on record - the Super Outbreak of 1974.
Condor, 10.00pm, Sky One
Spy thriller, based on the novel Six Days of the Condor by James Grady and its 1975 film adaptation Three Days of the Condor.
It stars Max Irons as a CIA analyst who stumbles on a plot that threatens the lives of millions after he survives a massacre of his colleagues.
Shocking Emergency Calls UK, 10.00pm, Channel 4
A chilling call from an online predator in Essex leads to a confession of brutal murder, and in north London, emergency services respond to a horrifying incident after a van deliberately driven into a crowd outside a mosque.
Elsewhere, a harrowing call is taken in the aftermath of a frenzied acid attack by a woman on her partner in Bristol.
Ending Today
The A Word, 9.00pm, BBC One
When Rebecca goes into labour, it falls to Joe to help his sister. Alison makes a decision about Ben, Paul makes Mark an offer, and Maurice has a big question for Louise.
Last Tango in Halifax, 11.15pm, RTÉ One
It's the day of Gillian and Robbie's wedding, and as all the guests begin to arrive at the venue, the bride suffers a serious case of cold feet.
Caroline tries to get to the bottom of her stepsister's reluctance - and it isn't long before she admits the reasons for not wanting such a big ceremony.
Repeats of the Day
Man on Wire, 9.00pm, Sky Documentaries
This is an engrossing and Oscar-winning documentary about French street performer Philippe Petit.
In 1974 he undertook a daring 45-minute tightrope walk and acrobatic routine on a wire stretched between the two towers of the World Trade Centre.
Featuring re-creations of his earlier stunts at Paris's Notre Dame cathedral and Sydney Harbour Bridge.
David Harewood: Psychosis and Me, 11.30pm, BBC Two
At the age of 23, David Harewood (below) had a psychotic breakdown and was sectioned.
Two years ago he opened up on Twitter about the experience - and now he wants to tell the full story.
Travelling back to his home town of Birmingham, the actor meets up with his mother and old friends who were with him at the time.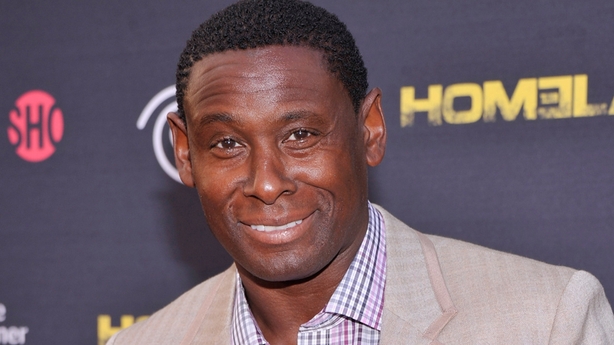 Daytime Film Choices
Strangers on a Train, 2.30pm, TCM
Alfred Hitchcock's thriller, based on the novel by Patricia Highsmith, starring Robert Walker, Farley Granger and Ruth Roman.
A charming psychopath meets a tennis professional on a train and suggests that they each commit a murder on the other's behalf.
However, when the deranged man goes through with his part of the deal, the sportsman faces a race against time to prove his innocence.
Anna and the King, 4.15pm, Film4
Period drama, starring Jodie Foster, Chow Yun-Fat, Ling Bai, Syed Alwi, Tom Felton and Randall Duk Kim.
A widowed schoolmistress leaves Victorian England to tutor a son of the King of Siam, only to discover his majesty actually expects her to care for all 58 of his children.
In spite of disagreements and many ups and downs, the teacher gradually forms a deep platonic love for her royal employer.
The Favourite, 2.20pm, Sky Cinema Hits
Yorgos Lanthimos's multi Bafta-winning black comedy starring an Oscar-winning Olivia Colman, with Emma Stone and Rachel Weisz.
In early 18th-century England, a sickly Queen Anne occupies the throne while her close friend, Lady Sarah, governs the country. When a new servant, Abigail, arrives, Sarah is won over by her charm.
Prime Time Movie Picks
Logan, 9.00pm, Film4
Superb comic book adventure, starring Hugh Jackman, Patrick Stewart, Dafne Keen and Stephen Merchant.
In the near future, Wolverine cares for an ailing Professor X somewhere on the Mexican border.
But the razor-clawed hero's attempts to hide from the world are turned upside down when a young mutant arrives, pursued by lethal forces.
The Wedding Singer, 9.00pm, Comedy Central
Romantic comedy set in the 1980s, starring Adam Sandler and Drew Barrymore.
A failed rock star carves out a career as a popular wedding singer, but his hopes for a bright future are dashed when his fiancee jilts him at the altar and he tries to shut himself off from the outside world.
At one of his functions, a waitress catches his eye - but unfortunately for him, she is already engaged to someone else.
The Great Gatsby, 9.00pm, Sky Cinema Greats
Visually stunning and hugely entertaining drama based on F Scott Fitzgerald's celebrated novel, starring Leonardo DiCaprio, Tobey Maguire and Carey Mulligan.
A naive writer arrives in Long Island in 1922 and befriends a self-made millionaire with a reputation for lavish parties.
As he is seduced into this decadent lifestyle, he slowly uncovers his friend's mysterious dark past and lifelong obsession with his cousin.
Late Late Flick Picks
The Big Heat, 11.50pm, Sony Movies Classic
Fritz Lang's classic noir crime drama, with Glenn Ford, Gloria Grahame, Lee Marvin and Alexander Scourby.
A scrupulously honest detective investigates after a cop leaves a suicide note detailing corruption in the force and gangland connections, but gets taken off the case when his own wife is killed by the Mob.
He becomes convinced that the officers in charge are covering their tracks, he decides to go it alone.
Dementia 13, 1.30am, Talking Pictures TV
Horror, starring Patrick Magee, Mary Mitchell and Luana Anders, filmed in Ireland and notably the directorial debut of Francis Ford Coppola.
A widow, fearing she will be left penniless if her late husband's distinctly odd family learn of his untimely demise, pretends he's still alive - but strange things start happening, and a mysterious figure begins stalking the area.
Night Moves, 1.50am, Film4
Thriller, starring Jesse Eisenberg, Dakota Fanning and Peter Sarsgaard.
A farmer, a high-school drop-out and an ex-soldier form a militant environmentalist group, and plot to blow up a controversial dam.
While their plan is successful, it has many shocking consequences, and they are faced with a series of moral dilemmas in the aftermath.
Click here for full TV listings