Good Morning Britain hosts Susanna Reid and Piers Morgan were close to tears on Monday's show as they sent their best wishes to colleague Kate Garraway and her critically-ill husband Derek Draper, who has been in Intensive Care since April after contracting Covid-19.
"Huge, huge love to Kate," said Reid on Monday. "She's going through Hell. The family's going through Hell."
"There is hope still, of course," Reid continued. "She said that they were hoping for that miracle, and we're all hoping with her. Huge love to Kate this morning."
Garraway gave a heart-rending interview on Friday's show, telling her colleagues: "He's still with us. He has fought the most extraordinary battle. And I hate the idea of that, but it is a battle.
'You have to think to yourself there is hope. It's about carrying on with life when you don't know life is certain.'

Kate Garraway, her family and all of us are hoping for her husband Derek's full recovery from coronavirus. ❤️

Watch here 👉 https://t.co/yyUUJmR3od pic.twitter.com/dNpBTvAkZe

— Good Morning Britain (@GMB) June 5, 2020
"The fact that he's still here and holding on, I'm so grateful that he is still here."
"He is now Covid-free; he's testing negative. The fight with the virus has been won and he's still here, but it's wreaked extraordinary damage on his body and we don't know if he can recover from that," she added.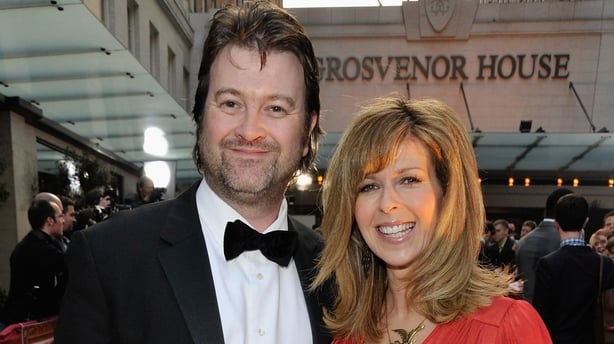 Britain's Lord Mandelson has said that former British prime ministers Tony Blair and Gordon Brown have also sent recorded messages to Derek Draper, a former lobbyist and political adviser.
The Press Association reports that in an interview on BBC Radio 5 Live's Emma Barnett on Monday, Lord Mandelson also echoed that the disease had "wreaked extraordinary damage" on Derek Draper.
"The whole experience, the whole dreadful, tragic experience of what's happened to him has actually brought an enormous lot of people, who knew him in the 90s and beyond, who knew him in New Labour and the government... It's brought an enormous lot of people back together again," he said.
"Both Tony Blair and Gordon Brown have sent him recorded messages"

Lord Mandelson told @emmabarnett his friend Derek Draper has coronavirus damage to his lungs, liver and kidneys, but that an "enormous lot of people" are helping him and his "wonderful" wife @kategarraway pic.twitter.com/J5AKXkoj4a

— BBC Radio 5 Live (@bbc5live) June 8, 2020
"He's been a hugely unifying figure, ironically, through this terrible, terrible tragedy," the former minister in the Brown and Blair governments continued.
"Both Tony Blair and Gordon Brown have sent him recorded messages, as have done the rest of us.
"We're now giving him music, we're giving him photographs in order to stimulate a response. We've all come together, and we just hope, and pray, he will come through it."