It's the end of the road for Normal People and Pen15, Isolation Stories is a new and topical drama series, Holby City returns after a six-week break, and Michelle Dockery is back with more Good Behaviour . . .
Pick of the Day
Normal People, 10.15pm, RTÉ One
In the penultimate episode of the much-hyped Sally Rooney adaptation, Marianne returns to Carricklea for the summer, and ends up sleeping with Connell.
Afterwards, she makes a difficult request that leaves him upset and her ashamed - but he comes to her aid during a violent confrontation with Alan.
Later, in the season finale, Connell and Marianne are living together in Dublin and spend Christmas with Lorraine, but face an uncertain future when he receives an offer to study in New York.
They've come a long way, baby . . .
Don't Miss
Isolation Stories, 9.00pm, Virgin Media One
This is a four-part omnibus drama series, depicting life in lockdown, reflecting on how the coronavirus pandemic has changed lives, depicting the struggles of life with Covid-19 restrictions.
The great Sheridan Smith stars in the first episode entitled Mel, written by Gaby Chiappe (The Level) and directed by Paul Whittington (White House Farm, Little Boy Blue).
Alone, heavily pregnant, and fed up with life, Mel (Smith) faces having to go through birth without the married father of her child - who has chosen to stay with his wife and family - and without her own family, who have given her the cold shoulder.
She might be the only person in the UK who doesn't mind isolation. At least everyone else will understand what it's like to be miserable.
New or Returning Shows
Holby City, 8.00pm, BBC One
The Beeb's long-running medical drama resumes after a six-week break.
Essie's friends try to keep things normal as she continues her chemotherapy. Jac and Kian's relationship takes an unexpected turn, and can Guy keep his relationship under wraps?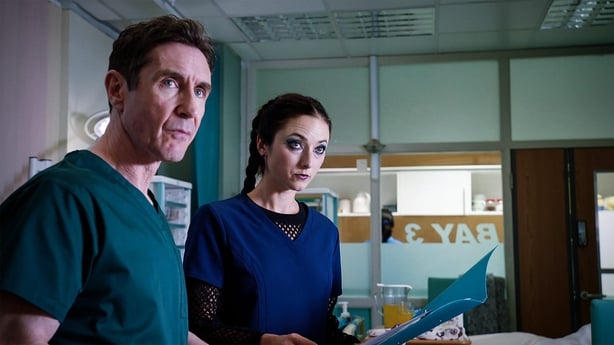 Portrait Artist of the Year 2020, 9.00pm, Sky Arts
Joan Bakewell and Stephen Mangan launch another talent search, with the first batch of contestants painting celebrity sitters Asa Butterfield, Micky Flanagan and Anjli Mohindra.
Good Behaviour, 11.00pm, Virgin Media One
Here's the second and final run of this TNT drama starring Michelle Dockery as con artist Letty Raines.
In the season opener, Letty and Javier settle in a quaint beach town, but Letty is forced to face the reality of living with a hitman when they discover someone is trying to kill Javier.
New to Download
Fuller House: The Farewell Season, Netflix
Jimmy and Steph bring their new baby home and dive headfirst into the world of parenting. But no worries: they've got a houseful of hands to help.
Ending Today
A Very British Hotel Chain: Inside Best Western, 9.00pm, Channel 4
Sales rep Mark has an ambitious plan to repurpose an old job centre as a hotel, while one of the chain's establishments in Edinburgh's city centre is assessed by a hotel inspector.
CEO Rob gets his marketing team together to brainstorm a Christmas ad campaign, and employs a comedy gadget to pitch the results to the board of directors.
Pen15, 9.00pm, Sky Comedy
It's time for the first school dance, but Anna and Maya are on bad terms.
Maya's trying to make up for spouting about Anna stealing her family, but Anna's still angry at Maya for not being supportive when her parents announced that they were getting divorced.
The two girls want their big night to go well and both of them are hoping that romance is in the air, but this is unfamiliar territory - it looks like they'll have to navigate their special evening by themselves.
Repeats of the Day
A Black and White Killing: The Case That Shook America, 11.30pm, BBC Two
Topical repeat as Mobeen Azhar investigates the murder of Larnell Bruce by a member of a white supremacist gang in Portland, and assesses the degree to which race played a role in the choice of victim.
Featuring interviews with members of the militant groups and expert witnesses called on to testify.
Buffy the Vampire Slayer, 11.10pm, E4
In episode two, Willow and Xander come to terms with the existence of the supernatural, while Buffy sets out to rescue their friend Jesse.
She soon has a more vital mission to carry out, as she must stop powerful undead overlord the Master to escape from his mystical prison underneath Sunnydale.
My F-ing Tourette's Family, 10.00pm, Channel 4
Documentary following the lives of Oxfordshire couple Hayley and Richard Davies-Monk, and their sons Spencer, 13, and Lewis, nine, who both have Tourette's syndrome.
The film shows the daily challenges of living with the neurological disorder, which for the boys means uncontrollable physical and verbal tics that can often include inappropriate or taboo phrases.
Daytime Film Choices
Call Me Madam, 2.40pm, BBC Two
Irving Berlin's musical, starring Ethel Merman, George Sanders and Donald O'Connor.
A Washington socialite becomes ambassador to a small European state and falls in love with the foreign minister, while her sidekick attracts the attention of a princess.
Zulu, 4.40pm, Sky Cinema Greats
Historical drama, starring Michael Caine, Stanley Baker, Jack Hawkins, Ulla Jacobsson, Nigel Green and Chief Buthelezi, with narration by Richard Burton.
An upper-class soldier and his fellow officer stationed at Rorke's Drift in 1879 discover they have been cut off after the destruction of the main British army column in the area.
They must rally their small force of 140 men against the might of 4,000 Zulu warriors advancing on their position.
How the West Was Won, 2.30pm, TCM
Epic Western, starring James Stewart, John Wayne, Gregory Peck, Henry Fonda, Debbie Reynolds, Lee J Cobb and Richard Widmark.
Three generations of a pioneering family experience many ordeals and adventures in their endeavour to build a new life for themselves on the American frontier in the 19th century.
Over the years, the family experiences the key events of the nation's history, including the gold rush, the Civil War, and the building of the railroads.
Prime Time Movie Picks
American Made, 9.00pm, Film4
Fun and games with The Cruiser and Domhnall Gleeson.
A pilot is recruited to act as a courier for the CIA in the 1980s, carrying out covert deliveries from the US to General Noriega's regime in Panama.
He exploits the opportunity to set up a profitable sideline trafficking drugs for a cartel, but his dangerous double life takes a darker turn when he is ordered to supply weapons to far-right rebel groups operating in Nicaragua.
Jarhead, 9.00pm, Sky Atlantic
Gulf War drama based on the autobiography by veteran Anthony Swofford, starring Jake Gyllenhaal, Jamie Foxx, Peter Sarsgaard and Chris Cooper.
A fresh-faced Marine's boot-camp training turns into a real tour of duty when he is sent to fight in the Gulf War in 1991.
But the desert action is not what the new recruit expected - the willing soldiers are forced to wait for hours in searing heat, while their day is punctuated by moments of terror.
Notting Hill, 9.00pm, Sky Cinema Greats
Romantic comedy written by Richard Curtis, starring Hugh Grant, Julia Roberts, Rhys Ifans, Emma Chambers, James Dreyfus and Gina McKee.
A recently divorced bookshop owner finds love with a glamorous Hollywood film star, but ends up the focus of unwanted media interest - which makes maintaining a relationship a tricky proposition.
Late Late Flick Picks
Alone in Berlin, 11.15pm, Film4
Emma Thompson, Brendan Gleeson star in this fact-based drama as a middle-aged couple in WWII in Berlin.
After the Quangels, a Nazi Party-supporting German working-class couple lose their son during the Second World War, they decide to retaliate by secretly distributing handwritten cards in Berlin denouncing their government.
Rambo, 12.15am, Sky Cinema Action
Action sequel, directed by and starring Sylvester Stallone. With Julie Benz and Graham McTavish.
The bandana-wearing one-man army has turned his back on violence to live a quiet life in Thailand.
But before long he takes up arms once again to rescue a party of missionaries who have been taken captive en route to Burma by a sadistic military officer.
Kick-Ass, 12.10am, Sky Cinema Select
Action comedy, starring Aaron Taylor-Johnson, Chloe Grace Moretz and Nicolas Cage.
A teenage comics fan sets out to become a real-life superhero, and his amateur crime-fighting exploits make him a media sensation.
But he's soon in over his head as he encounters a sadistic gangster and a father-daughter vigilante team with a far more lethal approach to cleaning up the streets.
Click here for full TV listings