Alan Carr's back with a brand new show about old game shows, there's a documentary about legendary singer Ella Fitzgerald, and it's the final night of auditions on Britain's Got Talent . . .
Pick of the Day
Alan Carr's Epic Gameshow, 8.15pm, Virgin Media One
Comedian/chat show host Alan Carr takes a trip down TV's memory lane as he presents a series of classic game shows, which have all been updated with a new final round where contestants can win big.
The next four weeks will see Alan Carr hosting new versions of The Price Is Right, Take Your Pick, Strike it Lucky and Bullseye.
In tonight's opener he steps into the shoes of the much-missed Bruce Forsyth for Play Your Cards Right, which sees four celebrity couples taking a chance on the turn of a single card.
The hopefuls are TV presenters Ruth Langsford and Eamonn Holmes, comedian Chris Ramsey and his wife Rosie, presenter Ore Oduba and his wife Portia, and singer-actress Martine McCutcheon and her husband Jack McManus.
Don't Miss
Ella Fitzgerald: Just One of Those Things, 9.30pm, BBC Two
This looks fantastic.
The life and times of the jazz singer Ella Fitzgerald, one of the definitive voices of the 20th Century, beginning with a 1934 talent contest at the Apollo Theatre in Harlem, and following her next five decades.
The documentary also reflects on the passions and troubles of the times in which she lived in her life and her music.
Narrated by Sophie Okonedo, with contributions from Laura Mvula, Ray Brown Jr, Tony Bennett, Johnny Mathis, Jamie Cullum, Cleo Laine and Smokey Robinson.
Britain's Got Talent, 7.00pm, Virgin Media One
Ant and Dec (below) host UK TV's biggest talent show as judges Simon Cowell, Amanda Holden, David Walliams and Alesha Dixon assess the acts taking part in the eighth and final round of auditions.
What happens next is anyone's guess, as the five semi-finals, due to start next week, have been postponed due to UK-wide restrictions as a result of the pandemic.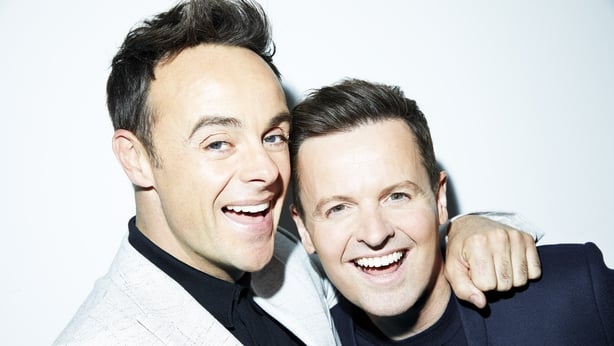 New or Returning Shows
Busby, 6.00pm, Sky Documentaries & NOW TV
This is an intimate portrayal of former Manchester United manager Matt Busby, who transformed the football club after WWII and led it through more than 20 years in a career where he unearthed great talent to mould his legendary Busy Babes - and experienced even greater tragedy with the Munich Air Disaster.
The Amazing Johnathan Documentary, 11.00pm, Sky Documentaries & NOW TV
Benjamin Berman finds the line between truth and illusion start to blur as he documents the final tour of a dying magician.
Most Shocking Celebrity Moments, 10.00pm, MTV
From Megan and Harry's turbulent time, to Wagatha Christie, MTV takes a look at all new most shocking celebrity moments!
Honeyland, 8.15pm, Sky Documentaries & NOW TV
This visually stunning documentary tells the story of Hatidze: a woman who lives with her ailing mother and utilises ancient beekeeping traditions to cultivate honey in the mountains of Macedonia.
All is calm until an unruly family moves in next-door and tries to do the same, ignoring her wisdom and advice.
Tension soon rises in this quietly powerful portrait of a determined woman who's just trying to make her way in the world.
Repeats of the Day
The Young Montalbano, 9.00pm, BBC Four
No Sicilian holidays for anyone this summer, so here's the next best thing - Sicily's most famous fictitious cop.
In a prequel to Inspector Montalbano, the young detective moves to a remote village in the Sicilian mountains, where he investigates the case of an attempted murder at the hands of a vulnerable woman, whose motives appear unfathomable.
Jazz Divas Gold, 11.00pm, BBC Two
A selection of archive performances by acclaimed female jazz artists from shows including Not So Much a Programme - More a Way of Life, Morecambe and Wise, Parkinson and Show of the Week.
Featuring Ella Fitzgerald, Peggy Lee, Blossom Dearie, Nina Simone, Cleo Laine, Marion Montgomery, Betty Carter, Sarah Vaughan, Eartha Kitt and Amy Winehouse.
Daytime Film Choices
Some Like It Hot, 3.40pm, BBC Two
Billy Wilder's classic romantic comedy - easily one of the greatest films ever made - stars Marilyn Monroe, Tony Curtis and Jack Lemmon.
After witnessing a mob hit in Chicago, two male jazz musicians don drag and hide out with an all-girl band to evade the gangsters pursuing them.
However, the pair struggle to disguise their attraction for the beautiful lead singer - while one of them catches the eye of a smitten millionaire.
The Dark Knight, 2.40pm, Sky Cinema Select
Christian Bale, Aaron Eckhart and an Oscar-winning Heath Ledger star In the sequel to Batman Begins.
This time around the masked hero finds a new ally in his war on organised crime in Gotham's crusading new district attorney, Harvey Dent.
Both men are then pushed to their limits by the rise of the Joker, a criminal mastermind spreading chaos and destruction throughout the city for his own amusement.
Ice Age: Collision Course, 3.00pm, Film4
Animated sequel, with the voices of Ray Romano, Denis Leary, John Leguizamo and Simon Pegg.
When a cosmic blunder leaves Earth in the path of an asteroid, it's up to Sid the sloth and pals Manny and Diego to save the day.
Family Flicks
Frozen, 6.20pm, BBC One
Outrageously popular Disney animation inspired by Hans Christian Andersen's fairy tale The Snow Queen.
The city of Arendelle is gripped in an eternal winter when Princess Elsa loses control of her magical powers.
It's up to younger sister Anna - with the aid of ice salesman Kristoff, trusty reindeer steed Sven and adorable snowman Olaf - to bring Elsa back into the fold and end the icy spell.
Featuring the voices of Kristen Bell (as Anna), Idina Menzel (Elsa), Jonathan Groff (Kristoff), Josh Gad (Olaf).
Charlie and the Chocolate Factory, 7.05pm, RTÉ One
Tim Burton's children's fantasy, based on Roald Dahl's novel, starring Johnny Depp, Freddie Highmore, Helena Bonham Carter, and Deep Roy playing all the Oompa Loompas.
Penniless Charlie Bucket is one of five lucky children who find a golden ticket in a chocolate bar, winning a once-in-a-lifetime tour of eccentric recluse Willy Wonka's magical sweet company. Unfortunately, the other winners each face a grim fate when they start to misbehave.
While it's not as much fun as the 1971 adaptation, starring Gene Wilder, it does capture more of the book's darkness. Johnny Depp's Michael Jackson-like Wonka is particularly spooky.
Prime Time Movie Picks
The Imitation Game, 9.40pm, RTÉ 2
Impressive biopic of mathematician Alan Turing, whose work during the Second World War translated seemingly unbreakable Nazi codes as well as pioneering the development of computer technology.
In the years following the war, his life would be destroyed as his homosexuality was discovered, leaving him facing criminal charges.
Starring Benedict Cumberbatch, Keira Knightley and Charles Dance.
Identity, 9.00pm, W
Agatha Christie-like murder mystery, starring John Cusack, Ray Liotta, Amanda Peet and Alfred Molina.
Ten strangers take shelter from a storm in a remote hotel, but start to suspect their being together at the same place and time is more than just a coincidence.
Before long a mysterious figure begins to murder them off one by one - leaving the guests to work out which of them is the killer, or if someone else is in the hotel.
Die Hard 4.0, 9.00pm, Channel 4
Awesome action thriller sequel, with Bruce Willis, Timothy Olyphant, Justin Long and Maggie Q.
Tough New York cop John McClane is sent to escort a computer hacker to Washington for questioning.
During this routine operation he stumbles on a criminal mastermind's plan to launch a technological terrorist attack on the US, and is forced to enlist the hacker's aid in foiling the evil scheme.
Late Late Flick Picks
10 Cloverfield Lane, 11.55pm, Channel 4
Engrossingly claustrophobic thriller, starring Mary Elizabeth Winstead and John Goodman.
A woman survives a car crash, and wakes up to find herself in an underground bunker, belonging to a survivalist who claims that a devastating attack has left the outside world uninhabitable.
As his behaviour becomes increasingly odd, she begins to fear she is being tricked and resolves to discover the truth for herself.
The Witness, 11.45pm, RTÉ 2
Macedonian-Swiss director Mitko Panov directs this Swiss, Macedonian, Irish and Croatian co-producted drama, starring Wexford's Padraic Delaney, Natasha Petrovic and Bruno Ganz.
Enthusiastic Hague War Tribunal junior officer Vincent Harrington goes in pursuit of Nikola Radin, a high ranking officer in the Yugoslav Army who disappeared after resigning.
Should he find him wherever he lurks in secret, Radin's testimony will, Harrington believes, secure the conviction of alleged war criminal Miro Pantic.
In English and Serbo-Croatian.
Julieta, 12.00am, BBC Two
The utterly dependable Pedro Almodovar wrote and directed this drama, starring Emma Suarez and Adriana Ugarte. In Spanish, based on three short stories from the book Runaway by Alice Munro.
A chance encounter with a childhood friend of her estranged daughter causes a guilt-ridden Madrid woman to rethink her future.
Click here for full TV listings