It's the final Late Late Show of the current run, Steve Carell stars in Space Force, there are some great music and documentaries, Smack the Pony makes a return, while Hugh Laurie joins Jools Holland on Later . . .
Pick of the Day
The Late Late Show, 9.35pm, RTÉ One
It's the last Late Late before the summer break, and Ryan Tubridy's list of guests is topped by none other than the President of Ireland, Michael D Higgins (below).
Also among Ryan's guests are frontline workers, actors Saoirse Ronan and Colin Farrell, singer Sinéad O'Connor and former Republic of Ireland captain Robbie Keane.
Speaking on his RTÉ Radio 1 show during the week, Ryan Tubridy said: "We're going to have President Michael D Higgins with us on Friday night. Well not with us on Friday night - we're going to see him in Arás an Uachtaráin and interview him in the gardens there this week.
"And then we will also talk to the likes of Saoirse Ronan and Colin Farrell and others. And as arguably important as they are, we'll also have members of the frontline joining us to salute them essentially, which I think is the right way to do it."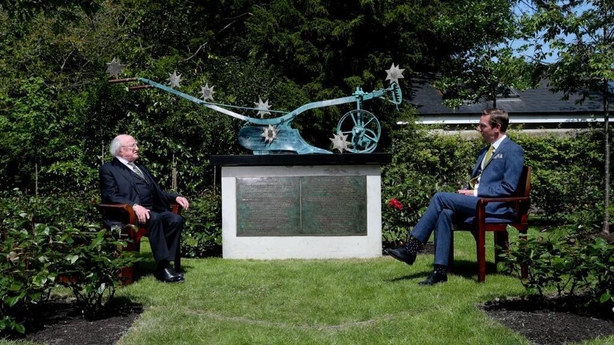 Don't Miss
Ali v Cavett: the Tales of the Tapes, 10.00pm, Sky Documentaries & NOW TV
HBO's vibrant portrait of boxing legend Muhammad Ali as told through the lens of his frequent appearances on the Emmy-winning Dick Cavett Show.
With natural charisma, quick wit and playful pugnacity, Ali was a perfect foil for the sophisticated broadcast host, and together they struck television gold.
Whether discussing his prowess in the ring, the status of race relations in America or his controversial decision to refuse induction into the army during the Vietnam War, Ali was always an entertaining and provocative guest.
Kermode and Mayo's Home Entertainment Service, 8.30pm, BBC Four
Mark Kermode and Simon Mayo discuss the new Netflix series Space Force, starring Steve Carrell and Lisa Kudrow.
They'll also be looking at the hotly anticipated sci-fi thriller The Vast of Night, a new Amazon Studios release, as well as rounding-up the best - and worst - of the rest of streaming culture across movies and premium television.
Later... With Jools Holland, 10.00pm, BBC Two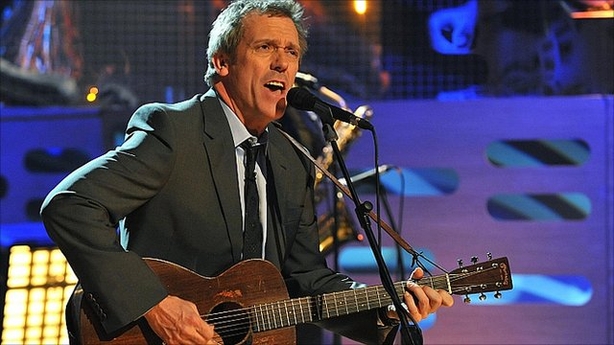 The music programme continues in its lockdown incarnation as Jools chats from his south London studio via video link to Golden Globe-winning actor and musician Hugh Laurie (above), who recounts his musical journey.
Laurie's picks reflect the influences that can be found on his own two records Let Them Talk and Didn't It Rain, the former featuring collaborations with Tom Jones, Irma Thomas and Dr John.
As usual, there's also time for Jools to focus on new music, with a unique performance by multi-instrumentalist and singer Jacob Collier, who will be making his debut on the show.
New or Returning Shows
East Lake Meadows: a Public Housing Story, 8.35pm, PBS America
An often depressing but always fascinating look at the limited housing opportunities for African-Americans through the story of an Atlanta public housing community that opened in 1970 and was bulldozed in the mid-1990s.
New to Download
Space Force, Netflix
A pilot with dreams of running the Air Force, four-star general Mark R Naird (Steve Carell) finds himself tapped to lead the newly formed sixth branch of the US Armed Forces: Space Force.
Sceptical but dedicated, he uproots his family and moves to a remote base in Colorado where he and a colourful team are tasked by the White House with getting American boots on the moon (again) in a hurry and achieving total space dominance.
The cast includes John Malkovich, Lisa Kudrow, Diana Silvers, and Tawny Newsome.
Somebody Feed Phil: Season 3, Netflix
Everybody Loves Raymond creator Phil Rosenthal continues to travel the globe, sampling different cuisines and cultures.
In these new episodes, he travels to Marrakesh, Seoul, Montreal, Chicago and London.
Crawl, Sky Cinema & NOW TV
When a massive hurricane hits her Florida hometown, Haley (Kaya Scodelario) ignores evacuation orders to search for her missing father (Barry Pepper).
Finding him gravely injured, the two become trapped by quickly encroaching floodwaters. As time runs out to escape the strengthening storm, Haley and her father discover that the rising tide invites alligators.
Repeats of the Day
Smack the Pony, 11.05pm, Channel 4
Stylish, original and uninhibited Emmy Award-winning sketch show, starring Fiona Allen, Doon Mackichan and Sally Phillips, with appearances from other comedy heavyweights including Sarah Alexander and Darren Boyd.
Followed at 11.40pm by episode two.
Rock 'n' Roll America, 9.30pm, BBC Four
Documentary examining the most important era in the history of popular music - the birth of rock 'n' roll.
The opening programme focuses on the origins of the sound in 1950s America when the rhythm-driven mix of blues, boogie-woogie and vocal harmony was nurtured by small independent record labels and championed by young music pioneers such as Fats Domino and Little Richard.
This episode also looks at the start of Elvis Presley's career in Memphis and examines the impact the film industry had on the rock movement.
Contributors include Tom Jones, Jerry Lee Lewis and Don Everly.
It's Only Rock 'n' Roll: Rock 'n' Roll at the BBC, 11.30pm, BBC Four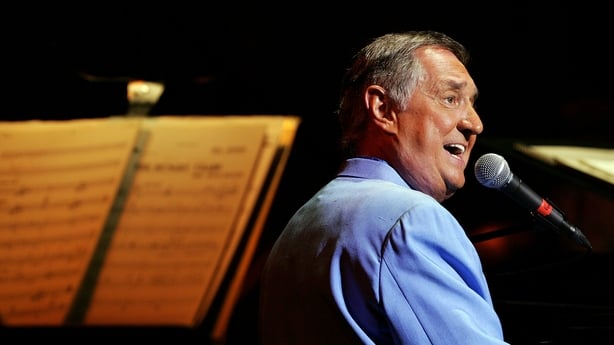 A compilation of classic rock 'n' roll artists and songs in celebration of the musical genre, Including performances by Jerry Lee Lewis, Dion, Dick Dale and Neil Sedaka (above).
Plus, a selection of songs with rock 'n' roll in the title, such as Tom Petty's Anything That's Rock 'n' Roll, Joan Jett's cover of I love Rock 'n' Roll and Oasis's Rock 'n' Roll Star.
Daytime Film Choices
King Kong, 2.50pm, BBC Two
Yet another Hollywood classic, this is the original of the species, starring Fay Wray, Robert Armstrong and Bruce Cabot.
A film producer and his crew visit a remote island where they encounter a 50ft gorilla which takes a shine to their leading lady.
When they decide to take it back to America, they fail to foresee the inevitable havoc as the gigantic ape runs amok in New York.
Blanche Fury, 2.55pm, Film4
Drama, starring Valerie Hobson, Michael Gough, Stewart Granger and Walter Fitzgerald, about a penniless governess invited to stay with a wealthy relative, where she hopes to secure her future and take over the estate by marrying her infatuated cousin.
Sword of Sherwood Forest, 4.45pm, Film4
This Hammer swashbuckler, starring Richard Greene, Peter Cushing, Niall MacGinnis, Richard Pasco, Sarah Branch and Oliver Reed, was filmed at Admore Studios.
Legendary outlaw hero Robin Hood rallies his merry men to thwart the Sheriff of Nottingham's plan to murder the Archbishop of Canterbury.
Prime Time Movie Picks
The Fault in Our Stars, 6.25pm, Film4
A tear-jerking romantic drama based on the best-selling novel by John Green, starring Shailene Woodley, Ansel Elgort, Laura Dern and Willem Dafoe.
Indianapolis teenager Hazel has terminal thyroid cancer and attends a patients' support group, where she meets fellow teen Gus, who lost a leg to the disease.
The two fall in love and a shared passion for books leads them on a literary pilgrimage to Amsterdam in search of reclusive author Peter van Houten.
Central Intelligence, 9.00pm, Film4
This hugely enjoyable action-comedy stars Dwayne Johnson as a one-time geek who suffered constant humiliation at high school but grew up to be a lethal CIA agent.
But when he's targeted by his own organisation, he comes home for a high school reunion, where he enlists the help of the former campus tough guy - now a meek accountant played by Kevin Hart- who very quickly wonders what he's got himself into.
Z for Zachariah, 9.45pm, RTÉ 2
Sci-fi drama based on Robert C O'Brien's novel, starring Margot Robbie, Chiwetel Ejiofor and Chris Pine.
A woman lives alone on a farm that belonged to her family in the aftermath of a nuclear apocalypse, believing herself to be the last survivor of the human race.
Her simple life is disrupted by the appearance of a second survivor, and they adapt to working together - but the arrival of a third individual threatens everything they have built.
Late Late Flick Picks
Young Adult, 11.15pm, BBC One
Charlize Theron stars in this comedy from Diablo Cody as Mavis Gary, a self-centred writer of young adult fiction who lives a life of drunken nights and one-night stands in Minneapolis.
She receives an email from an old flame in her home town, decides that it's a sign he is trapped in a boring life and wants to see her, and heads home to win him back.
Trumbo, 11.20pm, BBC Two
Biopic starring Bryan Cranston, Diane Lane and Helen Mirren about an acclaimed Hollywood screenwriter, who was jailed and blacklisted in the 1940s for his left-wing political views.
On his release from prison, he manages to continue writing using a series of pseudonyms, and his newfound success leads many to question the validity of the blacklist.
Carrie, 11.45pm, TCM
Brian De Palma's adaptation of Stephen King's horror novel, with Sissy Spacek, Piper Laurie and Amy Irving, offers superb late-night viewing.
A shy, withdrawn teenager discovers she has paranormal powers, which she uses to protect herself from her abusive mother and classmates.
When a friendly student invites her to the prom, she's determined to enjoy herself and is amazed when she is crowned queen of the ball - but joy turns to fury when her tormentors play a cruel trick.