Actress Victoria Smurfit is throwing an online raffle with a prize of a three-night stay in a luxury hotel on an island as part of her eldest daughter's efforts to fight blindness.
Smurfit, who made in her name in nineties drama Ballykissangel playing Orla O'Connell, has teamed up with her eldest daughter, 15-year-old Evie, who has a vision disease, to offer the prize. Entrants can take part by donating five pounds, Euro, or dollars at fightingblindness.ie. For more information check out Smurfit's Twitter and Instagram pages.
Speaking to Marty Morrissey on Marty in the Shed on the RTÉ Player from her home in London, the actress said: "Evie is my eldest and she's an astonishing kid, she really is. About three years ago she was diagnosed with Stargardt macular dystrophy and she is losing your central vision.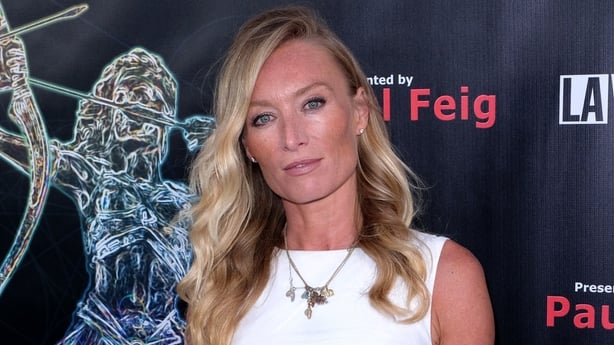 "It's hugely unfair. Since then, she's done a huge amount of work for the RNIB to fight blindness and part of Evie's work as an ambassador to fight blindness is that we're doing this raffle."
The draw will take place on May 29 and the winner will be flown via private jet from a private airport outside London to a boutique hotel called the Blonde Hedgehog in Guernsey.

During her chat with Marty, the actress, also recalled her days on Ballykissangel, which ran from 1996 to 2001, and said the show was her big break.
"Before that, I'd done a couple of period dramas. Run of the Country with Albert Finney was my first big job but in terms of viewership, Bally K was a biggie. I'd be walking down Fifth Avenue in New York and people would go, 'Oh my god! Is that Orla!' so that was the big change."
She also talked about her movie roles, saying, "I only had a tiny, wee part in The Beach but Leonardo DiCaprio was very welcoming and kind. Hugh Grant made me laugh my head off in About a Boy."
Asked how she's coping in lockdown, Smurfit said, "I'm coping, I'm coping because you have to, right? I've got a roof over my head, I've got a garden, the kids are healthy.

"There's lots of upsides and also I live on a golf course but don't tell them because every once in a while, I'll pour myself a glass of wine and I'll walk around to the nearest bunker and I'll put my feet in it and I'll pretend I'm at the beach. There's a creative element to lockdown."