Ryan Tubridy has promised that the Late Late Toy Show is going "all out" for 2020, and that it will be "as big if not bigger than ever".
After playing Hakuna Matata from The Lion King on his RTÉ Radio 1 show on Friday, the presenter said the track had "got me thinking about The Toy Show already". 
"We're thinking about where we're going to go and what we're going to do. And wow, we have big plans," he continued.
"It's going to be as big if not bigger than ever, because it's going to be extra special. Because we have lots of people to be minding and to be loving and to be looking after this Christmas. So we're going to go all out and make it a very Covid-friendly Toy Show for everybody, because I think there's going to be at that point of the year a need for a lot of love in the world, and that's where we're going to be going with it."
He also had a special message for younger listeners. 
"Just while I'm wearing my Toy Show hat for a moment, I got an email from one of the elves in the North Pole on Wednesday... What day is today? Friday? Thursday - yesterday, around lunchtime," he said. 
"I couldn't believe it because I don't hear too much from them, because they're generally out the door. And this particular elf, I don't really know this one, but she was saying that for the boys and girls in Ireland, that even though it's sunny and it's still May, she said that could I suggest to them that they start thinking about what they want from Santa around now. And I thought, 'This is the weirdest thing in the world. It's May. Why would people be doing that?'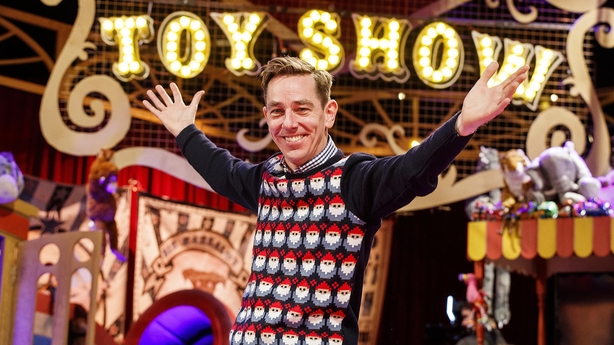 "She said because of the Corona thing, that Santa's really up to his eyes and he has to make sure that he has orders in early in order for the reindeer and everything and the sleigh to be built properly...
"And he told her to write this in the email: to say that every year sometimes you can ask Santa for something and send the letter and then say, 'Oh, I need to change my mind. I don't want that anymore'. He's saying he really would prefer if there was no changing of the mind this year because the delivery situation has mixed things up a little bit. 
"So what they were saying was essentially to have the chats. All you children listening this morning, start having the chats with your folks about what you might want. I know it's miles away, and it feels like a hundred years away, but actually it will come and get you before you know it. So that, with that in mind, Santa will know ages in advance and he can just start building and making with the elves the things that the kids want for 2020. Because it's just a bit different this year."