The Coronas and Gabrielle Aplin have shared the video for their new duet, Lost in the Thick of It.
We need your consent to load this YouTube contentWe use YouTube to manage extra content that can set cookies on your device and collect data about your activity. Please review their details and accept them to load the content.Manage Preferences
The track is taken from The Coronas' new album True Love Waits, which is released on Friday July 31.
"It was so lovely working with Gab," Coronas frontman Danny O'Reilly told RTÉ Entertainment. "Both herself and Alfie [Hudson-Taylor, Aplin's partner] are friends of ours so it was a very organic and enjoyable process writing with them.
"I basically just went to Brighton to visit them on a mini holiday and we had no schedule or studio time clock ticking. They're both such talented writers. Gab's melody writing is beautiful."
O'Reilly said the band had considered delaying the release of their album because of the Covid-19 emergency.
"When the pandemic first happened, the thinking was that by the end of summer, the live scene would be back up and running," he recounted. "We considered holding back the album until we knew we could tour and promote it. But as it became clearer that mass gatherings might not happen at all for the next while, we quickly realised that we wanted to get the album out.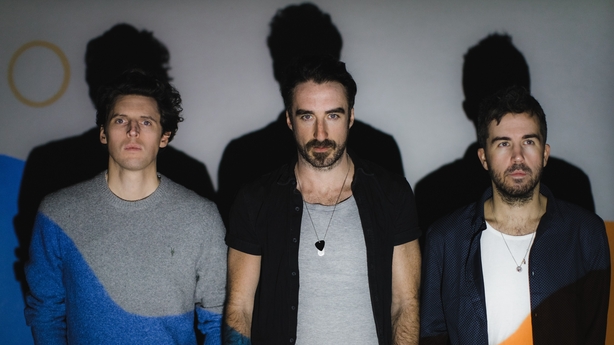 "We've released three singles now off it already, and another song, it was completed last year. It just feels right to get it out, regardless of whether we can promote it the way we'd ideally want to, with big shows and touring. But you have to adjust; we'll find ways to mark the album launch, even if mass gatherings aren't back, and we'll be ready to tour whenever we're allowed.
"Honestly, we're so proud of this album. It came out of a difficult time for the band when our guitar player Dave said he was leaving the band last summer. But that situation ended up giving us new vigour, work ethic and almost a freedom to take the album in a direction we wouldn't have tried otherwise. A change is as good as a rest, I suppose!"
For O'Reilly, a sense of humour about the situation the band find themselves in, and their moniker, is key.
"When I talk to other bands about postponing tours and cancelling shows I always end the conversation with, 'It could be worse, you could share your name with the virus!' That always gets a laugh! We're grand, we don't need messages of support.
"I like the funny comments. My personal favourite one was someone tweeted: 'I just heard the Trinity Ball has been cancelled. That's two years in a row it's been ruined by The Coronas!'"