There's a look at the life of former TV star Tony Slattery, Killing Eve and Gangs of London keep the body county high, while Hector's back and talking shop in his shed . . .
Pick of the Day
What's the Matter with Tony Slattery? 9.00pm, BBC Two
Remember Tony Slattery? He was one of the most-gifted TV comedians of the late 1980s and early 1990s (and featured in the hit 1992 movie Peter's Friends), only to disappear from screens in 1996 amid rumours of a massive breakdown.
As he approaches his 60th birthday, Slattery has been touring across Britain with a show that explores his past and his mental health.
Although depression was diagnosed, he and his partner Mark Hutchinson are convinced he may have bipolar disorder, so Tony wants to have his mental health reassessed.
But it will mean opening up about his addictions and a painful event in his childhood.
Here he is on Whose Line is it Anyway? back in the day:
Don't Miss
Killing Eve, 10.15pm, RTÉ One
If nothing else, the body count from the last few episodes has been hugely impressive. Won't be much of the cast left for season four at this rate.
As the investigation continues, Carolyn finds out information is being withheld by those close to her, while Eve discovers a lead that might bring her closer to Villanelle.
Meanwhile, Konstantin's loyalties are split, and Villanelle decides that she has had enough and decides on a different path.
Gangs of London, 9.00pm, Sky Atlantic
We're up to episode five of Gareth Evans' violent drama.
Hidden safely away in a farmhouse in the middle of nowhere, Darren wrestles with the chaos he has unleashed.
But when a mysterious group of mercenaries set their sights upon him, will Kinney be able to get there in time to prevent bloodshed?
New or Returning Shows
Liveline: Call Back, 7.00pm, RTÉ One
Joe Duffy returns to follow up on more stories from his radio talk show. 'Wash your hands!'
He catches up with a 25-year-old taekwando star who gave up his Olympic dream to care for his mother and brother, and a Garda reserve who became an internet sensation after helping an old woman through the crowds at a Robbie Williams concert.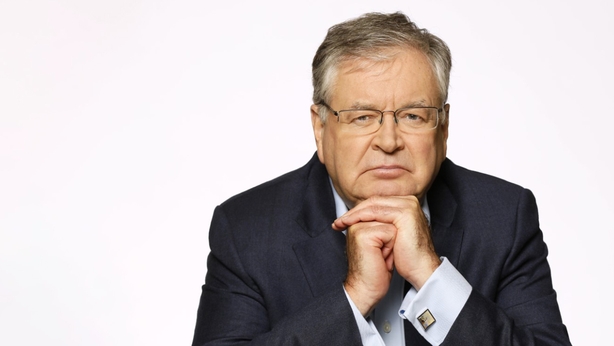 Super Garden, 8.00pm, RTÉ One
A new housing development in Rowlestown in county Dublin is home to the latest contest as five designers are given an identical garden as their blank canvas to create their entry.
The first designer, Dermot Melia from Meath, has a background in landscaping. But Nicola Clancy is looking for whimsical, low maintenance, social garden, to enjoy with her twin boys, reserving a romantic area just for her.
Hector Anseo, 9.00pm, TG4
More pandemic showtime, this one hosted by Hector Ó hEochagáin from his shed in Galway, where he chats to an eclectic mix of guests.
Joining Hector for the first episode are politician Michael Healy Rae; Gráinne Seoige from South Africa; rugby player Trevor Brennan, who's now a publican, live from Toulouse; Waterford hurler Dan Shanahan; golf impersonator Conor Moore; and singer/songwriter Gavin James.
Pandora, 9.00pm, Syfy
Set in the year 2199, this CW sci-fi series about a young woman who has lost everything finds a new life at Earth's Space Training Academy where she learns to defend the galaxy from intergalactic threats.
After the death of her parents, Jax makes a shocking discovery about her own identity.
The Pirates of the Danube, 10.25pm, Vice
VICE Serbia explores how pirates, mostly through deals made with international boat crews, illegally load off oil, ores or fertilisers that they later sell on black market.
Repeats of the Day
Pure Mule, 10.30pm, RTÉ 2
We're up to episode three and th focus is on Scobie.
Mrs Donoghue finds out the reason for her son's animosity at the bridge club when someone mentions the 25-year-old is still a virgin.
When Live TV Goes Horribly Wrong, 9.00pm, Comedy Central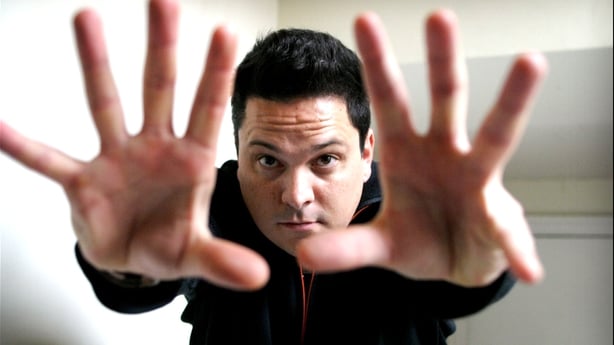 This will fill in three hours if you fancy a lengthy selection of TV fails on a monumental scale.
Technical trouble, on-screen bust ups, and fist fights are just some of the things that have left Live TV viewers open-mouthed. Dom Joly (above) features.
The Boy Whose Skin Fell Off, 10.00pm, Channel 4
Another chance to see this landmark documentary following the last months of 36-year-old Jonny Kennedy, who suffered from dystrophic epidermolysis bullosa, which caused his skin to fall off at the slightest touch.
Refusing to shy away from the grim reality of his condition, Jonny displayed a wicked sense of humour, chatting up Nell McAndrew at a charity event, choosing a coffin with a baked-bean can motif and making a decision to live on his own.
Daytime Film Choices
The Keeper, 4.00pm, Sky Cinema Drama
Director Marcus H Rosenmüller's engaging biopic, starring David Kross, Freya Mavor and John Henshaw, who won a Best Supporting Actor award at the Beijing International Film Festival.
The true story of Bert Trautmann, the German prisoner-of-war who became a footballing legend, and how he and his young English wife overcame prejudice, public hostility and personal tragedy in post-WWII Britain.
The Man in the Iron Mask, 2.30pm, Film4
Swashbuckling adventure, based on the classic story by Alexandre Dumas, starring Richard Chamberlain in a dual role, with Patrick McGoohan, Louis Jourdan and Jenny Agutter.
The despotic king of France imprisons his identical twin and sees to it that he always wears a metal mask to avoid being identified, but musketeer D'Artagnan plans to restore the rightful heir to the throne.
Beautiful But Dangerous, 3.00pm, BBC Two
Comedy drama, starring Jean Simmons, Robert Mitchum, Arthur Hunnicutt and Edgar Buchanan.
An heiress returns to her home town to shower gifts on the people who donated money in order for her to undergo a life-saving operation when she was a child.
But the woman is not prepared for the consequences of her good deed.
Prime Time Movie Picks
Cowboys & Aliens, 6.45pm, Film4
Here's a bizarre blend of sci-fi and western, with Daniel Craig, Harrison Ford, Olivia Wilde and Sam Rockwell.
A Wild-West town dominated by a cattle baron comes under attack by invaders from another world.
It falls to a mysterious stranger with no memory to unite the townsfolk, a gang of outlaws and an Apache tribe, in a bid to fight back against the aliens, and learn the truth about his own past.
A Walk in the Woods, 9.00pm, Film4
Fact-based drama adapted from Bill Bryson's travel book, starring Robert Redford, Nick Nolte and Emma Thompson.
A travel writer decides to hike the Appalachian Trail, a 2,200-mile journey through some of America's most rugged terrain.
But the only companion he can find for his exhibition is a roguish old friend, who sees it as an opportunity to get out of paying his debts.
Monkey Business, 8.00pm, TCM
Classic comedy, starring the Marx Brothers and Thelma Todd. It's almost a century old, but it's still hilarious, with Groucho and co in superb form.
Four eccentric stowaways sneak on board an ocean liner bound for New York, and try to keep one step ahead of the suspicious first mate.
To complicate matters, they also get involved with rival gangsters - an entanglement that continues once the ship reaches dry land.
Late Late Flick Picks
Snatch, 10.45pm, Sky Cinema Thriller
Guy Ritchie's comedy drama, with Jason Statham, Brad Pitt, Benicio Del Toro and Stephen Graham.
An unlicensed boxing promoter and his dim-witted sidekick convince an Irish gypsy to step in for their injured fighter, but find themselves drawn into a match-fixing racket.
Meanwhile, the loot from a diamond heist goes missing, leading to a bloody conflict between Russian gangsters and a Jewish mob.
Panic Room, 12.40am, Sky Cinema Thriller
Thriller directed by David Fincher, starring Jodie Foster, Kristen Stewart, Forest Whitaker, Jared Leto and Dwight Yoakam.
A single mother is determined to keep her daughter safe from harm when burglars break into their home. The pair hide out in a specially constructed sealed room, but the shelter becomes a prison when the robbers refuse to leave empty-handed.
The Host, 2.00am, Channel 4
Sci-fi body-snatching adventure, starring Saoirse Ronan, Max Irons and William Hurt.
Earth is invaded by parasitic aliens which possess humans, but one of the creatures discovers the consciousness of her teenage host has not been fully repressed.
The human part of their personality persuades her to turn her back on her race and seek out free humans, leading her to a resistance group fighting to free mankind.
Click here for full TV listings