"Are you even in quarantine if you haven't attempted to bake a banana bread?" asks RTÉ 2FM's Tracy Clifford, who has managed this statutory delicacy of late.
"Since the lockdown both myself and my partner have been working from home. Mark takes over the kitchen table and unfortunately for him, I have taken over his studio which is our spare room to broadcast my show from home everyday from 12 midday.  
"There are far too many noises going off in the kitchen if I were to go live from there. Every morning my team and I have a WhatsApp video conference and it's great to see their faces and we plan the day's show. 
"My day is starting a little later at home as I don't have to commute, so for once Mark and I actually get to eat breakfast together, with the radio on, before I take a five-second walk into my studio for the day, complete with a clothes horse!
"From there, I have everything I need to broadcast. One new part of my show that I love, is getting kids on air to play Panic with me - and for them to give big shout outs to all their friends and family that they haven't seen in a while.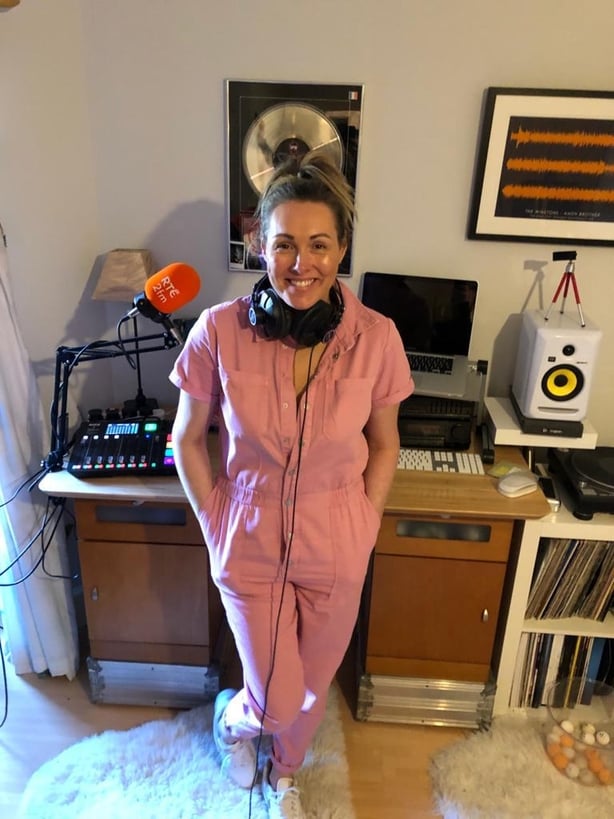 "Speaking of family and friends I haven't seen in while, thank God for Zoom calls! Last week, Mark and I spent a whole day writing and devising an 80s quiz, complete with theme tunes and picture rounds to play for my Mam's 60th birthday.
"We all dressed up too. Punk Rockers and Madonna lookalikes. Since the restrictions, people have amazed me with their creativity and willingness to do something different, just to connect and to see each other.
"One thing which I am really enjoying too is new my new found time to read. I usually see friends, or go shopping at weekends but with restrictions, I have been able to read books I have been meaning to get to for a long time.
"I don't think I can remember the last time I read a book in a day, but this is one positive of being at home. I loved Normal People by Sally Rooney although the pair in it frustrated me no end. A Little Life by Hanya Yanagihara was unforgettable, and Daisy Jones and the Six by Taylor Jenkins Reid was a bit of fun fiction loosely based on Fleetwood Mac in the 70's. I am currently reading My Dark Vanessa by Kate Elizabeth Russell.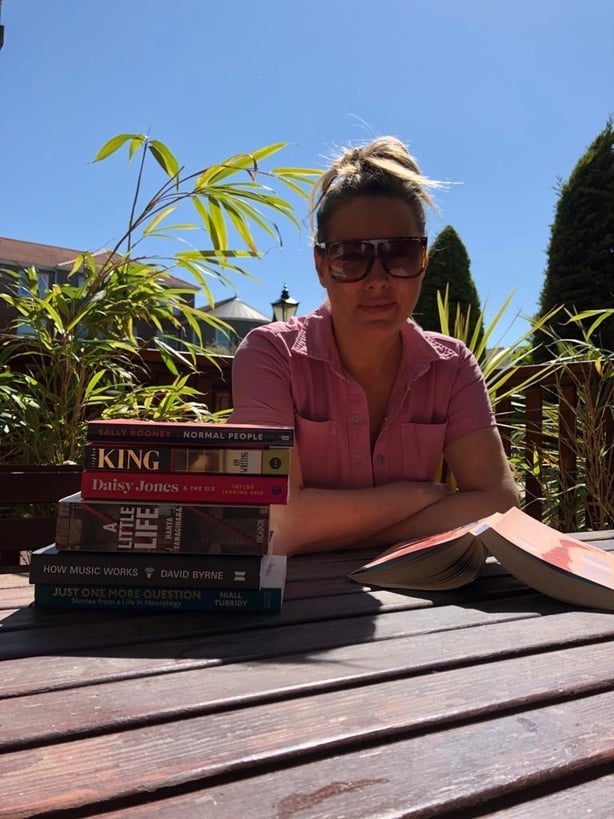 "On Netflix, I wept my way through After Life with Ricky Gervais in which he portrayed the many stages of grief so well but made us squirm too, in a way only he can. Also on Netflix, we gobbled up Ozark's all three seasons in record time.
"On Instagram, I am seeing people taking up new skills, from TikTok dances to drawing. I am sad to say the only new skill I have acquired is how to make banana bread and porridge bread. Are you even in quarantine if you haven't attempted to bake a banana bread? 
"With Netflix and books, I haven't had the urge to take up a new instrument, yet, but I have been dancing around my bedroom to the Insta Live workouts by famous choreographer Ryan Heffington with his Sweatfest classes that are, well, a fest of sweat.
"Something fun to get the endorphins going before I go on air on RTÉ 2fm at 12 noon to play feel good tunes and chat to our brilliant listeners."